Scared to be Muslim: family's cry of anguish in sacred village in Mathura
Rawal is part of the Mathura Lok Sabha constituency whose sitting MP, actress Hema Malini, had adopted the village to develop it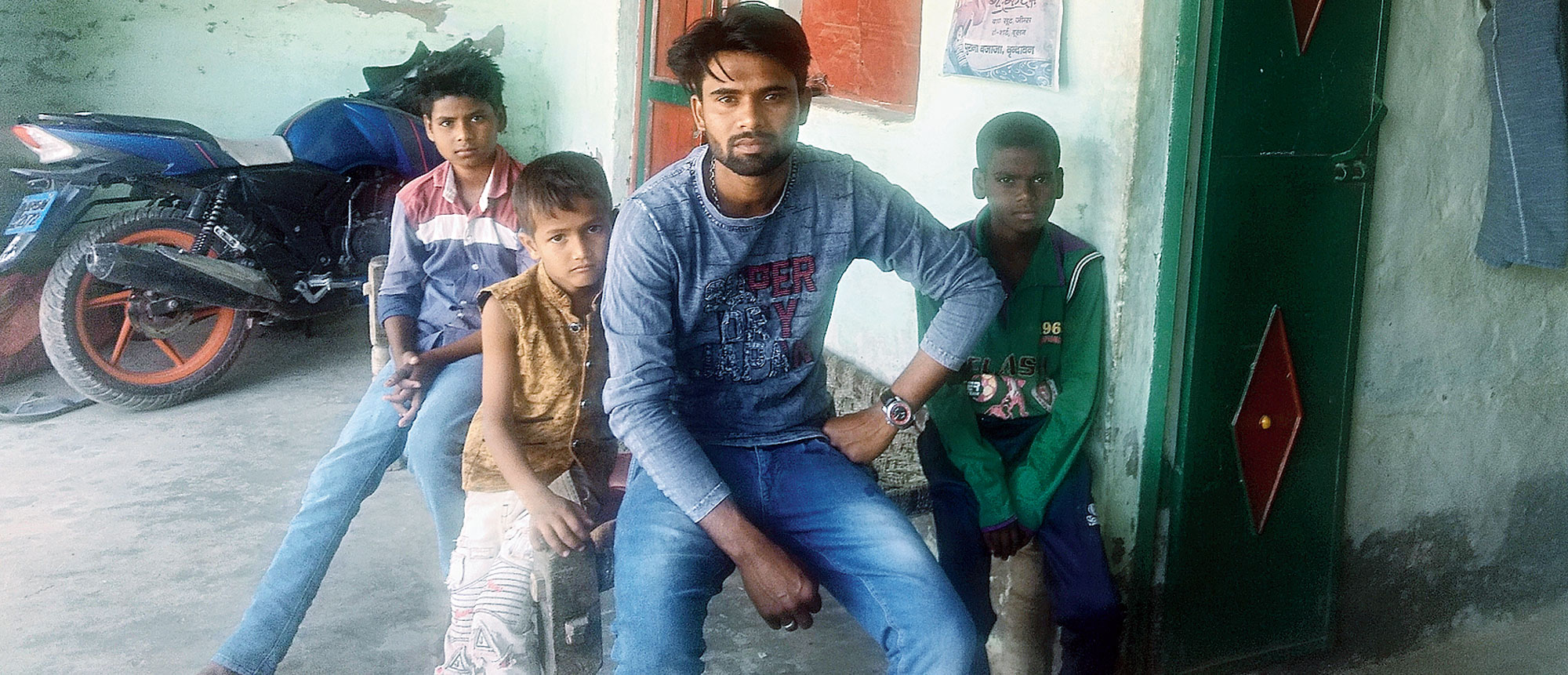 Sher Khan at his home in Rawal village in Mathura.
Picture by JP Yadav
---
Mathura
|
Published 19.04.19, 01:59 AM
|
---
Sher Khan is a 23-year-old unemployed science graduate who voted for the BJP in 2014. His entire family also did — theirs is the only Muslim family residing at Rawal village, believed to be the birthplace of Radharani, the goddess identified with Lord Krishna.
Rawal, around 145km from Delhi and 10km from Mathura along the river Yamuna, is part of the Mathura Lok Sabha constituency whose sitting MP, actress Hema Malini, had adopted the village to develop it.
When this correspondent met him on Sunday, Sher Khan was hesitant to talk about the polls and the socio-political situation in the country given the BJP's muscular nationalism and religious campaign.
"I as well as other members of my family voted for Hema Maliniji in 2014. She has done some good work for our village," said Sher Khan, casting a cautious glance.
He quickly added that he and all members of his family are vegetarians, like most other residents of Rawal. "My father can't even tolerate the smell of non-vegetarian food," he said. Sher's father Bashir Khan was busy harvesting the wheat crop in his fields some distance away from the house.
"We live here peacefully. There is no problem at all," Sher added to drive home the point that the villagers exist in harmony.
After winning the elections in 2014, by a huge margin of over 3 lakh votes against the RLD's Jayant Chaudhary, the BJP's Hema Malini had adopted Rawal responding to a call by Prime Minister Narendra Modi. Modi had asked his party MPs to adopt at least one village in their constituency and develop it into a model one under the Sansad Adarsh Gram Yojana scheme. Rawal, dominated by Dalits and backward castes, has not come up as a model village but still residents thank Hema for doing a "lot of work".
"Sabse bada kaam Hemaji ne kiya hai woh paani ka hai. Humko ab mitha paani peene ko milta hai (The most important work that Hema Maliniji has done for us is regarding water. We now get sweet water to drink)," Sher Khan said.
Located on the banks of the heavily polluted Yamuna, the underground water in Rawal was khara (salt-laced), residents said. They claimed that the milk yield of their buffaloes and cows decreases sharply if they drink the khara water. Hema Malini — who has incidentally been the brand ambassador of a water purifier brand — has got an RO (reverse osmosis) plant installed in the village that purifies the water that is supplied through pipes to every household.
Apart from this, the village has good internal roads, community hall, toilets and a small health centre.
Sher Khan was wary when asked whether the village would again vote for Hema. "Sayad vote karenge (maybe, I will)," he said haltingly. Sher pointed out that most residents of Rawal are Jatavs, a Dalit caste, known to be firm backers of the BSP. "Jatavs will mostly vote for the gathbandhan (BSP-SP-RLD) candidate," he said.
After some time, Sher Khan overcame his initial reluctance and started opening up. "Modiji se humko koi problem nahi hai. Achha kaam kiya hai desh ke liye. Lekin ye Hindu-Muslim jo chal raha hai woh theek nahi hai (I have no problem with Modiji. He has done good work for the country. But this Hindu-Muslim thing that is going on is not right)," he said, referring indirectly to the religious polarisation in the state.
Sher Khan said he is scared to reveal his identity when he talks to strangers. "I hear people discussing how Muslims are not patriotic like Hindus," he said. "This scares me." He added that apart from agriculture (his family owns 3-4 acres of land), dairy was their main source of income.
The Khans own four buffaloes and two cows and their milk is sold to a dairy company in Mathura city. "After reading reports of Muslims being lynched for transporting cattle, my father got very scared. We feared attacks could take place on us as people wouldn't believe that we are vegetarians and rear cattle only for milk," he said.
After his graduation, Sher Khan is now on a job hunting spree. "Can you help me get a job in Delhi? It's very difficult for a Muslim to get a decent job," he said before realising that he has to rush with food for his father working in the fields.