RSS favourite Ram Madhav not in Team BJP
Bangalore South MP Tejasvi Surya has been appointed chief of Yuva Morcha, suggesting the party wants to groom the young lawyer and motormouth as it looks to build a new leadership in Karnataka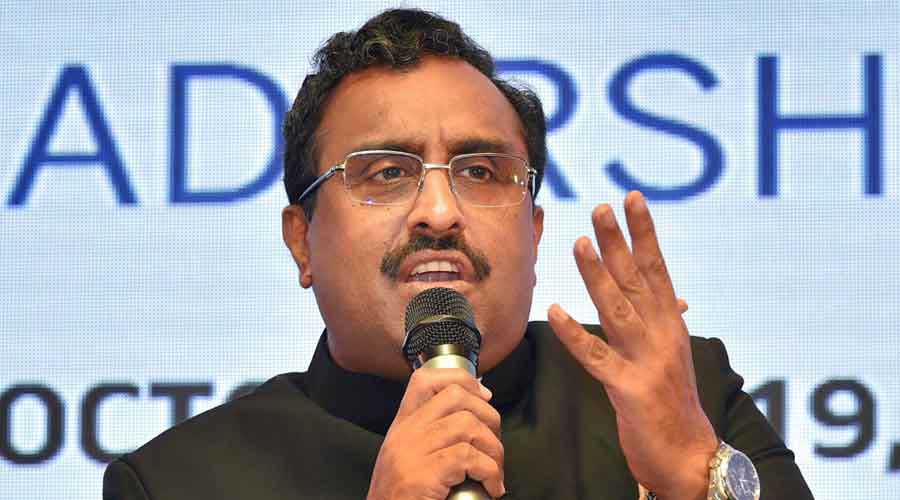 ---
New Delhi
|
Published 27.09.20, 02:17 AM
|
---
BJP president J.P. Nadda announced a new team of party office-bearers on Saturday, dropping the high-profile Ram Madhav as general secretary and giving Mukul Roy a place at the national level ahead of next summer's Bengal polls.
Bangalore South MP Tejasvi Surya has been appointed chief of youth wing Yuva Morcha, suggesting the party wants to groom the young  politician known for some outrageous tweets as it looks to build a new leadership in Karnataka.
The axing of the media-savvy, RSS favourite Madhav — who was party minder for the entire Northeast apart from Jammu and Kashmir and Ladakh — triggered speculation he might be given a Rajya Sabha berth and even a Union ministry.
But party insiders termed this unlikely, indicating he was out of favour with the current leadership, particularly Amit Shah, and that his style of functioning had caused resentment in the Northeast.
Madhav tweeted: "Congratulations to the newly appointed office-bearers of d BJP. Grateful to d party leadership for providing me d opportunity to serve for one term as Gen Sec."
Three other prominent general secretaries — Murlidhar Rao, Anil Jain and Saroj Pandey — have also been dropped.
Mukul, sulking and out of sync with the party's Bengal leadership, has been appointed a vice-president, signalling his shift to the central organisation.
The 12 new vice-presidents also include former chief ministers Vasundhara Raje Scindia, Raman Singh and Raghubar Das and former Union minister Radha Mohan Singh.
Among the vice-presidents dropped are Vinay Sahasrabudhhe, known to be close to the RSS, and Prabhat Jha from Madhya Pradesh.
Shah imprint
While the shuffle comes more than eight months after Nadda's appointment as party chief, it bears the signature of his predecessor Shah, now home minister.
From Madhav's removal to the retention of Bhupendra Yadav, Kailash Vijayvargiya and Arun Singh as general secretaries — all testify to Shah's continued grip on party affairs.
Also visible in the rejig is the influence of B.L. Santosh, the general secretary (organisation) from Karnataka, party insiders said.
Santosh, who acts as a bridge between the RSS and the BJP, is said to have had a hand in Tejasvi's elevation and in the appointments of D. Purandeshwari (N.T. Rama Rao's daughter) and C.T. Ravi (an MLA from Karnataka) as general secretaries.
Amit Malviya, spearhead of the BJP's social media campaign and a man accused of unleashing abusive trolls against opponents and critics, has been retained as the party's IT head, a post he has held since Shah became party president in 2014.
It's a vote of confidence for Malviya at a time party Rajya Sabha member Subramanian Swamy has been demanding his ouster, accusing him of launching "personal attacks" through fake Twitter accounts.
Malviya tweeted his gratitude to Prime Minister Narendra Modi, Shah, Nadda and Santosh for "trusting" him.
Madhav's opponents
Sources said Madhav had got involved in a feud with Himanta Biswa Sarma, the high-profile Assam minister who calls the shots across the Northeast and is known to be very close to Shah.
Madhav and Sarma are learnt to have collided over party affairs in Manipur after the state's BJP-led government faced a crisis.
"There were a lot of complaints against Ram Madhavji from almost all the northeastern states," a BJP politician said.
Insiders said that Shah resented Madhav's high-profile image and his style of functioning in the Northeast as well as in Jammu and Kashmir.
Madhav had been a popular RSS spokesperson before joining the BJP. After the switch, he quickly acquired a high profile and influence, not just nationally but also internationally with his India Foundation, a strategic and policy think tank that has many eminent personalities from various fields as mentors.
Known to be highly ambitious, Madhav remains close to the RSS. Many in the BJP believe that the parent body could intervene to ensure he gets an important position outside the party.