Madhav 'backs' Sonowal for CM in 2021
The endorsement follows speculations about a likely change of guard after the polls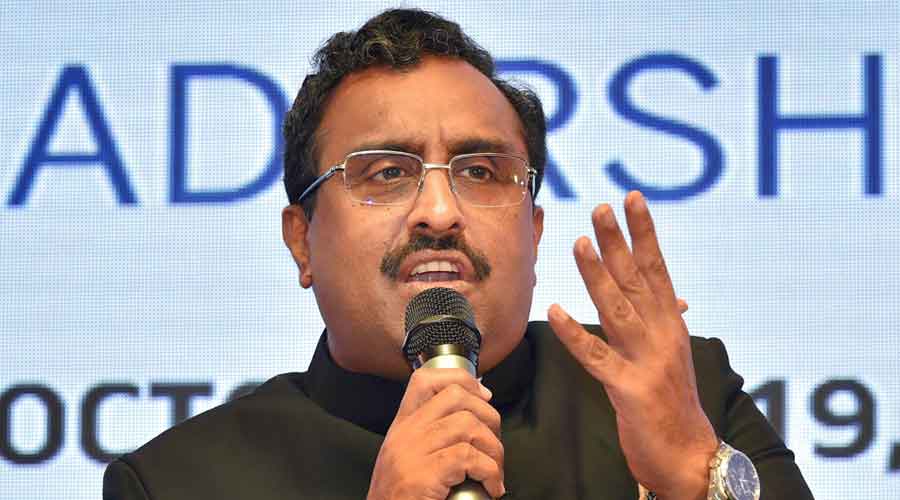 ---
|
Guwahati
|
Published 24.09.20, 01:25 AM
---
BJP national general secretary Ram Madhav has said that he is confident Assam will "return" Sarbananda Sonowal and his team with a "massive" mandate in 2021, hinting at his continuance as the chief minister after next year's Assembly polls.
Madhav made the comment at a party function to mark the 70th birthday of Prime Minister Narendra Modi in Guwahati last week.
Madhav said that just as the masses voted back the Modi government with a massive mandate in the Centre, the people of Assam would also return Sonowal and his team with a massive mandate because of the good governance provided by them since assuming power in 2016.
Madhav's endorsement of Sonowal assumes significance because of a debate triggered by a comment made by state minister Pijush Hazarika in reaction to a query that cabinet minister Himanta Biswa Sarma was capable of being the chief minister, giving rise to speculations about a likely change of guard after the polls.
The answers, mostly evasive, of senior BJP leaders too didn't help clear the air. Sarma said everyone in Assam is capable of becoming the chief minister while state BJP president Ranjeet Kumar Dass said such decisions are taken by the party leadership. Others said that Sonowal was their chief minister.
According to BJP insiders, Madhav taking the name of Sonowal instead of saying the BJP or our government will retain power is being seen as a huge hint of Sonowal continuing at the helm.
"Some clarity is emerging but it still is a long way to go," one of them added.
The BJP has started preparing for the polls, setting a 100-seat target in a 126-member Assembly, 14 more than it had won along with its allies in 2016.
The BJP had won 60 seats in 2016, while its allies Bodoland People's Front (BPF) and Asom Gana Parishad (AGP) had won 12 and 14 seats respectively, to oust a well-entrenched ruling Congress.
The BJP-led government has been announcing schemes after schemes since August besides laying foundation stones of new projects or inaugurating new ones despite the state being in the grip of the Covid-19 pandemic which has affected 161,393 patients and claimed 586 lives till Tuesday.