Roadside libraries win hearts in Mizoram
Academicians and scribe set up facility to promote reading habit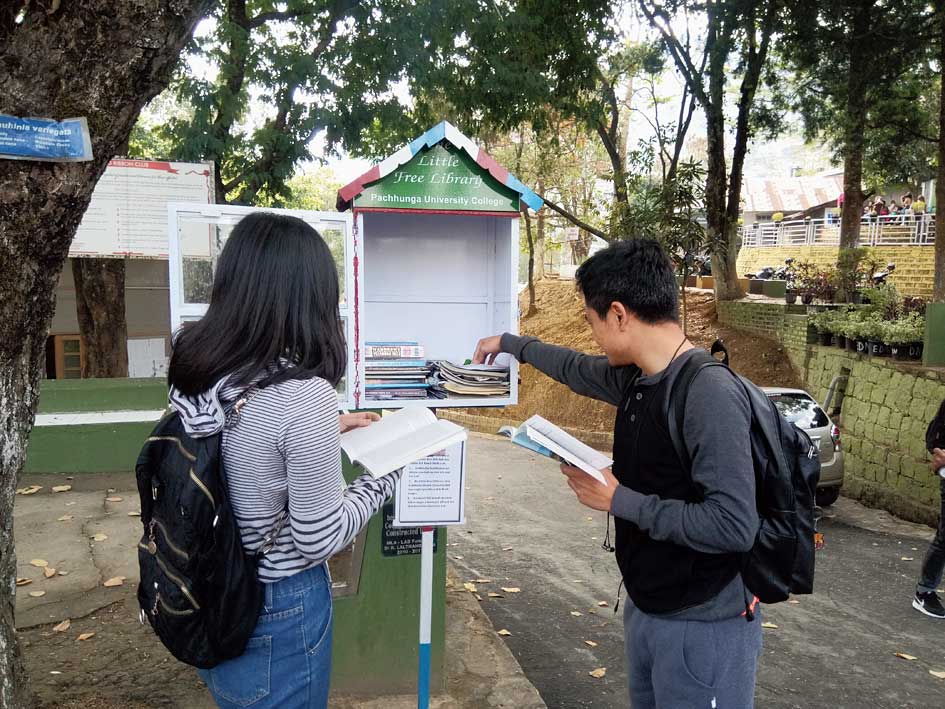 Students browse books at a mini roadside library.
Picture by Henry L Khojol
---
Aizawl
|
Published 03.03.20, 08:46 PM
|
---
Mizoram's capital city has won applause on the Internet for its "Little Free Libraries" or mini-roadside libraries across the city.
At a time most people are running after avarice, the world is fortunate to have generous people like some academicians and scribes who want to serve society in a unique way for no personal gain.
So, it did not take long for C. Lawmzuala, a professional assistant at Mizoram University's central library and Lallaisangzuali, a deputy librarian there, to realise the need for books and take up the challenge of installing a non-profit mini-roadside library in Aizawl after their official trips to Ohio, Springfield and other parts of the US in 2016 and 2017.
The sight of mini-roadside libraries there inspired them and they turned their dream into reality in a year and two mini-roadside libraries came up in the city two years later.
They called their mini-roadside libraries "Little Free Libraries" — one at Aizawl market and the other on Mizoram University campus in 2017. These are replicas of the Little Free Libraries in the US. They were the first to start the project in Mizoram.
"After we came across the Little Free Libraries during our trips to the US, we thought of installing one in Aizawl. Initially we were sceptical about our success, but later we decided to give it a try," Lawmzuala told this correspondent.
He added that they had installed the two mini-roadside libraries with initial donation of 20 books for each to inculcate reading habit in people.
"Our purpose is to promote reading habit among youngsters, especially the students. The libraries have received a response beyond our expectation," he said.
Bibliophiles read and take books for free. The duo's "take a book, leave a book" policy has also inspired people even to donate books.
The response of people, especially students, motivated an assistant librarian of Pachhunga University College (PUC), Lalthanmawii Sailo and assistant professor H. Laldinmawia to set up mini-libraries this year. They also installed one on their university campus.
Lalhruaitluanga Chawngte, a writer and journalist, associated with the The Aizawl Post, said: "I am fully aware that Mizo society is a well regimented, disciplined and honest society. I am confident that the Free Little Library will work among the Mizos."
He has set up his own non-profit mini roadside libraries near his residence at Mission Vengthlang in Aizawl.
Chawngte installed his library attached to a wall on November 4, 2019, in the memory of his father, Rev. C. Lianhmingthanga, who died in 2017. "I want to contribute to society by promoting reading habit among my people," he said.