RJD loyalist quits, olive branch offered
You are not going: Lalu tells Raghuvansh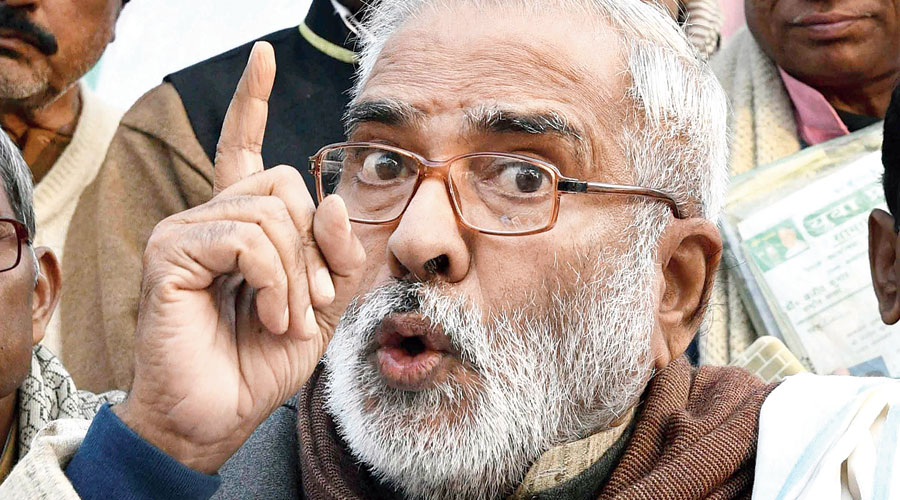 Raghuvansh Prasad Singh.
File picture
---
Patna
|
Published 11.09.20, 05:43 AM
|
---
Former Union minister Raghuvansh Prasad Singh resigned from the Rashtriya Janata Dal on Thursday, dealing a big blow to Lalu Prasad's party ahead of the Bihar Assembly elections, but Lalu immediately offered the olive branch to the disgruntled leader by writing back saying "you are not going anywhere".
Speculation is rife that Raghuvansh, a Lalu loyalist from long, plans to join chief minister Nitish Kumar's Janata Dal United.
Raghuvansh, 74, a stalwart and the second most popular leader of the RJD after party chief Lalu, is undergoing treatment at AIIMS New Delhi after experiencing trouble in breathing and other post-Covid issues.
In a brief handwritten letter addressed to Lalu in Hindi, he said: "I stood behind you for 32 years after the demise of Jan Nayak Karpoori Thakur (a popular socialist leader and former Bihar chief minister), but no more now. The party, its leaders, workers and the common people gave me much affection. I am sorry."
Hours later, the RJD released a letter handwritten by Lalu placating Raghuvansh and hoping to bend his ear on the issues riling him.
"A letter purportedly written by you is doing the rounds in the media. Right now, I, my family and the RJD family want you to get well and see you back among us. We have always sat down together and discussed all political, social, and even family matters over the past four decades. Get well soon and then we will again sit down to talk. You are not going anywhere. Understand this," Lalu's letter said.
Raghuvansh, a former Vaishali MP, is credited with conceptualising and implementing the Mahatma Gandhi National Rural Employment Guarantee Act (MGNREGA), the Centre's hugely popular 100-day job scheme, as the rural development minister in the Manmohan Singh government in 2006.
The Opposition Congress-RJD alliance has already suffered a setback with HAMS leader and former chief minister Jitan Ram Manjhi breaking ranks and joining the ruling NDA. Also, eight RJD legislators have switched to the JDU over the past few months.
Raghuvansh is believed to have been miffed with the party leadership, especially Lalu's younger son and leader of Opposition Tejashwi Prasad Yadav, for insisting on inducting former MP and muscleman Rama Singh, who faces several criminal charges, into the RJD.
Raghuvansh and Rama do not see eye to eye since the latter defeated the veteran leader as an LJP candidate in the 2014 Lok Sabha polls. Raghuvansh, sources said, suspects that Rama engineered his defeat in the 2019 general election.
Raghuvansh resigned from the RJD vice-president's post in June this year while being treated for the coronavirus disease at AIIMS Patna. He had made his displeasure known about inducting people with criminal antecedents into the party and sending "businessmen" to the Rajya Sabha.
Lalu had intervened then and the entry of Rama into the RJD was put on hold. However, it came to light recently that Rama's wife could contest the Bihar elections, scheduled to be held in November, on an RJD ticket.
Raghuvansh is also said to have been unhappy with the alleged autocratic style of functioning of RJD state unit chief Jagdanand Singh, as well as with Tej Pratap calling him dispensable.
Sources said that the former Union minister and five-term Lok Sabha member is planning to join the JDU. Nitish had been in touch with Raghuvansh during his treatment for Covid-19.
The exit of Raghuvansh, who has the image of an honest socialist leader loyal to the party, is expected to impact the RJD's fortunes in the elections. He belongs to the influential Rajput caste and is considered one of its tallest leaders in the state.
Raghuvansh's resignation will also queer the pitch for Tejashwi's re-election bid from the Raghopur constituency that has a sizeable number of Rajput voters. Lalu's younger son is said to be looking to contest from an additional seat to offset a possible fallout.