Lalu sons to play safe in elections
Fodder scam and high attrition rate in Rashtriya Janata Dal loom large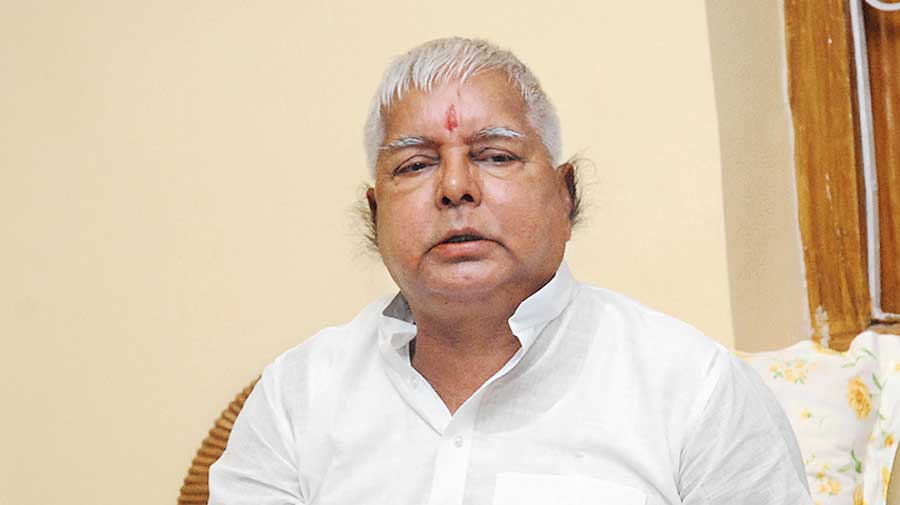 Rashtriya Janata Dal (RJD) chief Lalu Prasad Yadav
File picture
---
Patna
|
Published 10.09.20, 01:48 AM
|
---
Unsure of their footing in the constituencies they now represent, Rashtriya Janata Dal (RJD) chief Lalu Prasad's sons Tej Pratap Yadav and Tejashwi Prasad Yadav are looking to contest from safe seats in the forthcoming Assembly elections in Bihar.
Lalu's eldest son Tej Pratap is an MLA from Mahua constituency in Vaishali district, but plans to contest from Hasanpur constituency in Samastipur district.
His younger brother and leader of Opposition Tejashwi represents Raghopur seat in Vaishali, but may contest from an additional seat to ensure that he returns to the Assembly.
The brothers understand well that with their father serving time after being convicted in fodder scam cases and attrition rate in the party at an all-time high, it is imperative for them to win in the upcoming polls to remain relevant in state politics.
However, both are facing different problems in their constituencies.
Mahua has been a stronghold of chief minister Nitish Kumar's Janata Dal United (JDU) for the past decade. Tej Pratap was launched into politics from there in the 2015 elections because RJD and JDU were contesting as allies. He won by around 28,000 votes.
There is a strong wave against Tej Pratap in Mahua constituency as voters say he has not done anything for the constituency.
"Just show me one worthwhile development scheme or infrastructure work that Tej Pratap initiated here and I will vote for him. In fact, he was the health minister for over one-and-a-half years, but did nothing even for the primary health centre here," said Ramesh Kumar, a voter in Mahua.
Sources said Tej Pratap's estranged wife Aishwarya Rai might also contest from Mahua, which would queer the pitch for him.
Tej Pratap has zeroed in on Hasanpur constituency where around 20 per cent voters are Yadavs, who can become a winning combination when joined by Muslims. He has been camping there and also conducted a roadshow on Monday to gauge the mood of the electorate.
However, incumbent Hasanpur MLA Rajkumar Rai is also a Yadav, and this could lead to a division in the caste votes and make the going tough for Tej Pratap.
Tejashwi is also not feeling comfortable in Raghopur, considered a pocket borough of Lalu and his family since 1995. Lalu had won from there twice and his wife Rabri Devi once in 2005. But she lost in 2010 to JDU.
The caste combination is such that it becomes a close fight between the National Democratic Alliance (NDA) and the Grand Alliance. RJD's Raghuvansh Prasad Singh, a former Union minister, has a considerable influence in the seat, but he is unhappy with the party and has quit as its national vice-president over the entry of former MP Rama Singh, a man with alleged criminal antecedents, into the party. Minister of state for home affairs Nityanand Rai's nephew Arvind Rai is also eyeing the Raghopur seat.
Talking to The Telegraph about Lalu's sons, a senior RJD leader said on the condition of anonymity that it was almost "certain that Tej Pratap would contest from Hasanpur constituency. The seat is being seen as safe for him given the caste equations of the Grand Alliance. But Lalu has not given Tejashwi the consent to leave Raghopur. There is a possibility that he (Tejashwi) may contest from an additional safe seat from anywhere else in the state".
Asked about their plans to contest from seats other than their current one, RJD spokesperson Mritunjay Tiwary said: "Tejashwi and Tej Pratap are Bihar's leaders and they are capable of contesting and winning from any seat in the state, but I have not been told about any change in their plans or constituencies. Our party will make proper announcements about who will contest from where."