Record tests and spike; fall in fatality rate
Thursday saw the highest single-day recoveries at 56,383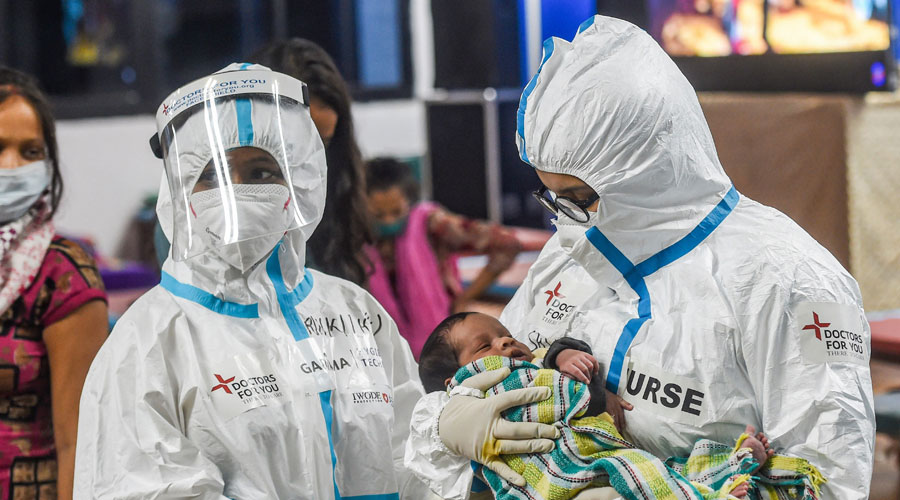 ---
---
India on Thursday recorded 66,999 new patients with the coronavirus disease, a new single-day high, after testing a record 830,391 samples the previous day and a further fall in case fatality rate to 1.96 per cent.
However, the number of Covid-19 patients under active medical supervision at home or in hospitals increased by 9,674 from 643,498 on Wednesday to 653,622 on Thursday, with the highest single-day recoveries at 56,383.
The Union health ministry said the case fatality rate — the proportion of mortality among laboratory-confirmed Covid-19 patients — had "further regressed" to 1.96 per cent from 1.99 per cent earlier this week, a steady decline from 3.3 per cent in mid-June.
The new cases have raised the total number of lab-confirmed Covid-19 infections to 2,396,637, of whom 1,695,982 patients have recovered and 47,033 have died, including 942 deaths over the past 24 hours.
Public health specialists say India's epidemic appears to be progressing exactly as had been expected, displaying steady growth as the virus continues to spread among the vast majority of the population still susceptible to the infection.
"Neither record high new cases nor record high recoveries should surprise anyone," said Oommen John, a public health expert at The George Institute for Global Health, New Delhi. "This is a very infectious virus, but the vast majority of infected patients either remain asymptomatic or show mild symptoms."
The health ministry said the week-wise average daily samples tested had increased sharply over the past month from around 230,000 samples in early July to more than 630,000 samples in the week ended August 11.
Health officials have pointed out that such a dramatic rise in the number of daily samples tested has been possible through the rapid expansion of testing capacity — from only one lab in January to over 1,400 now.
The health ministry also said on Thursday that it had delivered over 30 million N95 masks, 12.8 million personal protection equipment kits and 22,533 "made-in-India" ventilators to states and Union Territories and central institutions.