Ramdev medical tour adviser
The Centre has found a new role for yoga televangelist Baba Ramdev and his aide Acharya Balkrishan: to help frame a policy to attract more foreign patients to India.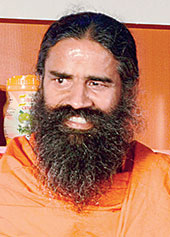 ---
---
New Delhi, Dec. 18: The Centre has found a new role for yoga televangelist Baba Ramdev and his aide Acharya Balkrishan: to help frame a policy to attract more foreign patients to India.
Ramdev and Balkrishan have been drafted into the fledgling National Medical and Wellness Tourism Board, headed by tourism minister Mahesh Sharma, along with 20 others who include government officials, travel operators and senior doctors from leading hospitals.
The board has been tasked to devise strategies to increase the number of foreign medical tourists at the country's hospitals and wellness clinics, and issue guidelines to regulate the services these establishments offer.
"This sector has grown on its own over the past several years but is largely unorganised," minister Sharma told The Telegraph.
"We want the board to help interlink all the key players in this sector to provide seamless services to patients. Since we want to promote naturopathy and yoga in a big way, we have also appointed Swamiji (Ramdev) and his associate in the board."
Ramdev, who had openly backed Narendra Modi ahead of last year's general election, will receive perks and allowances as board member.
Earlier this year, Haryana's BJP government had appointed Ramdev the state's brand ambassador for yoga and ayurveda and granted him the rank of a cabinet minister with all the perks such as cars, a bungalow, staff and Z-category security.
A request from Ramdev for no-frisk status at airports across India is pending with the government.
Approached for comments today, S.K. Tijariwala, a spokesperson for Ramdev, said: "Baba does not want to comment on the matter yet."
Balkrishan was not available for comments despite multiple attempts to reach him.
The Prime Minister's Office had cleared the plan for the board and its proposed members in September.
India is among Asia's top three medical tourism destinations, thanks mainly to cheaper treatment costs and its quality healthcare infrastructure and highly skilled doctors, industry chamber Ficci said last year.
The Confederation of Indian Industry expects India's medical tourism industry to touch $6 billion (about Rs 40,000 crore) by 2018, and reported that about 230,000 foreign patients sought treatment in the country last year, mostly from elsewhere in South Asia, West Asia and Africa.
Cardiologist Naresh Trehan, chairman and managing director of Medanta, a multi-super-speciality hospital in Gurgaon, said government handholding would enable Indian hospitals to tap markets in the developed countries too.
Trehan, appointed a member of the National Medical and Wellness Tourism Board, told this newspaper the industry "needs to be standardised".
"The board can help the sector by putting in place the systems that ensure ease of travel, smooth and hassle-free services and security for patients, and standard operating procedures for hospitals and wellness centres," he said.
Among the other board members are Devi Shetty of Narayana Health (formerly Narayana Hrudayalaya), Sangita Reddy of Apollo Hospitals, Rajit Mehta of Max Super Speciality Hospital in Delhi, and H.R. Nagendra of Swami Vivekananda Yoga Anusandhana Samsthana.