Rajya Sabha Chairman M. Venkaiah Naidu ticks off 'moving' ministers
Opposition complained about ministers trying to influence MPs during crucial voting of Right to Information (Amendment) bill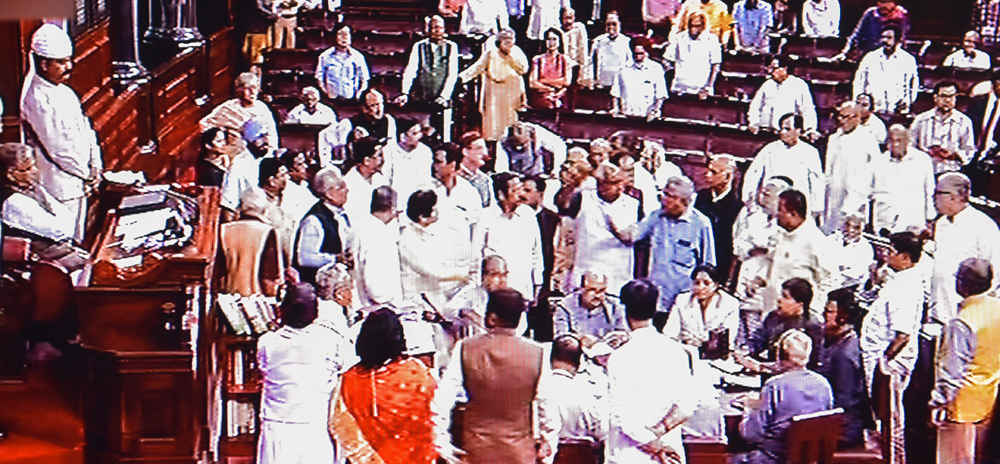 ---
---
Without taking names, Rajya Sabha Chairman M. Venkaiah Naidu on Friday pulled up members, including ministers, who were moving around the House on Thursday after a vote had been announced on the matter of referring the Right to Information (Amendment) bill to a select committee.
The rap on the knuckles came after the issue was raised at the morning business advisory committee meeting where the Opposition complained about ministers trying to influence MPs during the process and cited how a ruling party member had collected voting slips, sources said.
"People in authority must be careful…. Even individual members are not supposed to move this side or that side…. If they want to talk to any member, they are at liberty to talk to them before the voting process starts and, that too, preferably outside the House,'' Naidu said.
Thursday evening's voting had ended in a furore after BJP member C.M. Ramesh was seen collecting voter slips from Telugu Desam Party MPs. The rules mandate that only officials collect the slips.
Before this, deputy Chair Harivansh had had to ask ministers to return to their places when a couple of them, including parliamentary affairs minister Pralhad Joshi, had walked across the floor to speak to several MPs after the voting had been called.
Matters came to a head when Ramesh was spotted collecting the slips. Leader of the Opposition Ghulam Nabi Azad, described what happened in the House as a sample of how the BJP had won 303 seats in the Lok Sabha polls.
"Ministers are intimidating members inside Parliament. Your ruling party members are getting slips signed by members who are not clear about the voting process,'' Azad said.
At the business advisory committee meeting, Opposition MPs asked Naidu to seek footage from the TV cameras positioned inside the House for live telecast of the proceedings and ascertain what had happened. It is unclear if Naidu agreed.
The Opposition also wanted to know why paper ballots, rather than electronic voting, had been used universally though only five newly elected MPs had not been assigned their division numbers. During electronic voting, members are allowed to vote on paper slips if their digital vote has not been registered properly, and this routine could have been followed for the five MPs, they said.
If the voting is electronic, it's immediately clear from the board who voted which way. Else, the MPs have to wait until the next day to ascertain if there was cross-voting.
Some BJP members felt that what Joshi and Ramesh did was unnecessary because the government was comfortably placed to defeat the Opposition move to refer the bill to a select committee.