Rahul Gandhi firm but Congress won't brook new boss
Rahul has refused to get involved in selecting a new party president, leaving the matter to an undefined core group that appears divided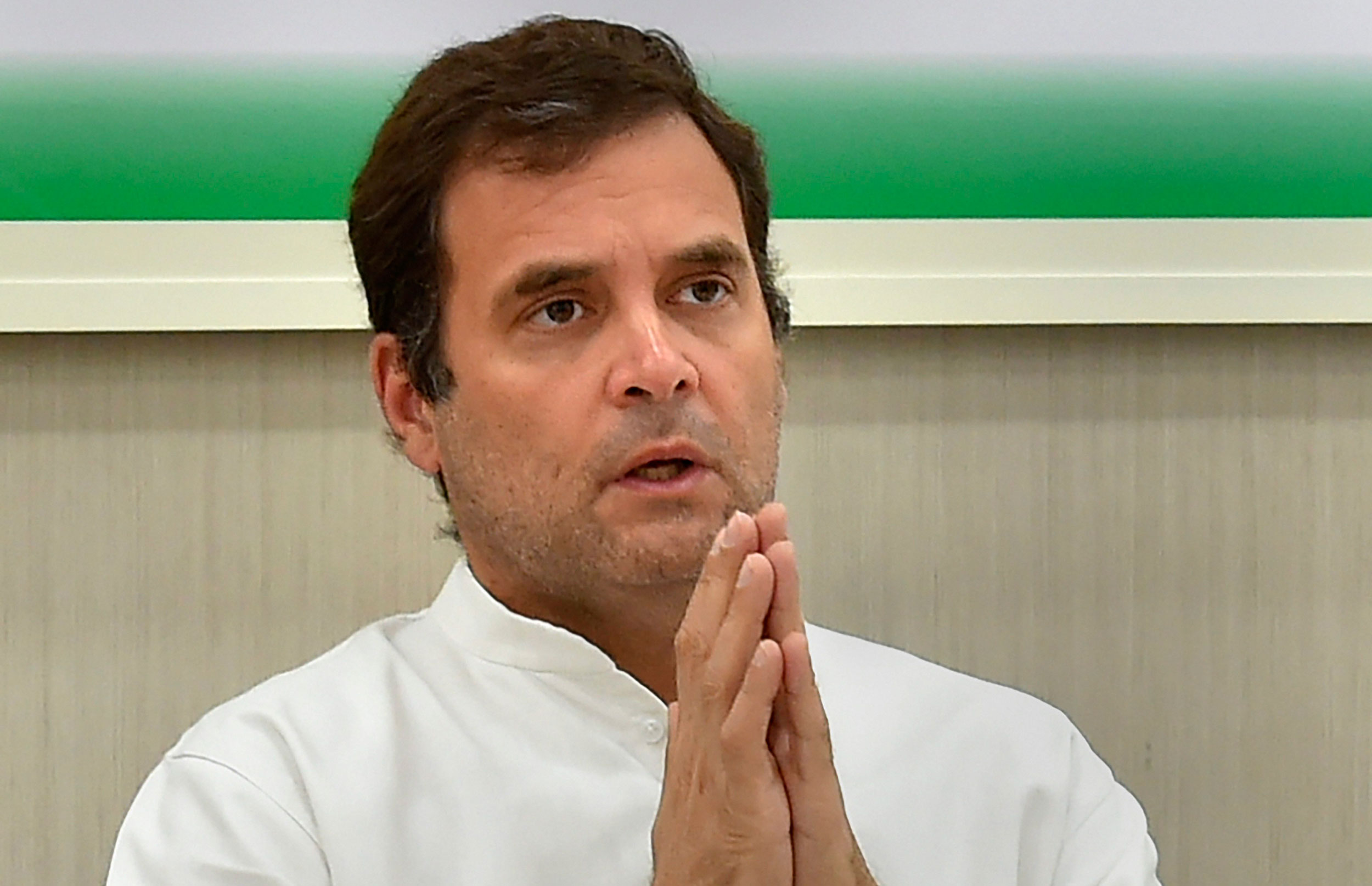 Rahul Gandhi at the Congress Working Committee meeting, in New Delhi, on May 25, 2019.
(PTI Photo)
---
New Delhi
|
Published 21.06.19, 02:07 AM
|
---
Rahul Gandhi on Thursday again ruled out rethinking his resignation but sources said most Congress leaders were reluctant to accept anyone else as party president.
Multiple senior Congress politicians have told The Telegraph that finding a new party president is extremely difficult as the majority in the party is against letting Rahul go and prefers to wait instead of announcing a successor.
Rahul has refused to get involved in selecting a new party president, leaving the matter to an undefined core group that appears divided.
News channel NDTV asked Rahul on Thursday about a report that suggested the name of his successor but he expressed ignorance, saying he was not involved in the selection "as that could complicate matters".
He said he had decided to quit after the election defeat because there had to be some accountability in the system.
Senior Congress leaders involved in political management and decisions on the future road map have been saying all along that Rahul insists that as then party president he cannot escape accountability for the poll rout.
While this may be his way of forcing others to accept responsibility too, most party seniors, particularly those who were not involved in election management, refuse to accept that Rahul alone was responsible for the decimation.
"A few leaders of our party were saying yesterday (Wednesday) that Rahul is zero and should quit. I was furious and told them that if Rahul was zero, others were lesser than minus hundred," a Congress Lok Sabha member told this newspaper.
"I have spoken to five or six Lok Sabha MPs, and we are planning to tell Sonia Gandhi the party will be destroyed if a new president is chosen. We don't have (another) leader who commands the support of even 10 people outside his or her state."
Many in the Congress are angry at various names doing the rounds as Rahul's possible successor and predict a terminal decline in the party if Rahul is allowed to step down.
They don't believe that the political involvement and intense campaigning that Rahul has promised even after he quits would be enough.
"That Rahul is the supreme leader and the only credible challenger to Narendra Modi is indisputable, and this must not be diluted. Else, the downslide will become irreversible," a party candidate who lost the election said.
A strong lobby is taking shape in the Congress that blames the advisers and argues that Rahul should share the blame, but for choosing the wrong people. This lobby says the party has forgotten the difference between "advisers and executers" and made a mistake by allowing a set of Rajya Sabha members and apolitical aides to take over political management.
The importance given to Praveen Chakravarty, chairman of the data analytics department, and some paid employees of Rahul's team are being mentioned in this context.
Some, of course, feel that the majority of voters are aggrieved at "dynastic politics" and, therefore, Rahul's decision not to hold a formal post isn't such a bad idea.
"Voters don't see 'dynasty' only in terms of kith and kin contesting elections," one of them said. "The Nehru-Gandhi family is taken as a symbol of dynasty and its leadership is linked to a perceived sense of entitlement. India has changed and we should not live in denial."
The problem is that the "core group" dealing with the matter does not accept this theory and insists that Rahul is the best bet to stem the rot. This group has already decided that Sonia will have to step in for a while if Rahul takes a break.
Sources say that party veteran A.K. Antony leads this group, which is not ready to countenance the party's reins going to anyone other than mother and son, and that this line has the support of 90 per cent of the party workers and the majority of leaders.
"I have not interacted with a single party worker after the election who advocates a change of leadership, though all of them suggest a drastic overhaul," a core group member said. "They all want Rahul to continue; even those who feel he has committed mistakes."