Punjab Assembly calls for Chandigarh's transfer to state
The special session comes amid a political row sparked by Amit Shah's announcement that central service rules will apply to the city employees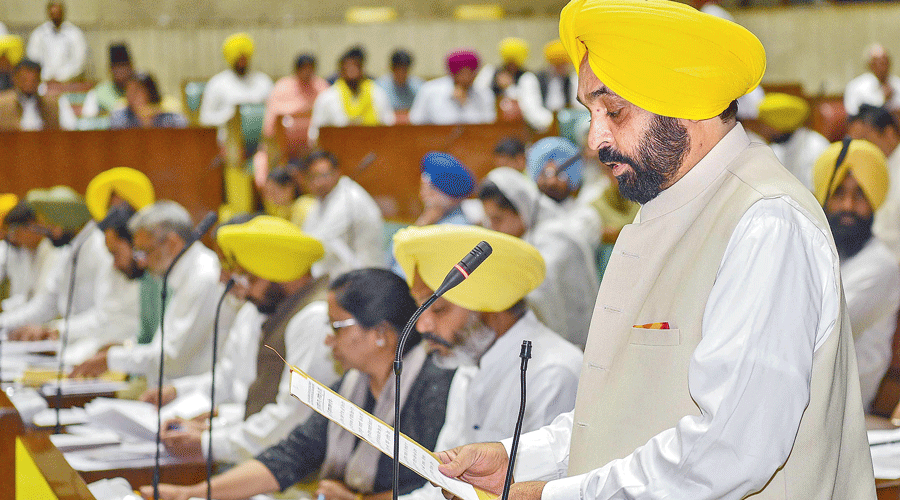 Punjab chief minister Bhagwant Mann speaks during the special sitting of the first session of the Assembly in Chandigarh on Friday.
PTI Photo
---
Chandigarh
|
Published 02.04.22, 01:15 AM
|
---
The Punjab Assembly on Friday unanimously passed a resolution seeking immediate transfer of Chandigarh to the state, with chief minister Bhagwant Mann accusing the Centre of trying to upset the balance in the administration of the Union Territory and other common assets.
"Chandigarh city was created as the capital of Punjab. In all past precedents whenever a state has been divided, the capital remains with the parent state. Punjab, therefore, has been laying its claim for complete transfer of Chandigarh to Punjab," the resolution moved by Mann said.
Other than the BJP, whose two Punjab legislators earlier staged a walkout, members of all political parties, including the AAP, Congress, Shiromani Akali Dal and the Bahujan Samaj Party, supported the resolution and described the Centre's move "dictatorial and autocratic".      
The one-day special session comes amid a political row sparked by Union home minister Amit Shah's announcement that central service rules will apply to Chandigarh employees.
Until now, Punjab service rules applied to employees of Chandigarh, which was made a Union Territory and joint capital of Punjab and Haryana after Haryana was carved out of Punjab in 1966.
The Chandigarh administration has always been managed by officers of Punjab and Haryana in the ratio of 60:40, the resolution said.
"However, recently central government has posted officers from outside to Chandigarh and has introduced central civil service rules for employees of the Chandigarh Administration, which goes completely against the understanding in the past," the resolution said.
Since the reorganisation of the state in 1966 a "balance was maintained in the administration of common assets like the Bhakra Beas Management Board… through many of its recent actions the Centre has been trying to upset this balance," the resolution added.
The Centre has advertised the posts of members of the BBMB to officers of all states and the central government.
Senior Congress leader Partap Singh Bajwa urged Mann to consult the Punjab Advocate General and explore all legal remedies available to the state.
Mann said that in the coming days, they would seek time from the President, Prime Minister and the Union home minister and assured the House that Punjab's side would be strongly put forward before them.
Moving the resolution, Mann asked the Centre to honour the principles of federalism enshrined in the Constitution and not to take any steps that may disturb the balance of the administration of Chandigarh and that of other common assets.   
Mann noted that in the past, the Punjab House had passed a number of resolutions urging the Centre to transfer Chandigarh to Punjab.
"This House once again recommends to the state government to raise the matter with central government to immediately transfer Chandigarh to Punjab," the resolution said.