Punjab: Aam Aadmi Party too succumbs to charm of moneybags
AAP is keen to fill in the vacuum left by an imploding Shiromani Akali Dal, whose seat held by the rebel Sukhdev Singh Dhindsa is also up for election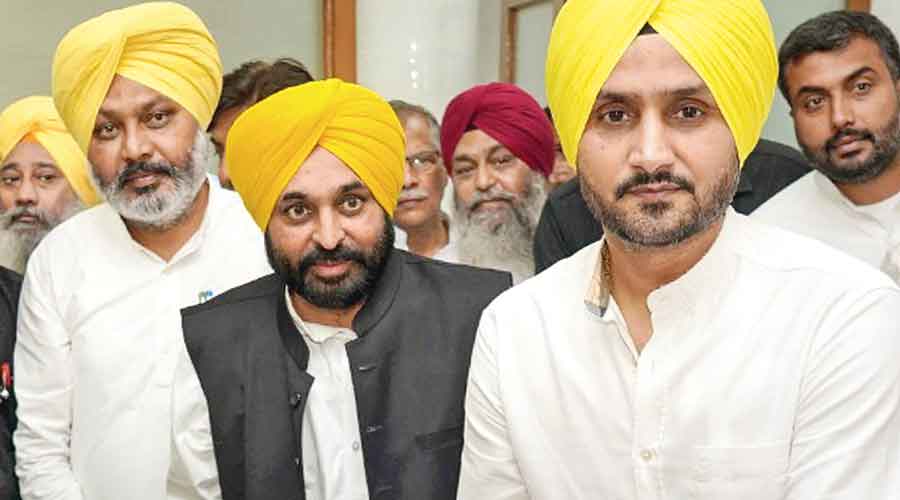 Harbhajan Singh files his nomination papers for the Rajya Sabha elections from Punjab.
PTI Photo
---
New Delhi
|
Published 22.03.22, 03:01 AM
|
---
The Aam Aadmi Party's nominations for the five Punjab Rajya Sabha seats for which elections are scheduled on March 31 have raised eyebrows within and outside the party.
The party has named former Indian cricketer Harbhajan Singh, educationist Ashok Mittal, exporter Sanjeev Arora, IIT Delhi teacher Sandeep Pathak and its Delhi MLA and Punjab co-in-charge Raghav Chadha as its candidates.
The AAP has 92 MLAs in the 117-member Punjab Assembly.
Chadha and Pathak, who teaches at the IIT's energy science and engineering department, have long been associated with the party. But the other three aren't.
Mittal is chancellor of the Lovely Professional University, a private varsity based in Phagwara. Arora is a businessman and philanthropist. Both are seen as moneybags.
A similar insinuation was made when the AAP sent former Congress leader Sushil Gupta and chartered accountant N.D. Gupta to the Upper House in 2018.
An AAP source said: "Chadha faced criticism in Punjab for ticket distribution and playing the soft Hindutva card, all of which were the party's decisions and not his own. He was expected to be rewarded either with a Rajya Sabha seat or a Delhi cabinet berth. The opinion in the Punjab unit was to avoid the Rajya Sabha route as Chadha, although a Punjabi, is a leader from Delhi, and giving a Punjab seat to him would not be received well."
The AAP is keen to fill in the vacuum left by an imploding Shiromani Akali Dal, whose seat held by the rebel Sukhdev Singh Dhindsa is also up for election.
The AAP source added: "Pathak is a strategist who has worked for years with us in Punjab. He is a backroom brain behind the victory and was expected to be rewarded within the party. I did not expect him to be sent to Parliament. I do not know if we will gain any political dividends from this decision."
Author Amandeep Sandhu slammed the party on Facebook for its choices.
Sandhu told The Telegraph: "They are not doing what you expect from the AAP — change conventional politics, set right the degradation of nominations to the Rajya Sabha…. They got a state, they found seats, they're filling them up with their people."
Sandhu added: "You have had Sachin Tendulkar and many sports stalwarts in Parliament. You can tell the BJP to nominate Harbhajan if you really want him in the Rajya Sabha. Why are you wasting a seat there? A chancellor of a private university is being nominated when you have an agenda of universal and free public education. It is counter to the agenda they have positioned themselves in -- as an alternative to the corrupt politics of the country."
Congress MLA Sukhpal Khaira, formerly with the AAP, tweeted: "If this list of probable Rajya Sabha candidates by @AamAadmiParty is true, it's most saddening news for Punjab and will be the first discrimination for our state. We'll oppose tooth and nail any non-Punjabi being nominated. This is also a joke on AAP workers who have worked for the party."
If this list of probable Rajya Sabha candidates by @AamAadmiParty is true its most saddening news for Punjab n will be the first discrimination for our state.We'll oppose tooth n nail any non punjabi being nominated.This is also a joke with Aap workers who have worked fr d party pic.twitter.com/w7svk6H0iS

— Sukhpal Singh Khaira (@SukhpalKhaira) March 21, 2022