Church disciplines nun, warns priest who supported bishop's arrest
Syro-Malabar Church has barred Sister Lucy Kalappura from teaching Bible, offering Holy Communion or participating in parish activities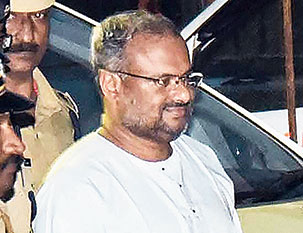 ---
---
Church authorities in Kerala have disciplined a nun and cautioned a priest for supporting the recent protests seeking the arrest of Bishop Franco Mulakkal, accused of raping a nun several times.
The Syro-Malabar Church has barred Sister Lucy Kalappura, of the Franciscan Clarist Congregation at Mananthavady in Wayanad district, from teaching the Bible, offering Holy Communion or participating in parish activities.
She learnt about the punishment only when she arrived for the Sunday prayer on September 23.
At Muvattupuzha in Idukki, the Jacobite Church has warned Father Yuhanon Ramban, a senior clergyman, against any future participation in the ongoing protest.
Both the Jalandhar-based bishop, who was arrested on Friday, and the Kottayam-based rape complainant belong to the Syro-Malabar Church.
Sister Lucy said a "huge majority of the parishioners would always support" her, and Father Yuhanon said he would continue fighting for truth and justice. He told reporters in Idukki that the warning had followed tremendous pressure from Church higher-ups.
With the protesting nuns and their supporters criticising the action against the duo, the Franciscan Clarist Congregation issued a media statement claiming Sister Lucy had had a history of violations. The statement said Sister Lucy had also been warned in 2003 for activities unbecoming of a nun.
The congregation's statement claimed that she had on September 19 sought permission to visit a relative in Thrissur but travelled to Ernakulam, where the sit-in protest was going on.
The Congregation denied local media reports that said the nun had been dismissed for participating in the protest.
In a Facebook post on September 21, Sister Lucy had protested against the hate messages aimed at her and the others who had expressed solidarity with the rape complainant.
Sister Lucy told a Malayalam channel on Sunday that she had visited Thrissur, but later participated in the protest in Kochi.
"Although I originally went to Thrissur, I wanted to be with the nuns who were fighting for justice. So I went to Kochi and sat with them," she said, justifying her act.
She described those posting abusive messages on her Facebook page as "a very small number".
"A huge majority of the parishioners will always support me," said the nun.
Kozhikode police have booked film actor and social activist Joy Mathew and 20 others for marching on the busy S.M. Street without permission last week demanding the bishop's arrest.
The city police clarified that the protesters had violated a ban on any kind of marches on the street, the busiest in the north Kerala city.