Protest rages in frigid Kargil over decision to make Leh the HQ
1st divisional commissioner prevented from reaching Leh by angry residents who spent night in the open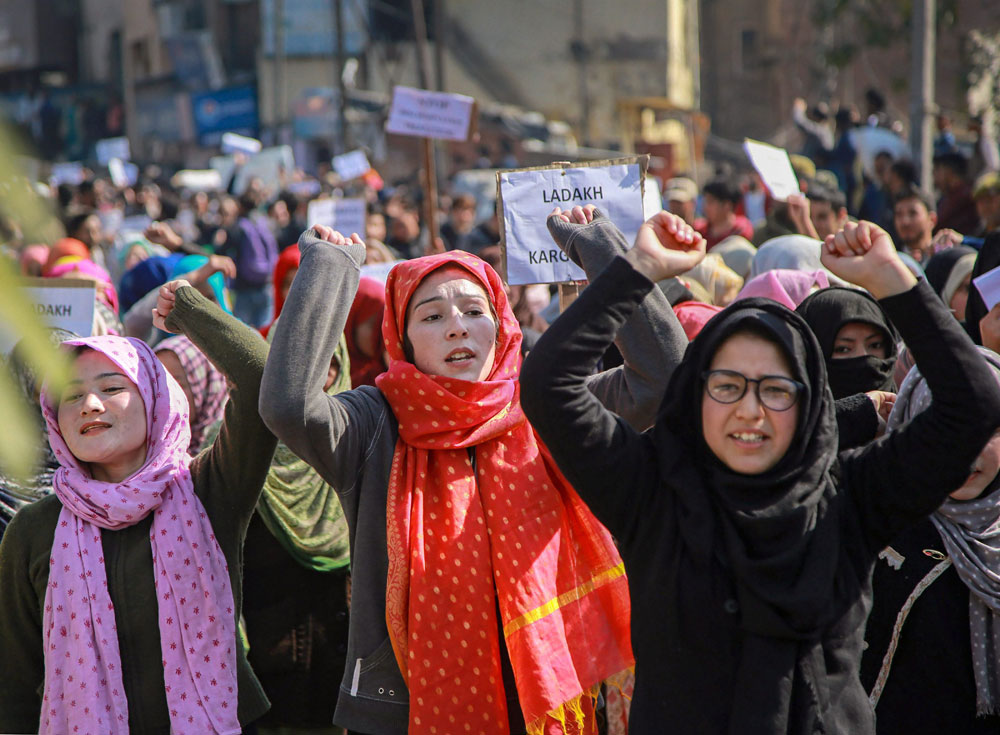 ---
|
Srinagar
|
Published 12.02.19, 10:44 PM
---
Biting cold forces Kargil to go to bed early in winter but thousands spent hours on roads on Monday night as the mercury dipped to minus 17 degrees Celsius to prevent Ladakh's new divisional commissioner from entering the district in an unprecedented protest during which they lit bonfires and sipped tea to fight the chill.
Kargil has been seething since governor Satya Pal Malik's administration made Leh the headquarters of the newly created Ladakh division instead of acceding to the demand for rotation of divisional offices.
Saugat Biswas, a 2006-batch IAS officer who was on Friday posted as the first divisional commissioner of Ladakh, had set off for Kargil town on Monday after being told about the protests.
Thousands of people descended on Pashkum village, around 13km from town on the Kargil-Leh highway, as word spread that Biswas was coming.
Former Kargil MLA Asgar Karbalai, who is from the Congress, said: "Around 3,000 people were on the roads up to 2 or 3am to protest. It is unprecedented. Never have protests been held (in such frigid conditions)."
Biswas's cavalcade stopped at Wakha village, 10km from Pashkum, said social activist Ahmad Hussain. "The deputy commissioner and the SSP visited the spot to urge people to meet Biswas, but they did not agree," he said. Biswas had to finally turn back.
Hussain said more than 8,000 people had assembled at Pashkum. They were offered tea and food by villagers. "People lit bonfires to keep themselves warm," he said.