Priyanka 'stopped and detained' in UP's Mirzapur over bid to meet clash victims
Nineteen people were injured in the incident on Wednesday in Uttar Pradesh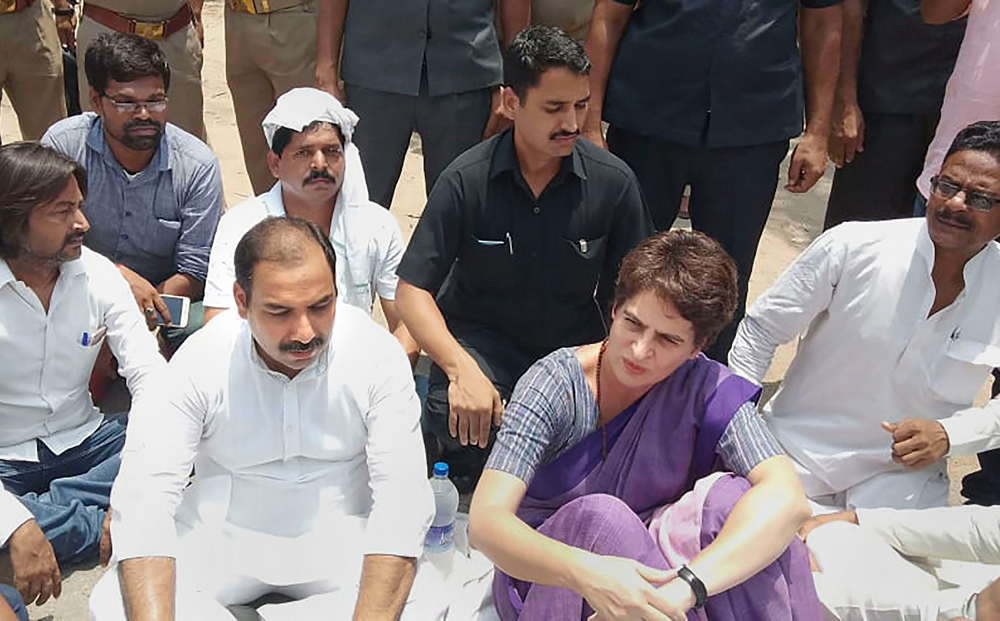 Priyanka Gandhi Vadra during the dharna in Mirzapur on Friday
(PTI photo)
---
Lucknow
|
Published 19.07.19, 08:03 AM
|
---
Priyanka Gandhi on Friday was prevented from going to Sonbhadra, the site of an alleged caste clash that left 10 people dead and the Congress claimed that she had been taken into police custody.
Rahul Gandhi said in a tweet that Priyanka had been 'illegally arrested'.
Nineteen people were injured in the incident on Wednesday in Uttar Pradesh. Some of them were admitted to a hospital in Varanasi and the others at a health facility in Sonbhadra district.
Priyanka, after meeting the victims at Varanasi, was scheduled to go to Sonbhadra, but the Congress general secretary was stopped in Mirzapur, following which she staged a sit-in along with party workers and leaders. She was later moved to a guest house.
"I want to peacefully meet the family members of the victims who had fallen to the bullets in the clash. I want to see the orders under which I have been stopped to meet them," Priyanka said while sitting on the dharna.
"I can move ahead only with four people. I want to meet the victims," she stressed.
As the issue snowballed, chief minister Yogi Adityanath promised justice and said the sub-divisional magistrate and four other officials were suspended.
A committee under the additional chief secretary (revenue) has also been constituted and will give its report within 10 days, Adityanath said in a statement in the Assembly.
Priyanka and other Congress leaders were "stopped and detained" at Narainpur while they were on their way to Sonbhadra, deputy inspector-general Piyush Kumar Srivastava said.
The district magistrate and the superintendent of police are in discussions with her at the Chunar guesthouse to persuade her not to move to Sonbhadra, the DIG said.
'Increasing insecurity in UP'

Rahul on Friday hit out the Adityanath government for the "illegal arrest" of Priyanka Gandhi Vadra in Sonbhadra, saying this "arbitrary application of power" to stop her from meeting those injured in a clash reveals the BJP dispensation's increasing insecurity in the state.
The illegal arrest of Priyanka in Sonbhadra, UP, is disturbing. This arbitrary application of power, to prevent her from meeting families of the 10 Adivasi farmers brutally gunned down for refusing to vacate their own land, reveals the BJP Govt's increasing insecurity in UP. pic.twitter.com/D1rty8KJVq

— Rahul Gandhi (@RahulGandhi) July 19, 2019
Other senior Congress leaders also criticised the Uttar Pradesh government over the incident and described the action as "crushing of democracy".
The Congress general secretary in charge of Uttar Pradesh West, Jyotiraditya Scindia, attacked the Adityanath government for stopping Priyanka from proceeding to Sonbhadra, saying the action was "open disrespect" of democracy.
"Meeting families of victims and expressing condolences is the responsibility of public representatives. The government has attempted to crush democracy which is highly condemnable," he said in a tweet in Hindi.
Party chief spokesperson Randeep Surjewala also lashed out at the government over the incident, saying the BJP dispensation has made Uttar Pradesh "apraadh pradesh (crime state)'.
On Wednesday, a village head and his supporters allegedly opened fire on a rival group in a land dispute in Sonbhadra killing 10 people, including three women, and leaving 19 injured, police said.