Garland and scissors jab at Modi for UP airport inauguration
While the PM hailed it as the 'fulfilment of a commitment' in the poll-bound state, he was soon reminded that his government had not laid 'even one brick' for it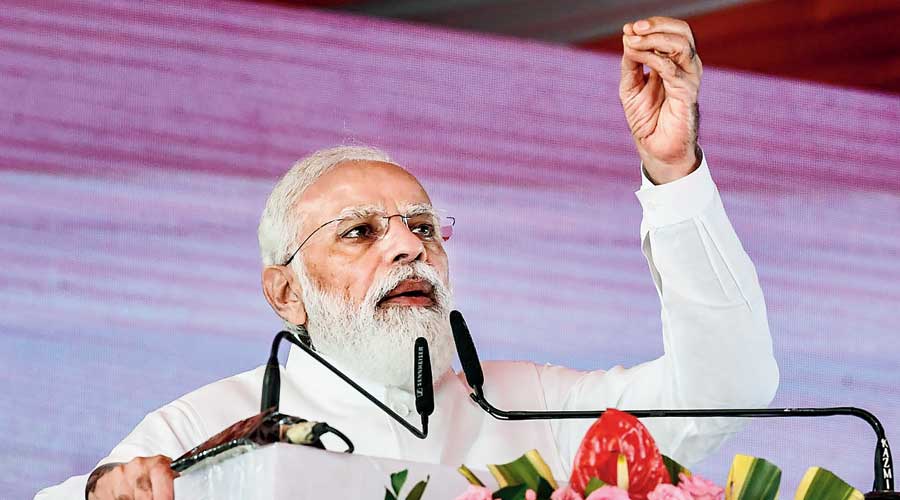 ---
Lucknow
|
Published 21.10.21, 01:31 AM
|
---
Prime Minister Narendra Modi on Wednesday inaugurated an international airport at Uttar Pradesh's Kushinagar and hailed it as the "fulfilment of a commitment" in the election-bound state, but was soon reminded that his government had not laid "even one brick" for it.
The airport, built at an estimated cost of Rs 260 crore, had been a work in progress since 1946. Kushinagar is the final resting place of Lord Buddha.
"Kushinagar airport is the result of decades of hope and expectations of the people…. It is time for the fulfilment of a commitment. India is laying special focus on better connectivity and building better infrastructure for the comfort of the devotees," the Prime Minister said after inaugurating the airport.
"The development of Kushinagar is one of the key priorities of the UP and central governments," Modi added.
However, Samajwadi Party leader and former chief minister Akhilesh Yadav told reporters in Lucknow that the Modi government had no role in the airport coming up.
"These people didn't lay even one brick to build the airport. They only keep coming with scissors, tape, garlands and sweets at those places where work had been done by my government (from 2012 to 2017)," Akhilesh said.
"The BJP government shouldn't forget that the runway on which they landed in Kushinagar today was made by the SP government," he added.
An aerodrome was built at Bhaluhi Madaripatti village in Kushinagar in 1946, a year before independence. A large number of Buddhist tourists had landed there during an international summit in 1954. The aerodrome had not been used thereafter.
Bahujan Samaj Party leader Mayawati had as chief minister ordered extensive construction work in 1995 and proposed to make it a full-fledged airport. The plan was approved by the Congress-led UPA government and flagged off by Ghulam Nabi Azad, the then aviation minister.
After a period of development and then falling dormant, it was planned during Mayawati's last stint as chief minister in 2008 that the facility would be upgraded to an international airport.
The Congress government at the Centre gave the go-ahead but the extension of the airstrips and other construction work were started in 2012, when the Samajwadis came to power with Akhilesh as chief minister.
Around 9am on Wednesday, a Sri Lankan Airlines flight carrying Buddhist monks and dignitaries from the island nation touched down at Kushinagar airport.
The Lankan delegation was led by cabinet minister Namal Rajapaksa, son of Prime Minister Mahinda Rajapaksa.
Diplomats from a dozen countries — Mongolia, Myanmar, Vietnam, Cambodia, Thailand, Lao PDR, Sri Lanka, Bhutan, South Korea, Nepal, Japan and Singapore — were present at the inaugural ceremony of the airport.