Permanent Representative to UN snubs Dutch Ambassador
Referring to the conflict's destabilising effect, T.S. Tirumurti flagged the skyrocketing oil prices besides shortages in food grains and fertilisers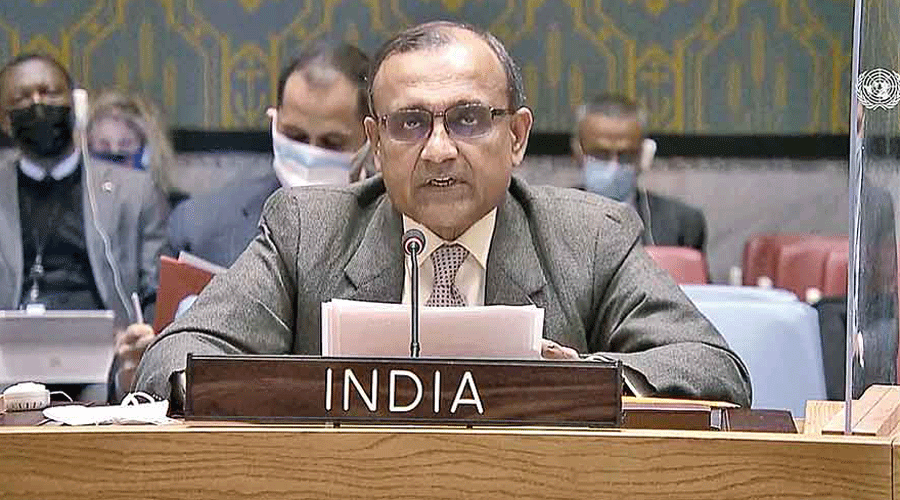 T.S. Tirumurti.
File photo
---
New Delhi
|
Published 07.05.22, 02:57 AM
|
---
India's Permanent Representative to the United Nations, T.S. Tirumurti, on Friday publicly put down a senior Dutch diplomat for a patronising tweet on India's position on the Russia-Ukraine conflict.
Karel van Oosterom, the Dutch ambassador to the UK, quietly deleted the tweet a few hours later after some retired diplomats gave him a lesson in diplomacy.
"Kindly don't patronise us Ambassador. We know what to do," Tirumurti tweeted.
Kindly don't patronize us Ambassador. We know what to do.

— PR/Amb T S Tirumurti (@ambtstirumurti) May 5, 2022
Earlier, Van Oosterom had tweeted: "You should not have abstained in the GA (General Assembly). Respect the UN Charter."
He was commenting on a tweet from Tirumurti that had shared the statement made at the United Nations Security Council on Thursday after the Secretary-General's briefing on his visits to Russia and Ukraine.
India has abstained from several votes on the Ukraine conflict at various international forums, including the UNSC, General Assembly and the United Nations Human Rights Commission, refusing to join the Western countries in condemning Russia while consistently calling for a cessation of all hostilities.
At Thursday's briefing, Tirumurti iterated India's position that "there will be no winning side in this conflict, and while those impacted by this conflict will continue to suffer, diplomacy will be a lasting casualty".
Referring to the conflict's destabilising effect, he flagged the skyrocketing oil prices besides shortages in food grains and fertilisers.
Tirumurti's predecessor at the United Nations was among the first to amplify his point with a tweet of his own: "Wow… Amb @KvanOosterom Is this a new form of imperious Diplomacy… Don't all primers teach that post-colonial diplomacy begins with respect for sovereign choices - especially of voting @UN? Time to go back to the basics of diplomatic practice."
Former foreign secretary Kanwal Sibal tweeted: "Dutch amb to UK remarking on our GA vote shows his unprofessionalism/ lack of discipline in Dutch Foreign Office. Has no locus standi. Not PR to UN or India head in Dutch FO. His own govt has not said this. Buccaneering on his own in imperious style. Unfit for his position."
Dutch amb to UK remarking on our GA vote shows his unprofessionalism/lack of discipline in Dutch Foreign Office. Has no locus standii. Not PR to UN or India head in Dutch FO. His own govt has not said this. Buccaneering on his own in imperious style. Unfit for his position. https://t.co/2YotOKb5kt

— Kanwal Sibal (@KanwalSibal) May 6, 2022