SC deplores parallel narratives in media on Pegasus scandal
The bench was conceding the Centre's plea for two more days to respond to the petitions seeking a court-monitored probe into the alleged illegal surveillance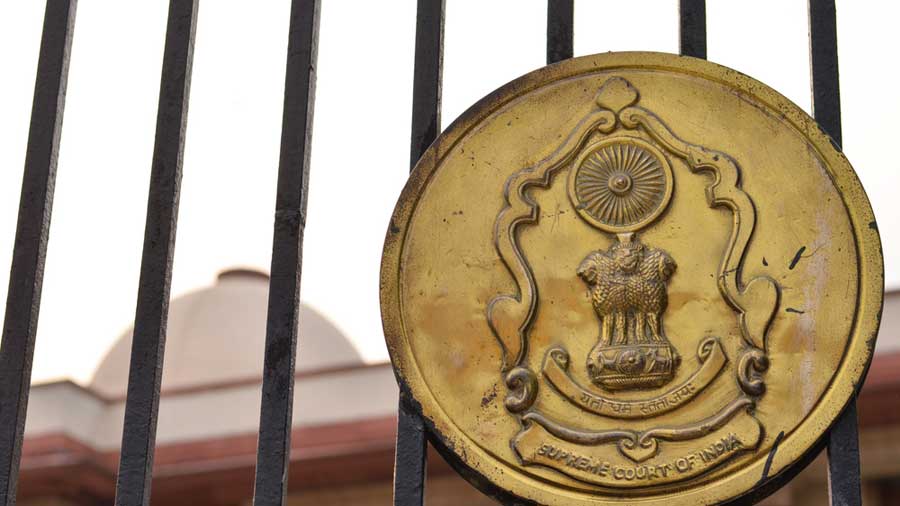 Supreme Court of India
File picture
---
New Delhi
|
Published 11.08.21, 01:51 AM
|
---
The Supreme Court on Tuesday deplored the practice of some petitioners in the Pegasus controversy conducting parallel narratives in the media and asked them to have faith in the judiciary which is seized of the matter.
A bench of Chief Justice of India N.V. Ramana and Justices Vineet Saran and Surya Kant expressed disappointment while conceding the Centre's plea for two more days to respond to the petitions seeking a court-monitored probe into the alleged illegal surveillance using the Israeli spyware.
"Please have some faith in the system. Whatever you (the petitioners) want to say, please say the same in affidavits and we will go through the contents of that, we assure you. But you cannot have a parallel debate. Not that we are against such debates, but it is not proper to have parallel proceedings when we are seized of the matter and when we are looking into it," Justice Ramana said.
As soon as the case came up for hearing, Justice Ramana told a battery of senior lawyers: "Whatever and whoever be the people who are interested in the matter, if you want to say something in the social media, Twitter, Facebook, newspapers… it is for them.
"But once you come to this court, we expect the debate will take place here and we expect that they will answer the questions; the queries that we put them through a proper debate within the court and not outside. They are all represented through counsel."
Senior advocate Kapil Sibal agreed that court decorum ought to be observed. He said even his submission in the court had been misquoted in the media.
The CJI said some discipline ought to be maintained by the lawyers and petitioners when the matter was being heard by the court.
"Sometimes we ask questions to all of you…. Sometimes it may be inconvenient, but both sides have to face this music. We expect answers. That does not mean the proceedings have taken place fully. If the petitioners want to say something, they can say it on affidavit," the bench said.
Solicitor-general Tushar Mehta sought two days to respond to the petition and suggested that the matter be taken up for hearing on Friday.
However, the CJI expressed inability to hear the matter on Friday as he would not be sitting in the court. Accordingly, the bench said it would list the matter for further hearing to August 16 (Monday).
The NGO Campaign for Judicial Accountability and Reforms (CJAR) on Tuesday urged the CJI to facilitate live-streaming of the Pegasus proceedings to enable the general public also to have direct access to the crucial hearing.
In a letter addressed through advocate Prashant Bhushan and CJAR's co-founder Anjali Bhardwaj, the organisation referred to Justice Ramana's recent remarks at the inauguration of Gujarat High Court's live-streaming of judicial proceedings that it was high time to demystify the justice delivery system through furthering access to open courts.
The CJAR said in its letter to the CJI: "Given that this case deals with matters of tremendous public interest, and its outcome will have wide ramifications for our republic, we are writing to request you to ensure live-streaming of the hearings of the case. Investigations by the media reveal that phone numbers belonging to a judge of the Supreme Court, registrars of the apex court and the woman staffer (and her family members) who had accused a former CJI of sexual harassment were potentially hacked."
The letter added: "These revelations point to a grave threat to the independence of the judiciary…. We earnestly request you to initiate live-streaming of proceedings of the Supreme Court in matters of public importance, starting with the Pegasus case."