Opposition joins hands to meet Kovind over farm laws
Five member delegation to demand repeal of legislations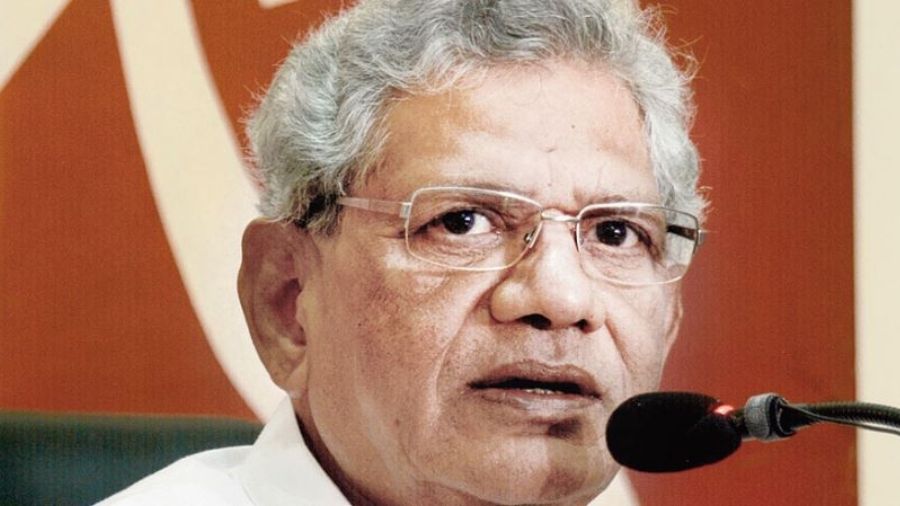 ---
New Delhi
|
Published 08.12.20, 09:41 PM
|
---
A representation of Opposition parties will meet President ram Nath Kovind on Wednesday over their concerns on the three new agri-marketing laws enacted by the Centre in September, and to seek their revocation, senior leaders said Tuesday.
According to CPI(M) general secretary Sitaram Yechuri, the five member delegation, including Congress leader Rahul Gandhi, NCP chief Sharad Pawar, a representative of the DMK, CPI general secretary D Raja and he, will meet the President on December 9 at 5 pm.
"The five of us will probably meet before we meet the President and finalise our strategy. We have spoken to all Opposition leaders and decided our next course of action. The delegation has been limited to five because of the Covid-19 situation although we are trying to see if they allow more leaders to join. In that case we have to rush leaders to Delhi as they are mostly in their respective states," he said.
The news was also confirmed by CPI general secretary D Raja.
Sharad Pawar, also confirming his presence, told reporters, "Leaders from different political parties (those opposing the farm bills) will sit, discuss and take a collective stand on the contentious farm laws before meeting President Ram Nath Kovind."
A sit-in meeting of the Opposition parties was ruled out as most of the leaders are not in Delhi.
Opposition parties including the Congress have extended their support to the farmers agitation and demanded the repeal of the three laws.
A group of farmer leaders were scheduled to meet Union Home Minister Amit Shah on Tuesday evening, around 7pm, a  day before the sixth round of formal talks with Union ministers is supposed to be held on Wednesday.
Commercial establishments and shops were closed, transport got affected and traffic was disrupted as protesters demonstrated on roads as well as railway tracks in several parts of the country on Tuesday, in response to the farmers' call for a Bharat Bandh against the three central agri-marketing laws.