Pinarayi Vijayan unveils '100' Onam gifts
The Kerala CM announces enhancements in food and social security schemes and the health infrastructure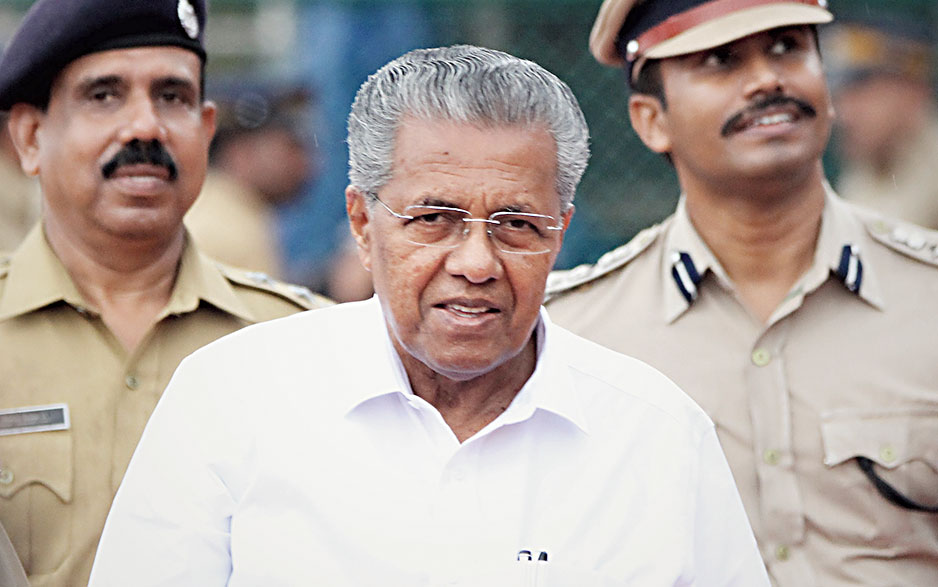 Pinarayi Vijayan
File picture
---
Bangalore
|
Published 31.08.20, 01:15 AM
|
---
Kerala chief minister Pinarayi Vijayan on Sunday announced enhancements in food and social security schemes and the health infrastructure while declaring that 100 new projects would be inaugurated in the next 100 days.
He told a news conference the distribution of dry ration kits, a feature of the state's relief efforts during the 2018 and 2019 floods and the 2020 lockdown, would continue for another four months.
"More than 86 lakh such kits were distributed (at the start of the lockdown).... With 1.5 lakh more ration card holders (added since then), the government has distributed more than 88 lakh food kits for Onam (which began last week)," he said.
"Food kit distribution will continue for another four months. But if you ask me what the most effective change made by the Left government was, I would say it's the social security pension (for the destitute, widows and others)."
Vijayan said 35 lakh people received Rs 600 a month as social security pension when his government assumed charge four years ago. Since then, the sum had been increased "to Rs 1,000, then Rs 1,200 and Rs 1,300".
"Now we are adding another Rs 100 (to make it Rs 1400.) The beneficiaries increased from 35 lakh to 58 lakh; now another 23 lakh have been added," he said.
Vijayan added that from now on, the pensions would be paid every month instead of every three months.
He said his government had already appointed "9,768 health workers, 1,200 house surgeons and another 1,152 health workers on ad hoc basis" during the Covid crisis.
He said that over the next 100 days, his government would increase testing to 50,000 a day (from about 35,000), and raise the number of family health centres from 386 to 539.
Vijayan said 24 new government hospitals, including medical colleges and district and taluk hospitals, would be opened in 100 days, as would "10 new dialysis centres, three catheterisation labs and two more modern cancer centres".
Some 500 government school buildings will be rebuilt at Rs 5 crore each, and another 35 at Rs 3 crore each. Fourteen new school buildings will be inaugurated.
"While 45,000 classrooms at government schools are already hi-tech (with digital learning facilities), all the lower primary schools (up to Class IV) will be converted into hi-tech classrooms," Vijayan said.
He promised 11,400 computer labs for schools that lack them, and laptops for 5 lakh students.
Some 50,000 jobs will be created through 15,000 enterprises in the non-agriculture sector, and another 1,000 posts in colleges and higher secondary institutions, he said.
Vijayan had promised to generate employment to help Malayalis who had lost their jobs in the Gulf.