On video: BJP leader cleans shoe with flag
The embarrassment comes at a time the party has accused former chief minister Mehbooba Mufti of dishonouring the national flag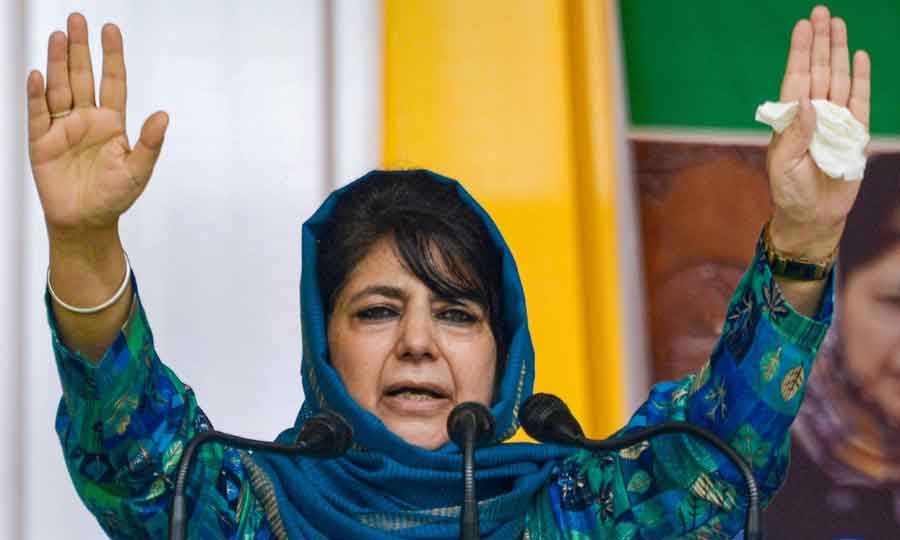 Mehbooba Mufti
File picture
---
Srinagar
|
Published 27.10.20, 12:32 AM
|
---
A Valley BJP politician has purportedly been caught on video cleaning his shoe with a Tricolour on a day his party held a Tiranga Yatra (Tricolour March) in Srinagar to celebrate Jammu and Kashmir's accession to India.
The embarrassment for the BJP comes at a time the party has accused former chief minister Mehbooba Mufti of dishonouring the national flag. The People's Democratic Party leader had said she would not hold the Tricolour until the scrapped state flag of Jammu and Kashmir was reinstated.
A five-second clip shows Pulwama BJP president Sajad Ali Raina cleaning his shoe with the national flag while a man in the background, apparently the person shooting the video, breaks into laughter.
"This is foolishness," a smiling Raina, sitting on the floor, says as he notices he is being filmed. Almost as a reflex action he tries to hide the flag. The video has taken social media by storm.
Raina told reporters it was an old video, from the time his "thinking" was different.
"I am a proud Indian. My nation's flag is my life and pride. The video you are talking about is six years old," he said.
"At the time I had something else in mind. But when I joined the BJP, I started loving my country. I will have no regrets if I have to sacrifice my life for the flag."
If the video were from a time before Raina joined the pro-India camp, it's not clear why he should be seen objecting to being filmed in the act.
BJP spokesperson Darakhshan Andrabi said she had neither seen nor heard about the video. She initially suggested that a "small issue" not be blown out of proportion.
"It may have been done by mistake, somewhere. Now we are (blowing) a small issue out of proportion; I think that is not right," she said.
On whether it was indeed a "small issue", she backtracked. "This is an offence, a crime. There could be a punishment for it."