Old grouse against lawyers bursts out in Delhi police protest
In a first, hundreds of police officers demonstrated outside their headquarters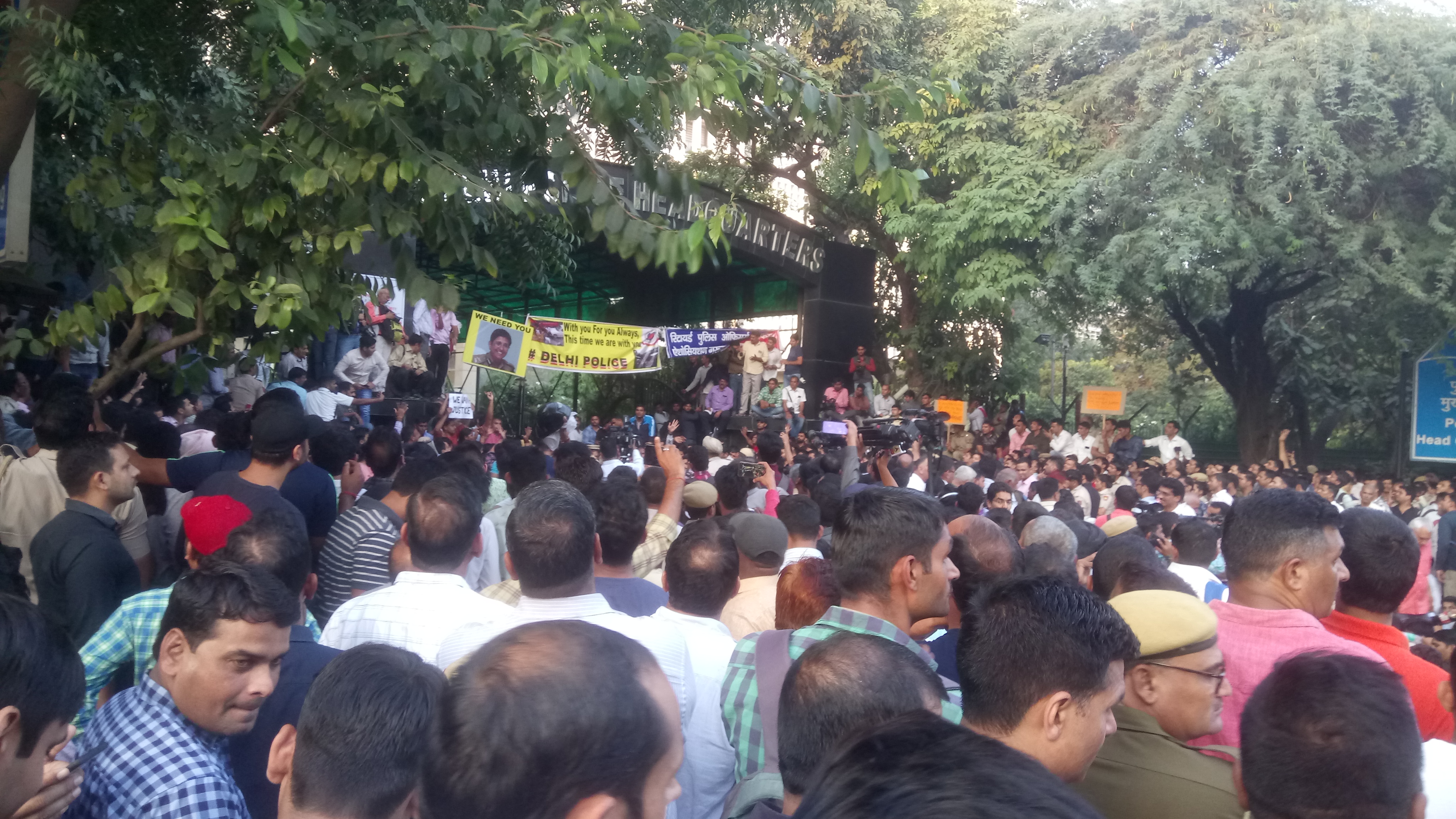 The protest was staged over separate incidents of violence against police force by lawyers at Tis Hazari Court and Saket district court in last three days
The Telegraph
---
New Delhi
|
Published 05.11.19, 05:25 PM
|
---
The situation in Delhi is quite alarming where you can see Police themselves protesting. Law and order has gone for a toss. #WhereisAmitShah https://t.co/SUBHESQ1UK

— Krishna (@krissh9207) November 5, 2019
When Delhi Police needs to protest against the Delhi Police in Delhi Police Head Quarter then understand that HMO is a TADIPAAR.

~ Chanakya Special#WhereIsAmitShah pic.twitter.com/vMwsqfFFJj

— THE RESISTANCE (@tirangawasi) November 5, 2019
Amit Shah sitting at Dharna.

In Ahamadabad for the voilence against police man in Delhi. 😂#LawyersVsDelhiPolice #WhereIsAmitShah pic.twitter.com/iQwdQbmohx

— अनमोल पालेकर (@dpakkaushik) November 5, 2019
In an unprecedented show of anguish, hundreds of police officers protested outside their Delhi headquarters, shouting for "justice" and chanting for former top cop Kiran Bedi, who once supposedly stood behind the force during a similar confrontation between lawyers and law enforcers.
The policemen demanded action against the lawyers who roughed up several police officers in the Tis Hazari courts on Saturday and later at Saket district court on Monday.
Last Saturday at the Tis Hazari, scores of lawyers and police officers came to blows resulting in many getting injured. The incident was sparked by a petty row over parking space between a police officer and a lawyer in the court complex.
The lawyers allegedly went on a rampage inside the court complex, beating up several police officers in a free for all, and set on fire many vehicles, including two belonging to the police. Videos of the incident which emerged sometime later, showed a mob of lawyers outnumbering two police officers inside the police lock-up inside the court complex and beating them up, causing one of them to faint.
The grouse against lawyers is an old one and it was clear from the statements of some of the policemen.
The cops complained against the heckling of lawyers in court who, they said, would not think twice before abusing a judge or beating up a complainant.
"The lawyers have a strong bond. Even the judges are afraid. I have seen incidents when lawyers have abused a judge inside the court and even gone charging at him," one of the protesters, a constable appointed at Dwarka district court, told this website.
"We cannot even lodge an FIR against them. The moment someone comes with a complaint against any of the lawyers, a pack of usually 50-odd lawyer barges in and force him to settle for a compromise either by threat or by use of force," the cop, who did not wish to be named, said.
After the Tis Hazari incident, Delhi High Court issued orders for the transfer of special commissioner Sanjay Singh and additional deputy commissioner of police Harender Singh. Also, the court put restrictions on the police on taking any "coercive action" against the lawyers involved violence.
While the police officers staged their protest crowding one entire lane of busy Vikas Marg, on social media Union Home Minister Amit Shah's silence became a point of ridicule. #WhereIsAmitShah trended the entire day on Twitter and many took pot-shots at the minister. 
Remembering Kiran Bedi
In 1988 Kiran Bedi, then the DCP (north), arrested a lawyer for theft.
All hell broke loose when the lawyer was handcuffed, a practice which the lawyers' body argued did not apply to them. A long-drawn confrontation ensued between the police and the lawyers, who went on a nationwide strike. Bedi ultimately was transferred after a two-judge bench ordered for it but did not back down on the arrest.
Such scenes in Delhi #WhereIsAmitShah https://t.co/W2j5sURH2D

— Aarti (@aartic02) November 5, 2019
While Police and Lawyers are baying for each others blood, Amit Shah has been busy getting his Shehzada's Twitter account verified.#WhereIsAmitShah pic.twitter.com/TXbYjJ7BYL

— Rofl Republic 🍋🌶 (@i_theindian) November 5, 2019
Those who break the law, cannot keep law and order. Delhi is living proof of that. Tumse na ho payega... #whereisAmitShah

— Preeti Sharma Menon (@PreetiSMenon) November 5, 2019
Amit shah sitting at home and reading comment under trend #WhereIsAmitShah pic.twitter.com/N6HhTKSHEM

— अनमोल पालेकर (@dpakkaushik) November 5, 2019