Odisha remembers Netaji on his 125th birth anniversary
CM Naveen Patnaik, Union minister Dharmendra Pradhan and a number of dignitaries visited Netaji's parental home Janakinath Bhawan at Odia Bazar in Cuttack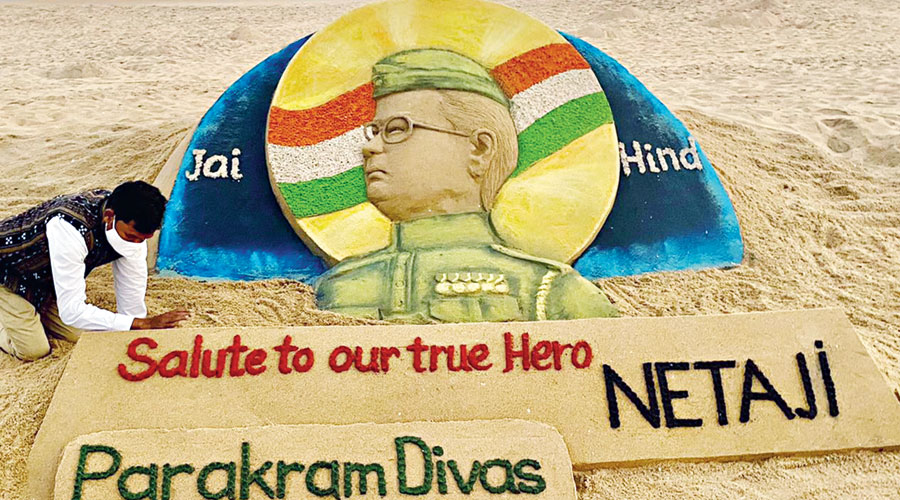 ---
---
Odisha and in particular Cuttack remembered its greatest son Netaji Subhas Chandra Bose on his 125th birth anniversary on Saturday.
Chief minister Naveen Patnaik, Union minister Dharmendra Pradhan and a number of dignitaries visited Netaji's parental home Janakinath Bhawan at Odia Bazar in Cuttack, which has been converted into a museum, and paid their tributes to the son of the soil.
Naveen also announced that a year-long celebration programme will be held to commemorate Netaji's 125th birth anniversary.
"Netaji is a son of Cuttack's soil. He was born and brought up here. This sacred soil of Cuttack inculcated in him the mantra of service, struggle and sacrifice. Hence, the state government has decided to celebrate the 125th birth anniversary of Netaji," the chief minister said.
Later Naveen tweeted a number of pictures of Netaji on his Twitter account where the number of his followers have crossed 3 million.
As a mark of respect to Netaji, Naveen on Saturday laid the foundation stone of a new bus terminal in Cuttack, which will be developed as a model bus stand of the country. The bus terminal, named after Netaji, will be developed over 12 acres at a cost of Rs 65 crore.
The terminal will have all basic facilities and amenities like a food court, rooftop rainwater harvesting and an integrated information management system for the benefit of passengers.
The terminal will display motifs and paintings from Netaji's life and his sacrifice for the country.
Besides Naveen, many other leaders, including minister Pradhan, visited Netaji's parental home and offered floral tributes to one of the nation's greatest martyrs.
Several paintings depicting Netaji's life and his role in the freedom struggle have been put on display at Janakinath Bhawan which has been converted into Netaji Birth Place Museum.
The museum houses 13 galleries displaying rare photographs of Netaji's early life, his time with Indian National Army (Azad Hind Fauj), provisional government of Azad Hind Fauj and Azad Hind Radio.
It also has a collection of more than 500 books.
Pradhan, who garlanded Netaji's statue in the presence of other dignitaries, later tweeted: "Paid tribute to one of India's greatest patriot Netaji Subhas Chandra Bose at Jankinath Bhawan, his birthplace in Cuttack. Celebrating this day as #ParakramDivas is a befitting tribute to Netaji and a just honour for his stellar contribution in the freedom struggle of our nation."
Sand artist Sudarshan Patnaik created a sand sculpture of Netaji at Puri beach on the occasion which drew a huge crowd.
Odisha also celebrated the 213th birth anniversary of another legendary freedom fighter and martyr Veer Surendra Sai. Pradhan unveiled a life-size statue of Sai in front of the Veer Surendra Sai airport in Jharsuguda district of western Odisha.
Union parliamentary affairs, coal and mines minister Pralhad Joshi attended the unveiling through the virtual mode.