Notice on kids at Ghanta Ghar
Around 5,000 women are participating in the peaceful protest, which started 2 weeks ago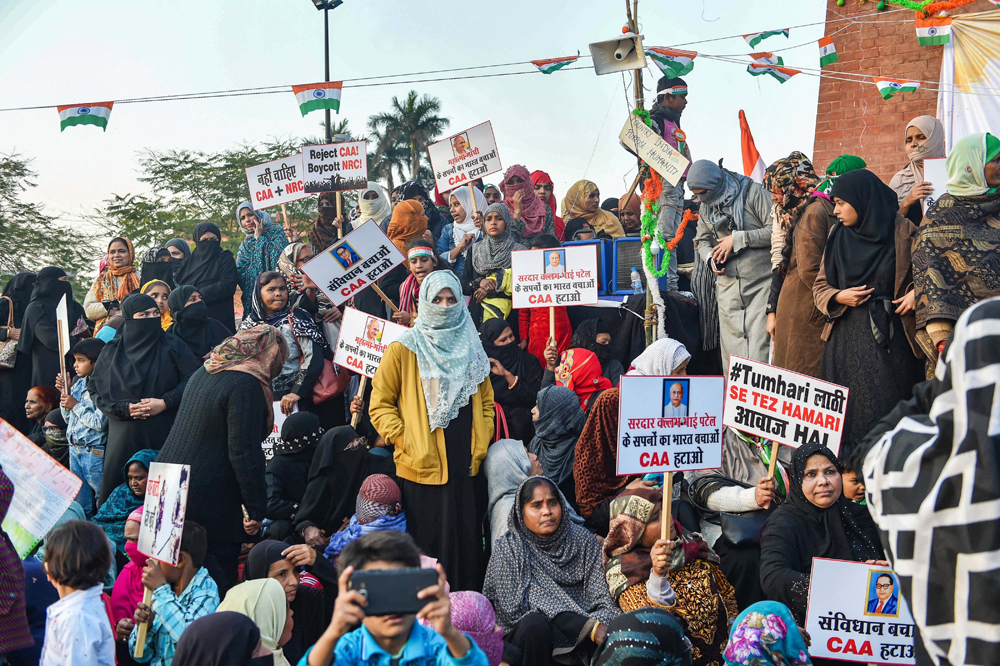 ---
|
Lucknow
|
Published 30.01.20, 08:14 PM
---
The women on a sit-in against the new citizenship law at Ghanta Ghar received a notice on Thursday from the Child Welfare Committee of Lucknow asking them to send their children away or face action.
Around 5,000 women are participating in the peaceful protest, which started two weeks ago, and many are accompanied by their children.
"In the best interest of children and to ensure that there is no mental stress on them, it is necessary that they are immediately removed from the dharna site or else action will be taken under Section 75 of the Juvenile Justice Act," the committee said in a notice
"The CWC orders all such families protesting with their children near the Clock Tower to immediately send them home," the notice added.
Section 75 says that "whoever, having the actual charge of, or control over, a child, assaults, abandons, abuses, exposes or wilfully neglects the child or causes or procures the child to be assaulted, abandoned, abused, exposed or neglected in a manner likely to cause such child unnecessary mental or physical suffering," can be punished with up to three three years in jail.
The protesters responded with a plan for a creche.
"We are planning to move an application with police in particular and the state government in general to let us run a crèche at the site because there are many women who are participating in the democratically organised protest and they don't have anybody at home to look after their children. The crèche that we want to start at Ghanta Ghar will be managed by us women only," Somaiya Rana, a protester, told The Telegraph on Thursday.
"We already have a medical corner for those who are unwell, a creative corner for the kids so that they can do paintings and other creative work, and an area where the women eat. We can run a crèche as well with the permission of the government," she added.
The women pointed out that they could not leave their children at home alone.
"My husband works in an office from 9am to 5pm and cannot look after my five-year-old daughter. So she accompanies me wherever I am on dharna at Ghanta Ghar," a protester said.
Another protester said hundreds of women who had babies were "fighting this existential battle against the Modi government". "You must have seen women giving speeches here while cradling babies in their laps. A child below the age of five must be near their mother. You will rarely find a boy or a girl here who has skipped school. But we can understand that every government machinery has been activated against us," she said. Many children join their mothers after school.A 16-year-old girl who came to Ghanta Ghar carrying 50 loaves of bread around 7pm on Wednesday had told this correspondent that the owner of a restaurant near her home gave her the food for free every day for distribution among the protesters. She had said she came to the dharna after school.
In Goa, police registered a criminal case on Thursday against a wing of Goa Church and an NGO for allegedly getting children to join an anti-CAA rally on January 24, PTI adds.