No one has the guts to arrest me, says Ramdev
Calls to detain him have come after the televangelist called allopathy a 'stupid science', alleging lakhs had died after taking allopathic medicines for Covid-19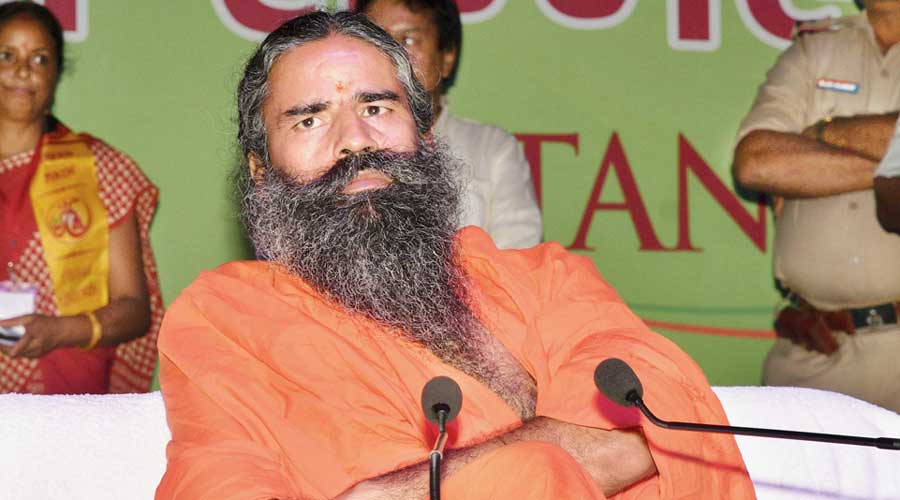 ---
Lucknow
|
Published 27.05.21, 01:17 AM
|
---
Yoga guru Ramdev on Wednesday said no one had the guts to arrest him, his declaration coming on a day the Indian Medical Association appealed to the Prime Minister to book the "owner of Patanjali products" on sedition charges for "spreading fear" against Covid vaccination.
"Arrest to kisi ka baap bhi nahin kar sakta Swami Ramdev ko, lekin shor macha rahe hain (Not even someone's father can arrest Swami Ramdev, but they are making a noise)," he told reporters in Haridwar, when asked about the #ArrestRamdev campaign on Twitter.
"They are demanding my arrest. Sometimes they call me a thug or maha-thug. It doesn't matter to me. I have become used to such things," Ramdev said.
Calls for his arrest have come after Ramdev called allopathy a "stupid science" and alleged that lakhs had died after taking allopathic medicines for Covid-19. 
The IMA sent him a legal notice, demanding an apology and withdrawal of the statement, and also wrote to Union health minister Harsh Vardhan. Following a letter from the minister, Ramdev withdrew his comments.
Dr Jayesh Lele, general secretary of the IMA, on Tuesday said they would file a case of forgery against Ramdev and ensure that he was arrested.
"Ramdev was quoted by the media as saying that he has tendered an apology. It is wrong. We had sent him a legal notice on Saturday. The Union health minister also condemned his remark. Then he sent a written letter to the IMA on Sunday evening. He has said many things in the letter but didn't tender an apology," Dr Lele said.
In the letter to Narendra Modi, the IMA has said: "Painfully we bring to your kind notice the video claiming 10,000 doctors have died in spite of taking both the doses of vaccine and lakhs of people have died due to allopathic medicine… as said by Mr Ramdev, owner of Patanjali products."
The association said that doctors follow the guidelines and protocols issued by the Union ministry of health, through the ICMR or the National Task Force, and if anyone claims allopathic medicines have killed people, "it is an attempt to challenge the ministry, which has issued the protocol for treatment to us".
The IMA added that according to its registry, 753 doctors had died of Covid in the first wave and 513 in the second wave so far. None who died in the first wave were vaccinated and the majority who died in the second wave also could not take their vaccine doses for various reasons, it added.
The claim that "10,000 people have died in spite of two doses of vaccination is a deliberate move to stall the efforts of vaccination to reach our masses", it said.
"We appeal to your highness to take appropriate action against individuals viciously propagating the message of fear on vaccination and challenging the government of India protocols for treatment…. This in our opinion is a clear-cut case of a sedition and such persons should be booked immediately without any delay under the charges of sedition," the IMA wrote to Modi.
Defamation notice
The IMA has also served a defamation notice on Ramdev, demanding an apology from him within 15 days, failing which it said it would demand a compensation of Rs 1,000 crore. 
The six-page notice describes his remarks as a "criminal act" under Section 499 of the Indian Penal Code. 
The notice has also asked Ramdev to make a video clip contradicting all his allegations and circulate it on social media platforms. 
It further asked him to withdraw a "misleading" advertisement from all platforms endorsing "Coronil kit", a product of his firm, as an effective medicine for Covid-19, failing which an FIR would be filed. 
Doctors on Wednesday decried the free distribution of Coronil as a remedy for Covid-19 by the BJP-ruled Haryana government, announced last week. 
The Centre had earlier said Patanjali could not market the drug as a Covid cure, and it needed to market it as an immunity booster.
There is no scientific basis to Coronil's use in treating Covid-19 patients, said Ajay Khanna, the state secretary of the IMA in Uttarakhand, where Patanjali is based. "If the Haryana government is doing this, then it is their loss," he told Reuters.