No curbs on media in Kashmir: Minister
All the Valley newspapers were being published without any difficulty: Prakash Javadekar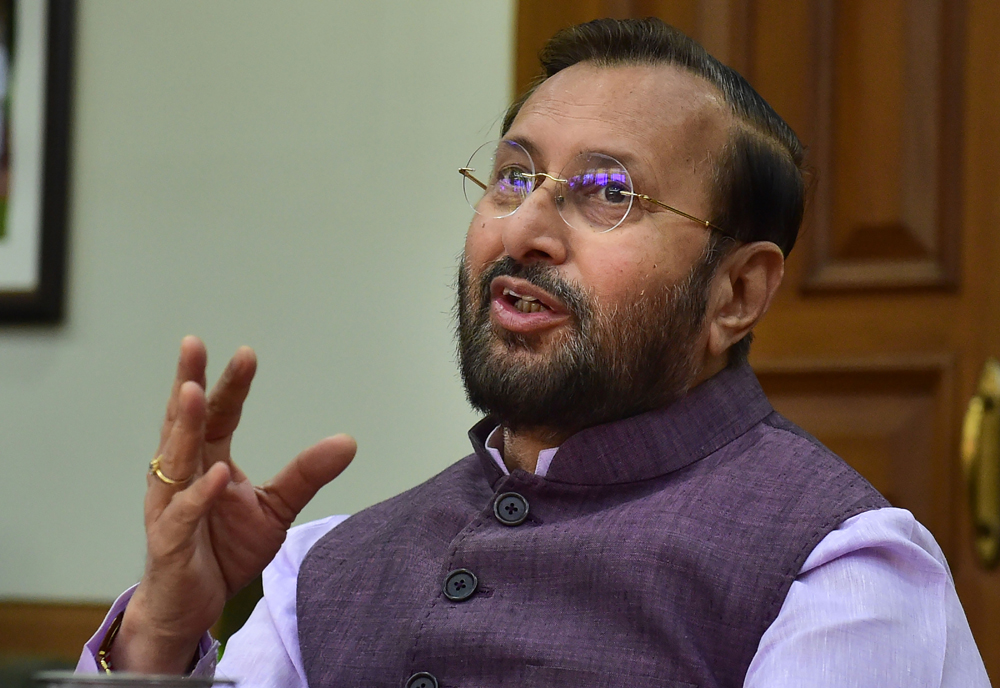 ---
---
The situation in Jammu and Kashmir is "normal" and the people there are "happy" at the abrogation of the state's special status, Union minister Prakash Javadekar has claimed.
During an interaction with PTI journalists, the information and broadcasting minister asserted there were no media restrictions in Kashmir and that all the Valley newspapers were being published without any difficulty.
Just three days ago, on Thursday, journalists in Kashmir had held a silent protest against what they described as the government's attempt to reduce them to its "mouthpieces" by blocking their access to information and keeping mobile phone and Internet services snapped.
Javadekar rejected the Opposition charge that the BJP was using the withdrawal of Jammu and Kashmir's special status as a poll plank in Haryana and Maharashtra.
"(The amendment to) Article 370 has caught the imagination of the people. The people are welcoming it all over the country. So what can you do, all sections of society (have welcomed it)," he said.
He said the situation in Kashmir was "good" and "normal", adding: "The people in the Valley are supporting the government's move.… They are welcoming the move because it will benefit them."
Javadekar said journalists were free to visit the region and see the situation for themselves. He dismissed reports in the international media about alleged rights violations in Kashmir. "The country's media has to put out the truth," he said, adding that criticism by the Indian media mattered.
The Valley journalists who protested on Thursday had said they had never faced such restrictions before.
"Only in eight police station areas, you have (Section) 144 (which bans assemblies), otherwise there is nothing. These are the first two months when there have been no incidents of firing and no casualty or death of civilians," Javadekar said.
The local administration has, however, acknowledged one civilian fatality at the hands of the security forces since the August 5 lockdown — that of Asrar Khan of Srinagar — after the medical report cited pellet injuries as the cause of death. Initially, the government had tried to pin the death on stone-throwers.
Javadekar said media freedom had been curbed in India only once — during the 1975-77 Emergency. As far as Kashmir is concerned, there is no case like that," he said.