When voters strengthen Opposition
Nitish's education minister forced to resign hours after taking charge
Mewalal Choudhary is accused of involvement in a scam relating to recruitment of assistant professor-cum-junior-scientists to Bihar Agriculture University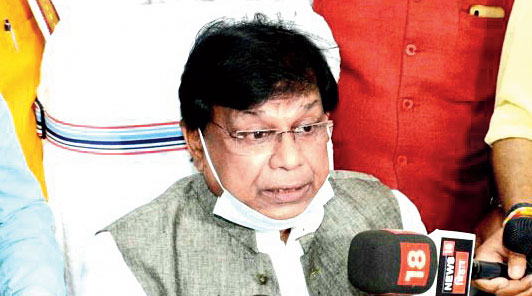 ---
|
Patna
|
Published 20.11.20, 04:39 AM
---
Bihar education minister Mewalal Choudhary resigned over old corruption charges just three hours after assuming charge on Thursday.
The lightning exit gave the Opposition a rare chance to enjoy the fruits of putting up a spirited fight during the elections and snapping at the heels of the ruling BJP-JDU coalition.
The Janata Dal United, the party to which Mewalal belongs, tried to make a virtue out of necessity and spun it as an example of chief minister Nitish Kumar's "high standards".
"See what a powerful Opposition and an awakened people can do. The people of Bihar have forced the 'no confusion, great combination' of Narendra Modi and Nitish Kumar to drop a tainted politician they wanted to inflict on Bihar as education minister!" tweeted CPIML Liberation general secretary Dipankar Bhattacharya.
The Opposition alliance had won 110 seats in the just-concluded Assembly polls, giving a scare to the ruling combine, which bagged 125 seats in the 243-member Assembly.
The CPIML and the other Left parties, part of the Opposition alliance, had put up a stellar show.
Mewalal, Tarapur MLA from the chief minister's party and former vice-chancellor of an agriculture varsity, is accused in a university recruitment scam and obtained anticipatory bail in 2017. The Opposition had been pummelling the government ever since he was sworn in as a minister on Monday, mocking Nitish's vaunted policy of "no compromise with corruption".
Mewalal, announced as education minister during Tuesday's portfolio allocations, was summoned to the chief minister's residence on Thursday. He stayed there for around an hour, then put in his papers. Mewalal's mobile phone was switched off.
On Wednesday evening, too, Mewalal had met Nitish, triggering speculation that he would be dropped as minister.
RJD leader Tejashwi Prasad Yadav had asked whether Mewalal had been rewarded for corruption.
While no official communiqué was issued on Mewalal's resignation, JDU secretary-general K.C. Tyagi appeared to be implying that Nitish had initially been unaware of the charges against the party MLA, although the matter had been well reported.
"Nitish Kumar has set a new standard in politics and governance. He (Mewalal) was administered oath as a minister. Some allegations against him came to light. The matter was probed and he was asked to resign," Tyagi said.
"Nitish Kumar has continuously upheld high ideals in public life and does not allow tainted people around him. When the then deputy chief minister, Tejashwi Prasad Yadav, refused to clarify the corruption charges against him, Nitish had resigned as chief minister."
This was in 2017 when Nitish had dumped his alliance with the RJD and the Congress — which had won the 2015 election — and returned to the NDA to be immediately handed back the chief minister's chair.
JDU member of the legislative council (MLC) and former minister Neeraj Kumar challenged Tejashwi to match the standards set by Nitish.
"Tejashwi too faces corruption charges and is out on bail. He is still leading the RJD and is leader of the Opposition. He should quit and allow somebody else to lead," Neeraj said.
Apart from charges of possessing unaccounted wealth, Tejashwi faces income-tax and Enforcement Directorate investigations.
Mewalal is accused of involvement in a 2012-13 scam relating to the recruitment of 160 assistant professor-cum-junior-scientists to the Bihar Agriculture University in Bhagalpur, where he was vice-chancellor.
He later joined the JDU and became an MLA in 2015. When the scam tumbled out in public, the Raj Bhavan took cognisance of the matter and got it probed by a retired Patna High Court judge.
President Ram Nath Kovind was Bihar governor and the chancellor of state universities at the time. He sanctioned action against Mewalal and an FIR was registered against him in 2017. The JDU suspended Mewalal from the party in 2017 but reinstated him a few months later.
JDU sources said Mewalal's suspension had been revoked and he was fielded in the elections because he had not been chargesheeted or convicted.
Mewalal is from the Kushwaha community, which is a conglomeration of several backward castes and is closely connected with the Kurmi caste from which Nitish comes.
While the Kushwahas make up around 6 per cent of Bihar's electorate, the Kurmis account for 2 per cent.
Nitish faced a compulsion to give a cabinet berth to a member of the Kushwaha community to maintain the caste balance, and he could not find a better, more educated person than Mewalal among his Kushwaha MLAs.
It was BJP leader Sushil Kumar Modi whose complaint to the then Bihar governor had led to the action against Mewalal. At the time, the JDU was with the RJD and the Congress. Appointing Mewalal as a minister may have been Nitish's way of defying the BJP, but it has backfired spectacularly.
JDU sources said a party MP considered close to Mewalal may have misled Nitish about the potential consequences of appointing him a minister.
Building construction and social welfare minister Ashok Choudhary has been given additional charge of the education department.
Tejashwi said: "Just one resignation won't do. We are going to meet over several public-related issues, like 19 lakh jobs, equal pay for equal work for contractual employees.
The people's mandate in Bihar directs us that we should keep alerting you (the government) about corrupt policies, intentions and rules."
While the BJP had promised 19 lakh jobs during the campaign, the RJD had pledged parity for contract workers.
Congress MLC Prem Chandra Mishra described the Mewalal episode as a farce and accused Nitish of hypocrisy.
"Nitish Kumar keeps saying he would not compromise on crime, corruption or communalism. But he is with the BJP --- is this not a compromise with communalism?" he said.
"He made a corruption accused a minister. Was it not a compromise with corruption?"