Nitish Kumar differs with BJP on population control
Bihar CM points out that education, especially of women, is the key to bring down fertility rate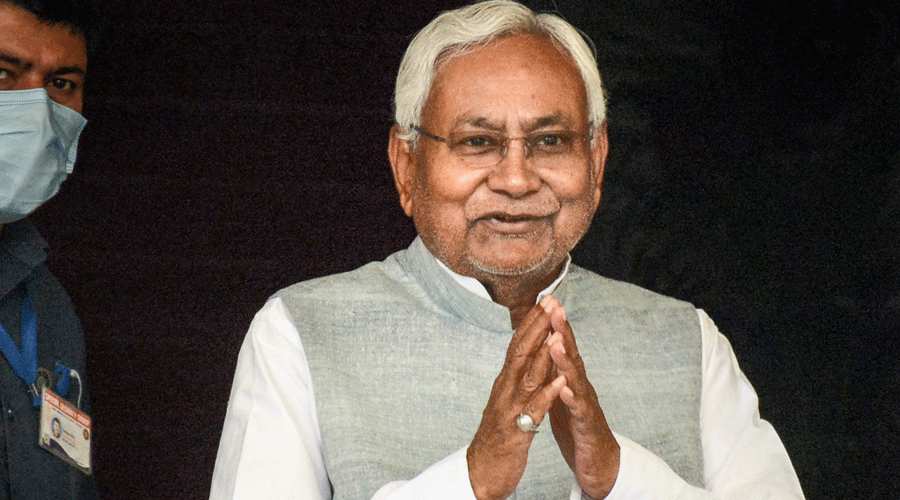 ---
Patna
|
Published 07.06.22, 03:34 AM
|
---
Chief minister Nitish Kumar on Monday took a different stand than ally BJP on a population-control policy in the country and asserted that there was no need for such measures.
He pointed out that education, especially of women, was the key to bring down population.
"People can have their own views, but making laws or rules (to control population) will have no benefit. We will benefit only if everybody agrees and awakens. We should do work that will have some impact," Nitish said on the sidelines of his janata durbar (public interaction) in the state capital.
"Girls' education is the key in this regard. Just see how we, the poorest state, have brought down the fertility rate from 4.3 to 3 by focusing on education, especially of girls. We are sure of bringing down the fertility rate to 2 in the next five to seven years," Nitish added.
The chief minister was fielding questions on the Centre's push for a population-control law. His statements were construed as an answer to Union minister for rural development Giriraj Singh's recent demand for such a law.
Minister of state for food processing industries and Jal Shakti, Prahlad Singh Patel, also recently asserted the need for a population-control law and revealed that the Centre would introduce a bill for it soon. Several BJP-ruled states, including Uttar Pradesh, have also been advocating a population-control policy.
"We found out that if the boy and girl were matriculate, the average fertility rate was 2. If the girl had studied till intermediate, the fertility rate was less than 2. It was a eureka moment for us. The decline in the fertility rate was directly proportional to higher level of education among the girls. If we focus on this, there will be no need for such things (population control laws).
Nitish gave the example of China where the government implemented a one-child norm, but had to raise it to 2 and is now considering increasing it further.
Nitish's statements have once again brought to fore his uneasy relationship with the BJP.
The two have differed on several things, including the Uniform Civil Code, National Register of Citizens, National Population Register, and controversies on hijab, namaz in the open and loudspeakers.
On caste census, Nitish said it would take into account the economic condition of the various castes and sub-castes. This will help formulate development policies and welfare schemes in a better manner.
"Bihar's caste-based census will be so good that it will set a precedent and other states will also want to conduct it," Nitish assured.