Strong winds can't be reason for bridge collapse: Nitin Gadkari
Union minister did not explain whether the mistake was on execution front or was related to poor quality of materials being allegedly used in the construction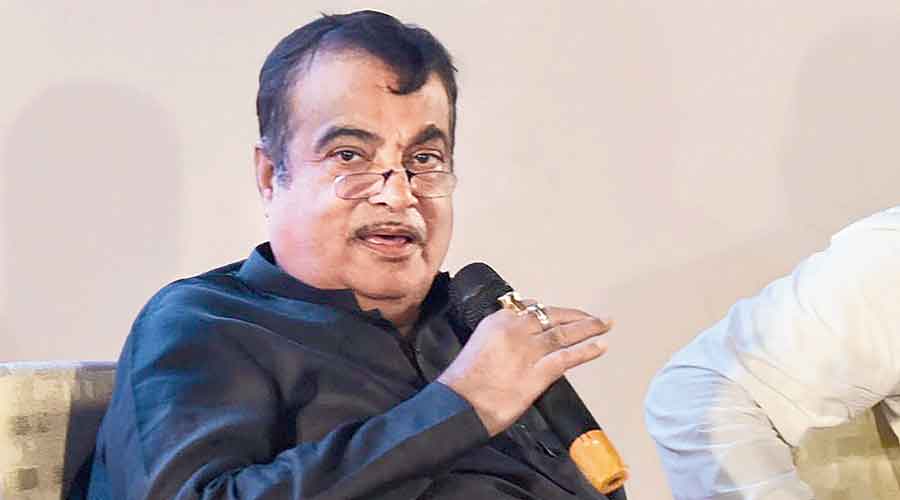 Nitin Gadkari.
File photo
---
Patna
|
Published 11.05.22, 01:44 AM
|
---
The collapse of an under-construction bridge over the Ganga in Bihar during a mild thunderstorm last month resonated in Delhi where Union road transport and highways minister Nitin Gadkari scoffed at "gusts of wind" being held responsible for the incident and asserted that mistakes could not be ruled out.
"The other day a bridge fell in Bihar. I asked my secretary about it. He said wind and fog came and it collapsed. I pointed out to him that he is an IAS officer but still believes in such things. How can a bridge fall due to wind? I cannot understand this. There must have been some mistake," Gadkari said.
The Union minister did not explain whether the mistake was on the execution front or was related to poor quality of materials being allegedly used in constructing the bridge. "We do not have a system with us to ascertain the life of a bridge or to test its durability. We have not been able to do it till now," Gadkari added.
He was speaking in Delhi on Monday while inaugurating a mobile cold mixer-cum-paver machine and a patch-filling machine for repairing potholes, developed by the Council of Scientific and Industrial Research (CSIR) — Central Road Research Institute (CRRI). He also asserted that there was a need to lessen the cost of construction and to improve the quality.
Gadkari was talking about the 3.2km-long bridge being built across the Ganga between Bhagalpur and Khagaria districts at a cost of Rs 1,711 crore.
Parts of it tumbled down on the intervening night of April 29 and 30 when a mild thunderstorm lashed large swathes of the state.
The wind speed was just between 40 and 50 km per hour during the storm. It raised questions about the quality of the bridge and the local Janata Dal United (JDU) MLA Lalit Narayan Mandal alleged corruption, use of substandard materials and other irregularities in its construction.
On the other hand, officials of S.P. Singla Constructions Private Limited, which is building it, held that the structure was damaged due to the gusts of wind that hit it during the storm.
The Bihar Rajya Pul Nirman Nigam Limited (BRPNNL), a state government organisation, has ordered an inquiry into the incident. A team of experts from National Institute of Technology (NIT) Patna and IIT Bombay are conducting it.
BRPNNL chairman Pankaj Kumar Pal was aware of the comments made by Gadkari.
"The experts from NIT Patna are already probing into the incident. Another team of experts, including those on cable-stayed bridges, from IIT Bombay is arriving on Wednesday. We have already provided them photographs taken by drones, videos, technical details, method of construction among other things. Bridges are a technical matter, hence we are waiting for the report by the technical experts," Pal said.
Pal said the report was expected in around four days after which further steps would be taken on the issue. He added that the findings would be made public.