NC leader quits, Omar tweets clarification
Sources said Ruhullah has conveyed to the party leadership his 'disappointment' over former CM's fresh political stand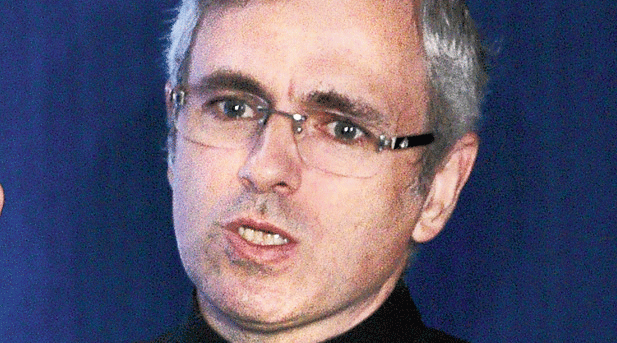 Omar Abdullah
File picture
---
Srinagar
|
Published 29.07.20, 02:33 AM
|
---
Former Jammu and Kashmir chief minister Omar Abdullah's announcement that he was ready to contest elections without the restoration of Article 370 claimed the first political casualty in his party, National Conference, with its chief spokesperson resigning from his post.
Agha Ruhullah, a former minister and an influential leader, took to Twitter to announce his resignation. "I have sent across my resignation from the post of Chief Spokesperson of @JKNC. From here on none of my statements should be considered as such," Ruhullah tweeted.
A political storm had erupted in the Valley on Monday over an interview in which Omar said he would not contest elections till statehood was restored. He did not mention the restoration of Article 370 or set it as a condition for return to electoral politics, leading to rivals accusing him of selling out to Delhi for power.
His party and other major Valley players like the Peoples Democratic Party and People's Conference had joined hands on August 4, a day before the scrapping of Article 370, and vowed to defend the state's special status.
On Monday, the rivals launched a blistering attack on Omar. "GOIs (Government of India's) tactic of dangling statehood post scrapping of Article 370 is akin to amputating a person's feet & offering him shoes," a tweet on PDP leader Mehbooba Mufti's Twitter handle said. Mehbooba's daughter Iltija operates the Twitter handle.
People's Conference leader Adnan Ashraf claimed Omar's stand was no different from that of the BJP, particularly its national general secretary Ram Madhav, who has publicly called for restoration of statehood.
Following the uproar, Omar appeared to have mellowed his stand and said in a series of tweets on Tuesday that he had never asked for restoration of statehood. "I've simply said that having been CM of the STATE of J&K I will not fight an assembly election to the assembly of the UT of J&K. That's it. No more no less! That's a far cry from saying I'm demanding statehood be restored," he tweeted.
Asked to clarify by a user whether he would contest polls if statehood was restored, Omar said these were his personal thoughts. "I may not (contest polls), but the party will chart its own course when all the leaders are set free and given a chance to talk. I've made it clear that these are ONLY my thoughts, I am not speaking for the party. The party and its leaders will formulate our policy, not me as an individual," he replied.
Jammu and Kashmir was bifurcated into two Union Territories on August 5 last year.
Ruhullah told The Telegraph it was unthinkable that he will contest elections without the restoration of Article 370.
"For me it is unthinkable. Omar Abdullah has said that it (what he said) is his personal opinion. He may change his personal opinion after taking feedback from the party's working committee," he said.
Party sources said Ruhullah has conveyed to the party leadership his "disappointment" over Omar's fresh political stand. But it is not clear whether he resigned on his own or was asked to do so for publicly censuring the party's top leaders.
"I personally hope the working committee of National Conference does not endorse it (Omar's stand). I hope the working committee goes full on struggling and espousing for restoration of special status that the Constitution had given us," Ruhullah, also the most prominent Shia face in the traditional pro-India camp, said.
Ruhullah's views were partially echoed by National Conference's North Kashmir MP Akbar Lone, who also said he won't contest elections if Article 370 was not restored. But he claimed Omar was also in favour of contesting polls only if statehood and Article 370 was restored, although the NC vice-president has clearly insisted for only restoration of statehood.
"We want all what was done on August 5 is reversed and it includes Article 370," Lone told this newspaper.
Asked whether he will contest elections if Article 370 was not restored, he said, "Not at all, no, no, no."
Interestingly, while Lone vowed not to contest elections until Article 370 was restored, he continues to represent North Kashmir in Parliament.
Party sources said Omar's decision to apparently cosy up to Delhi has triggered massive resentment.
"Many others were also angry but are not coming up openly. How can people be not angry if we are ditching the pillar of our ideology," an NC leader said.
A critic of Prime Minister Narendra Modi and Kashmir watcher Ashok Swain alleged that Omar had struck a deal with Delhi.
"Fixed Match: Abdullahs have made a deal with Modi — They will demand to make Jammu & Kashmir a state again & Modi will accept it. Mehbooba Mufti asks for Art (Article) 370, so she is still in jail," tweeted Swain, a professor of Peace and Conflict Research at Uppsala University in Sweden.