Naveen Patnaik's mascot flies high
Pramila Bishoyi has become the mascot for Naveen's move of giving women tickets to one-third of the state's Lok Sabha seats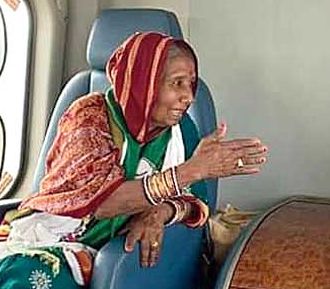 Pramila Bishoyi in Naveen Patnaik's helicopter during the campaign.
Telegraph picture
---
Aska
|
Published 15.04.19, 01:39 AM
|
---
Pramila Bishoyi took her first ever helicopter ride on Saturday, alongside Odisha chief minister Naveen Patnaik, but she was not overawed. Her life has changed since Naveen announced her, a 69-year-old who has studied only till Class II, as his party's candidate for the high-profile Aska Lok Sabha seat.
Naveen won the seat thrice: In 1997 as a Janata Dal candidate, and in 1998 and 1999 for the Biju Janata Dal (BJD). His father, Biju Patnaik, had also represented the Aska Assembly constituency. The BJD has been winning the Aska Lok Sabha seat since its inception as a party in 1998.
For Odisha's 21 Lok Sabha seats, the BJD has fielded seven women. Bishoyi, credited with launching the women's self-help group in her block Aska of Ganjam district, has become the mascot for Naveen's move of giving women tickets to one-third of the state's Lok Sabha seats.
"Naveen took me on his chopper for campaigning," Bishoyi says. "I was in the sky for nearly 30 minutes. I was mesmerised watching the houses and hills from above. I didn't feel afraid even for a second. Naveen kept asking me: 'How are you, Pramila Ma, are you enjoying the ride?'"
She is clearly enjoying the political ride. Asked what she would do in Delhi if she is elected, she says: "I will work for lakhs of women. As I don't know Hindi or English, I will raise issues in Parliament in Odia. What's the problem?"
She has never been outside Odisha. Her younger son, Ranjan (45), runs a tea stall while elder son, Dilip (48), runs a garage for two-wheelers. She also has two daughters, who are married. "I never thought of contesting an election, particularly at this age," Bishoyi says. "It is perhaps the deity's desire. Now Naveen babu has given me the opportunity."
After a cup of fruit juice and some mandia (millet), she leaves her village, Chermaria, around 5.30am every day for campaigning. Before leaving, she offers prayers to the village deity. She returns home around 10pm. Wherever she goes, people greet her as "Ma."
At the election rally, she says: "All of you should strengthen the hand of Naveen by voting again for the party's symbol, conch."
In 2014, the party candidate had won by a margin of 3,11,997 votes more than the runner-up, from the Congress.
"A woman SHG (self-help group) leader will be elected to Parliament. You are going to create history," Naveen says when he pitches for her.
Ranjan narrates how Bishoyi got the ticket: "We got a call on March 17 that the CM wanted to felicitate my mother. We refused to go to Bhubaneswar saying that we didn't have the money for a taxi. An hour later, a car drove us to Naveen Niwas where she was given the ticket," he says.
Her husband, Banchanidi Bishoyi, says: "I am campaigning for my wife. She will win."
She is fighting against the BJP's Anita Priyadarshini, daughter of former minister Ramkrushna Patnaik. The Congress has left the Aska seat to the CPI, which has fielded Ramakrushna Panda.
Aska votes on April 18