Girls want to be born, get educated, and live to tell the tale: Twitter on National Girl Child Day
Twitter was abuzz on the National Girl Child Day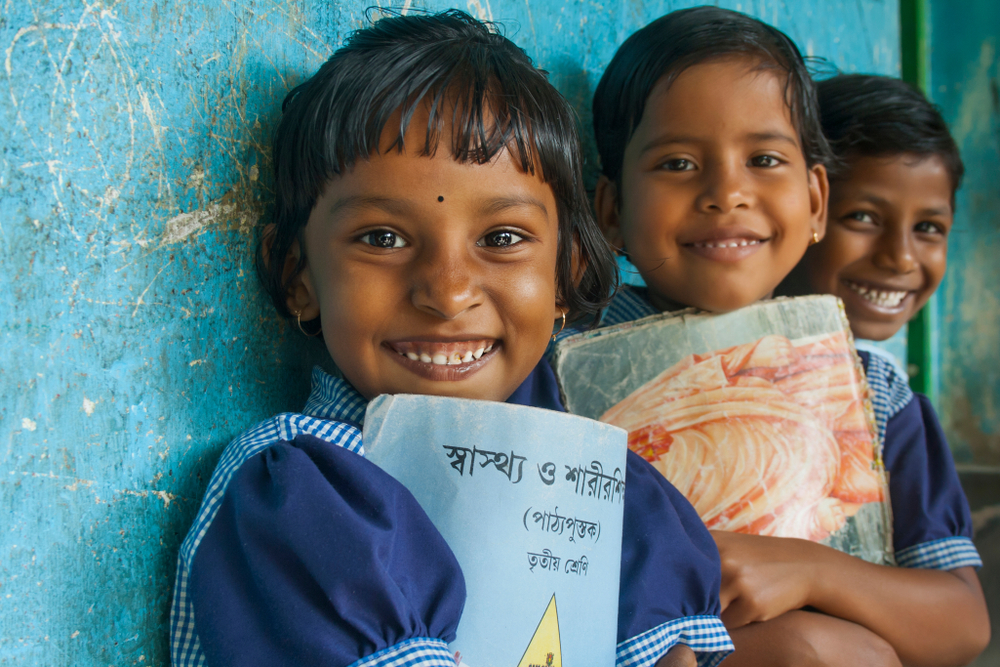 ---
Published 24.01.20, 02:39 PM
---
In the early '80s, music enthusiasts in Calcutta were introduced to a sparkly Cyndi Lauper and her feminist anthem Girls just wanna have fun. The original track by Robert Hazard was far from feminist, and Lauper had to rework the song's misogyny. Hazard had written it from a man's perspective, thankful that man is 'the fortunate one', with 'fun' standing for coerced bedroom capers.
Forty years later, one in every 3 child brides in the world lives in India, more than 45 lakh girls under 15 are married with children, 41,067 girls were reported missing in 2016 (the last available data), as the country is celebrating National Girl Child Day.

It's breathtakingly easy to work towards gender equality. It's all up to you. Soch Badlo! #NationalGirlChildDay https://t.co/1kiaI4hTKW

— anand mahindra (@anandmahindra) January 24, 2020
Giving a second thought to someone's deserving talent can give them a much-needed second chance to succeed. On #NationalGirlChildDay, let's support our girls more. Let's #RiseForGood https://t.co/fqU5hLAGfr

— Nanhi Kali (@NanhiKali) January 24, 2020
Lauper had changed the lyrics of her career-defining 1983 hit to assert that 'girls want to have the same damn experience that any man could have'. However, the world hasn't changed very much for the girls today.
"When girls are educated, their countries become stronger and more prosperous." #NationalGirlChildDay is being observed today. Let us all pledge to empower, nurture & motivate girls to pursue their dreams.#BetiBachaoBetiPadhao 🇮🇳 pic.twitter.com/2YM1Dzdo4h

— ALL INDIA RADIO (@AkashvaniAIR) January 24, 2020
Gayatri, 16, is a true inspiration to girls in her community.

Encouraged by her father who is a member of the Child Protection Committee, Gayatri has previously turned down a marriage proposal and now conducts weekly sessions at a Girls Club in Assam.#NationalGirlChildDay pic.twitter.com/wZH3EkPDVV

— UNICEF India (@UNICEFIndia) January 24, 2020
Twitter mused on both these realities on a day the women and child development ministry designated for the girl child as late as 2008, to talk about all the inequalities girls face in the Indian society and to remind the people that a girl can do everything a boy can, and better!
#NationalGirlChildDay: People often say- Don't run like a girl; Don't cry like a girl; Don't throw like a girl. Well we say, do everything like a girl because girls are super amazing badass humans pic.twitter.com/l87Ztwb7IY

— SheThePeople (@SheThePeople) January 24, 2020
The All India Mahila Congress president Sushmita Dev pointed out that the government must create opportunities for girls' voices to be heard, and that leading change for girls is something that can no longer be ignored.
Today, girls are moving from dreaming to achieving!

The Government must create more opportunities for girls' voices to be heard and safe spaces for their participation in decision-making, as leading change for girls is something we can no longer ignore.#NationalGirlChildDay pic.twitter.com/WdSts9mMsK

— Sushmita Dev (@sushmitadevinc) January 24, 2020
Netizens remembered several women 'firsts'. Among them was Mangala Mani, who became ISRO's first woman scientist to spend over 400 days in Antarctica.
"Ladki hai, Ghar se kitna hi door jaegi".

Mangala Mani recently became first Indian woman to live in Antarctica for 403 days. An ISRO scientist on expedition. On #NationalGirlChildDay lets recognise role played by such women in country's progress.

Ladki padhao, aage badhao !! pic.twitter.com/FK1p6r8Dum

— Parveen Kaswan, IFS (@ParveenKaswan) January 24, 2020
Proud parents and people in general showed some love, and talked about girls 'having fun' in various fields, from sports to science.
Investing in girls transforms not only their lives but reshapes the future of nations as well.
On this #NationalGirlChildDay let's join hands to educate & empower our girls so they can in turn protect our world.
Sharing a #throwback pic of my own daughters to celebrate this day! pic.twitter.com/dlPfsDaqxH

— Harsimrat Kaur Badal (@HarsimratBadal_) January 24, 2020
#DaughterIsTheKnotThatTiesTheFamilyTogether.
Girl students of Army Goodwill Schools(AGSs) of #Kashmir got wonderful results in class 10.
On #NationalGirlChildDay we pledge to continue empowering daughters for a brighter tomorrow. #TaleemSayTarraqi.@adgpi @NorthernComd_IA pic.twitter.com/oj8hjCNpHf

— Chinar Corps - Indian Army (@ChinarcorpsIA) January 24, 2020
Law and justice minister Ravi Shankar Prasad congratulated Baramulla's Ishrat Akhtar who had represented India in the Asia-Oceania Wheelchair Basketball Championship in 2019. Ishrat will also attempt for a spot at the Tokyo Para-Olympics to be held this year.
Felt so proud of Ishrat Akhtar of Baramulla who has defied all adversities and represented India in International wheelchair Basketball tournaments. This daughter of India represents hope, aspiration and prospects of a better and brighter Jammu and Kashmir. #NationalGirlChildDay pic.twitter.com/JOpTU0rKJX

— Ravi Shankar Prasad (@rsprasad) January 24, 2020
Smriti Irani, minister of women and child development announced that the ministry has entrusted the UGC to establish 10 Chairs in the names of women who have achieved eminence in several fields including art, science, and administration.
On #NationalGirlChildDay, I am pleased to share that @MinistryWCD has entrusted @ugc_india to establish 10 Chairs in the names of eminent women who have achieved major breakthrough in the fields of academics, art, science, environment, administration & social development. pic.twitter.com/YqobnpFxRH

— Smriti Z Irani (@smritiirani) January 24, 2020
So let's work to create a present (and a future!) for girls to learn, work, and earn, and have fun when a working day is done!