Sir — The 20-year-old engineering student, Monjita Baruah, was recently given the opportunity to head the British diplomatic mission in Calcutta for a day. This was part of an initiative by the British deputy high commission to observe the International Day of the Girl Child. When asked about the importance of gender equality, Baruah pointed to the gender gap in technical education in India, bringing to the fore an important aspect of institutionalized gender discrimination. Young girls, as opposed to boys, are discouraged from pursuing a scientific education. It is precisely here that intervention must begin.
Ananya Sengupta,
New Delhi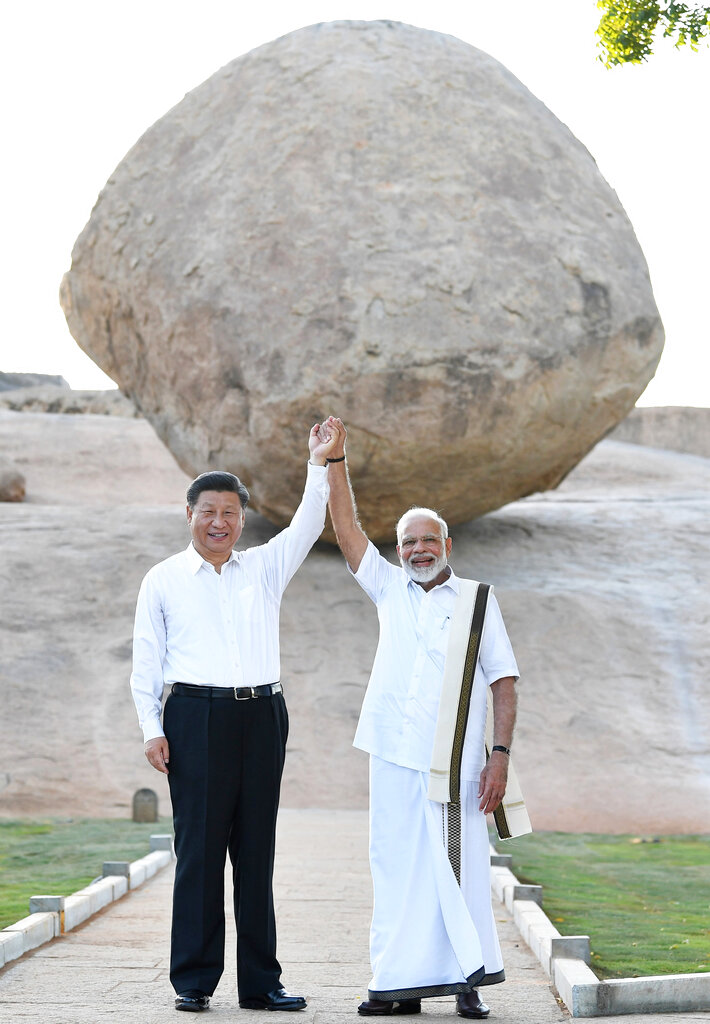 Chinese President Xi Jinping and Prime Minister Narendra Modi raise hands together at Arjuna's Penance in Mamallapuram, India AP
Historical meet
Sir — The second informal summit last week between the prime minister of India, Narendra Modi, and the president of China, Xi Jinping, was historically significant. The choice of Mahabalipuram as the venue of the meet was important on account of its historical links with China dating back to the seventh century. Mahabalipuram, named after Narasimhavarman I of the Pallava dynasty, is an ancient port town that has a strong mercantile history with China. It was also part of China's silk route and India's spice route. In fact, the origins of Kanchipuram's silk industry can be traced back to the import of raw silk from China via Mahabalipuram. Sino-India links in the region can be traced back as far as 2,000 years. Chinese coins discovered in the region further establish the age-old link between the two nations. This rich history makes Mahabalipuram a befitting venue for this summit.
China has seen an exponential growth in cutting-edge technology, leaping far beyond India. Electronic goods manufactured by China, which were once frowned upon, have now become much sought after. As India is a big market for Chinese goods, it is unlikely that Xi will take a harsh stand against India on the issue of Kashmir.
T.K. Nandanan,
Kochi
Sir — When a political leader from another country visits India, local governments promptly take measures to repair roads or clean up the city, thereby bringing daily life to a standstill. The rehearsal security drill that was conducted in Chennai in anticipation of the Narendra Modi-Xi Jinping summit held on October 11-12 caused immense hardship for ordinary people. While it normally takes 20 minutes to travel from Velachery to Thiruvanmiyur, the same journey took over two hours on the eve of the meeting. In fact, ambulances, too, were caught up in traffic. The situation was even worse the next day. Those who had to reach railway stations, bus terminuses and airports fared the worst. It is crucial that the government takes measures to manage the traffic better during visits by dignitaries. Fortunately, several educational institutions were closed on the day in anticipation of the traffic.
T.S.B. Chander,
Chennai
Green battles
Sir — After gaining independence, India had realized the importance of Van Mahotsav and family planning and made these issues of national importance ("Fall season", Oct 11). Now, the second most populous country in the world has a rapidly shrinking forest cover. India is in dire need of environmentalists like Sundarlal Bahuguna and Saalumarada Thimmakka, who are the real heroes of our world, and movements like Chipko and Appiko. Trees are essential if we are to save the environment. Plants, through photosynthesis, turn sunlight into oxygen and glucose for the animal kingdom. Trees also help reduce air pollution and contribute to psychological benefits as well.
The incident in the Aarey Milk Colony, where the government had decided to construct a metro car shed by clearing the forest cover, is but one example of municipal authorities trying to claim spaces by felling trees under the guise of development. In the process, we are left with concrete jungles in place of trees, parks, forests and open spaces.
Trees are not obstacles to development; rather, they should be made an integral part of such plans. They are part of our natural landscape and life-saving in their unique ways. The current tussle between the government and the protesters points out that open spaces and forests are endangered, but many people remember how valuable they are. In the absence of a rich forest cover, human life will cease to exist on this planet. Legal technicalities or loopholes should be utilized to protect trees, not mow them down. Trees are necessary for our existence.
H.N. Ramakrishna,
Bangalore
Sir — A large number of climate strikes have recently erupted around the world, directing attention to issues such as climate change and global warming. It is also interesting to note that many indigenous tribes have been praying for the protection of the Amazon rainforest as thousands of wildfires continue to destroy it.
People often turn to prayer in difficult times. Such prayers not only lead to positive results but also strengthen relationships among people. The prayers for the Amazon and the protests have attracted the attention of the global population. One hopes that such admirable activities continue to inspire people around the world.
P. Senthil Saravana Durai,
Mumbai