Naseeruddin plea to PM: Knock some good sense into them
Shah, however, said he did not feel marginalised as a Muslim in India as he enjoyed privilege as a senior actor with social capital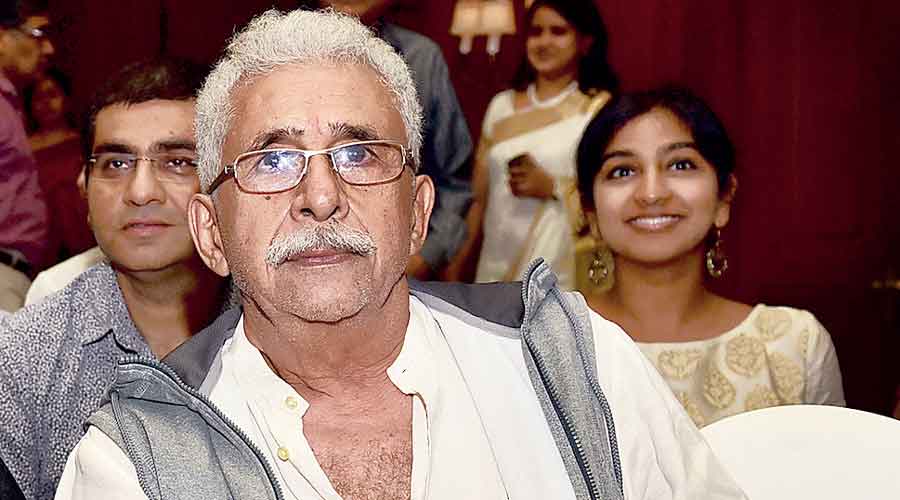 ---
New Delhi
|
Published 09.06.22, 02:54 AM
|
---
Actor Naseeruddin Shah has said he hopes good sense would prevail and the "hate wave" against Muslims would dissipate even if it doesn't happen in his lifetime.
The acclaimed actor appealed to Prime Minister Narendra Modi to step in and "stop this poison from spreading".
"I would appeal to him to knock some good sense into these people. If he believes what was said at the Dharam Sansad…, then he should say so. If he does not, then he should say so," Shah told NDTV. Calls for a genocide against Muslims had been sounded at a Dharam Sansad.
On the derogatory remarks of the now-axed BJP spokespersons on Prophet Mohammed, Shah said: "What the Indian government did was too little, too late. It was a week before they even opened their mouths and said anything condemning these kinds of statements.
"These kinds of statements in a country like Pakistan, Bangladesh or Afghanistan, which we hope to include in 'Akhand Bharat' some day, would result in a death sentence because it would be considered blasphemous. Here, there was not a sound from the top and absolutely no acknowledgement of the hurt caused to millions of believers," Shah said.
Referring to suspended BJP spokesperson Nupur Sharma's "unconditional apology", the actor said: "It's hardly meant to assuage hurt feelings. I wouldn't be surprised if such a hate speech occurs again. It's ironic (that) you talk of peace and unity, you get locked up in jail for more than a year. You talk of genocide and you get a slap on the wrist. There are double standards working here. It's like the double-think of George Orwell's 1984."
Shah condemned the death threats against Sharma and her family.
"This route (threats) is wrong. That's why Pakistan and Afghanistan are in a mess. We do not want to emulate these countries but willy-nilly are we doing so. Not for just slaughtering a cow but on the suspicion of slaughtering a cow people are being lynched, untouchables who were skinning a dead cow are whipped in public. These are not the kinds of things that used to happen in India…."
Shah said it was "high time" that sensible Hindus spoke up against the hate towards the Muslim community.
Asked if the Bollywood Khans could open up about their thoughts today, Shah said he could not speak for the stars. "They would be risking too much but I don't know how they explain it to their conscience. I think they have too much to lose."
He praised Shah Rukh Khan for handling media scrutiny with grace last year when his son Aryan was arrested in connection with a drugs case. He also noted that instead of being acknowledged for all the work done during the lockdown, Sonu Sood got raided.
Asked to comment on how the film industry was cosying up to the government, Shah said it wanted to be on the winning side. "It does look like the BJP is going to stay on the winning side for a while. It's nothing new.…"
Shah said he did not feel marginalised as a Muslim in India as he enjoyed privilege as a senior actor with social capital. "I'm certainly not disgruntled, or unhappy in the country. This has been the country I've been brought up in, taught to love, the country I've been told I belong to, and I feel I belong to. I'm luckily in a position where I can't be marginalised.
"I'm still getting work, it's not that my anti-establishment statements have resulted in me being blacklisted. I just wish that somehow good sense prevails but I'm not optimistic that it will happen very soon. This hate wave will dissipate some day. It may not happen in my lifetime, but it will dissipate some day."
The actor said he put "complete responsibility" on TV news channels and social media for "propagating hate".
"It's a manufactured hate. It's a kind of venom that begins to spew when you are confronted with somebody with an opposite opinion.…"
Guild on channels
The Editors Guild of India said on Wednesday that it felt disturbed by "the irresponsible conduct of some national news channels" in deliberately creating circumstances that targeted vulnerable communities by spewing hatred towards them and their beliefs.
"There was a riot in Kanpur accompanied by an unprecedented trenchant reaction from many countries that were offended by the remarks of the ruling party spokespersons. In their angry statements, they wondered about India's commitment to human rights and freedom of religion," the Guild said in a statement issued by its president Seema Mustafa, general secretary Sanjay Kapoor and treasurer Anant Nath.
"The incident that caused unnecessary embarrassment to the country could have been avoided if some of the TV outlets had been mindful of the nation's constitutional commitment to secularism, as well as the journalistic ethics and guidelines that the Press Council of India has issued to handle a volatile communal situation."
Instead, some of these channels, led by the desire to increase viewership and profit, were seemingly inspired by the values of Radio Rwanda whose incendiary broadcast caused genocide in the African nation, the Guild said.
The Guild asked the channels to "pause and take a critical look at what they have done by giving legitimacy to divisive and toxic voices that has made the national discourse coarse and the gap between communities unbridgeable".
The Guild demanded stricter vigilance by broadcasters' and journalists' bodies to prevent a recurrence.