Prime Minister Narendra Modi's foreign tour bill: Rs 2,021 crore
As Prime Minister when UPA-II was in power from 2009 to 2014, Manmohan Singh's bill under the same heads had been over Rs 1,346 crore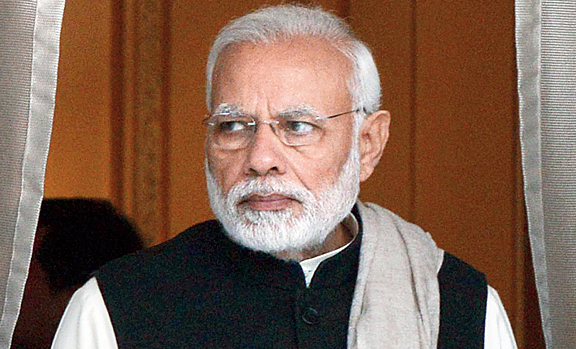 ---
New Delhi
|
Published 28.12.18, 10:48 PM
|
---
Some of the recurring jokes about Prime Minister Narendra Modi have been associated with his foreign travel in the service of the nation. So much so that countries have been divided into "Modi-visited" and "Modi-not-visited".
Now, the government has come out with an authorised list of countries Modi has toured as Prime Minister.
Some bullet points:
The Prime Minister's foreign trips have cost the exchequer more than Rs 2,021 crore on chartered flights, aircraft maintenance and hotline facilities. The hotline bill is not up to date.

As Prime Minister when UPA-II was in power from 2009 to 2014, Manmohan's bill under the same three heads had been over Rs 1,346 crore.

If Modi visited more than 55 countries in 48 trips, Manmohan toured 33 countries in 38 foreign trips.

Now the fine print: replying to questions in the Rajya Sabha, junior foreign minister V.K. Singh pointed out on Thursday that some of the countries Modi had visited since June 2014 figure among the 10 from where India had received the highest foreign direct investment.
No direct link can be explicitly established between state visits and decisions by foreign investors. But the data were provided because the questioner, Congress MP Sanjay Sinh, had sought "details of investment received from the countries visited by the current Prime Minister".
The minister said the yearly FDI had grown from $30,930.5 million in 2014 to $43,478.27 million in 2017. The cumulative FDI inflows between 2014 and June 2018 stood at $136,077.75 million, compared with $81,843.71 million recorded between 2011 and 2014.
However, another question by Sinh did not elicit a complete answer. The MP had sought "the purpose and total expenditure on each journey together with the names and designation of the persons, official and non-official, who accompanied both the Prime Ministers (Modi and Manmohan) during their foreign tours".
Minister V.K. Singh listed strengthening relations, including investments, among the objectives of the tours but added that since the information sought on the officials who accompanied the Prime Ministers was "sensitive in nature, the same cannot be enclosed".
According to the data provided by the government, a sum of Rs 1,583.18 crore was spent on maintaining the Prime Minister's aircraft and Rs 429.25 crore on chartered flights between June 15, 2014, and December 3, 2018.The total expenditure on the hotline was Rs 9.11 crore. However, this does not include the expenditure on hotline facilities during Modi's foreign visits in 2017-18 and 2018-19.