Naidu rebuts Opposition complaint of government's hasty law-making manners
Naidu was responding to a complaint addressed to him on Friday in writing by leaders of 17 parties of the Rajya Sabha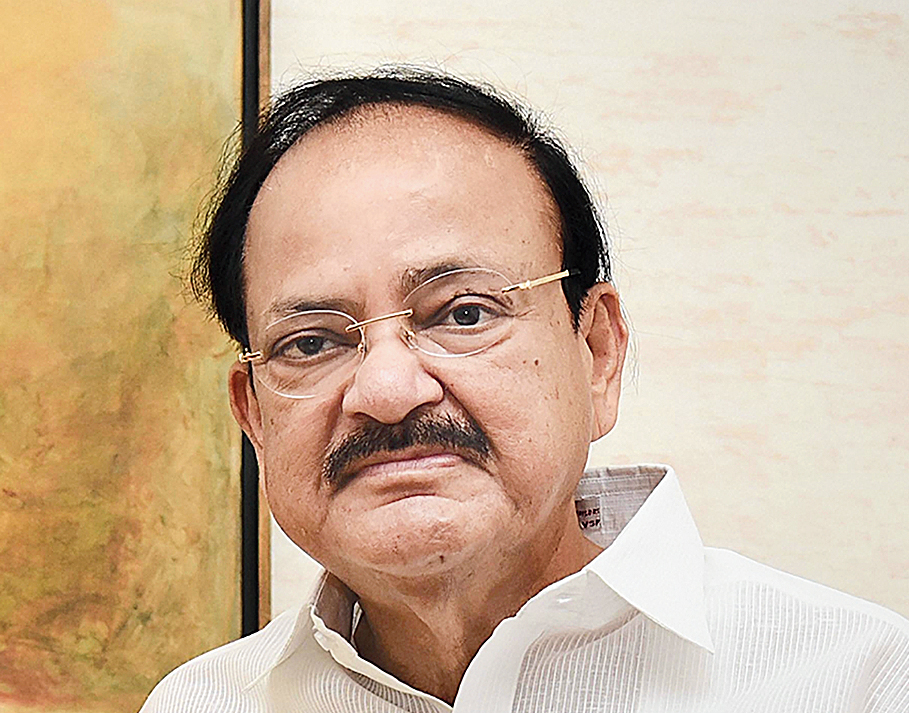 ---
New Delhi
|
Published 29.07.19, 10:12 PM
|
---
Rajya Sabha chairman M. Venkaiah Naidu has said Opposition parties' complaint that the government's law-making in haste is smothering their voice in the House does not stand scrutiny.
In the Rajya Sabha, Naidu citied precedents from the records of House proceedings contest the Opposition contention.
Naidu was responding to a complaint addressed to him on Friday in writing by leaders of 17 parties — which together account for 103 members in the 240-member House — protesting the manner in which the government is "hurriedly passing legislation without any scrutiny by parliamentary standing or select committees".
The chairman said the reason he was responding to the letter in the House was to address the impression that "Parliament is not making laws in a proper way that is expected of it".
Detailing the process of referring draft legislation to parliamentary committees, Naidu underscored the fact that during the past five sessions he had presided over since August 2017, eight of the 10 bills introduced in the Rajya Sabha had been referred to the respective standing committees.
The Opposition parties and the TRS which usually remains unattached had cited PRS Legislative Research data to show that 61 per cent of the bills introduced were referred to a committee in the 14th Lok Sabha from 2004-2009, 71 per cent in the 15th Lok Sabha and only 26 per cent in the first Modi government. And, in this session, not one bill has been referred to any committee.
While seeking to assure members that he would protect their rights and privileges in the House, Naidu suggested codification of guidelines for parliamentary scrutiny of bills. "It can't be anybody's case that every bill should be subjected to scrutiny by one or the other parliamentary committee. Such scrutiny may be decided upon based on the complexity of issues involved in a legislative proposal…. Leaders may reflect on this and may be a committee can be constituted for evolving such guidelines for future reference and clarity," he said.
The parliamentary committee system was introduced in India in 1993 as a measure for vigilance on the part of the legislature over the actions of the executive. It is also meant to ensure that every piece of legislation is thoroughly
and systematically scrutinised with the help of domain experts and inputs from policy-makers.