Muzaffarnagar riots: Attempt to let BJP leaders off the hook
The three had allegedly given inflammatory speeches at a rally in the Nangla Mandaur area on September 7, 2013, following which massive violence broke out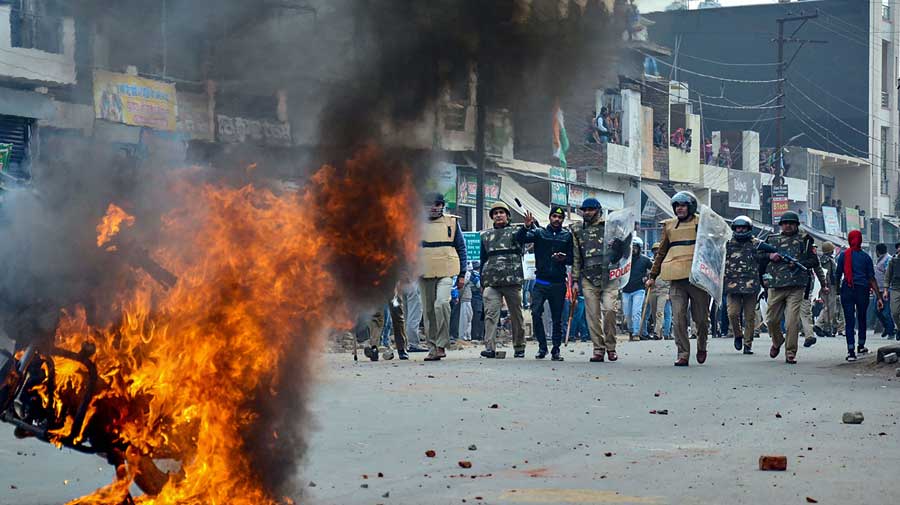 ---
Lucknow
|
Published 25.12.20, 12:43 AM
|
---
The Yogi Adityanath government in Uttar Pradesh has initiated the process of withdrawing cases related to the 2013 Muzaffarnagar riots against three BJP lawmakers.
Rajiv Sharma, a government counsel, told reporters in Muzaffarnagar on Thursday that he had moved an application in a local court to withdraw the cases against the three leaders — Suresh Rana, Kapil Dev and Sangeet Som, the MLAs of Thanabhawan, Muzaffarnagar and Sardhana, respectively.
"The state government had sought my opinion on the withdrawal of the cases and I gave a report that it was possible. Finally, the government asked me to move the application in court to exonerate these leaders," Sharma said. "Now it is the discretion of the court to decide."
The three leaders had allegedly given inflammatory speeches at a rally in the Nangla Mandaur area of Muzaffarnagar on September 7, 2013, following which massive violence broke out. The rally had been organised in reaction to the killing of Gaurav Singh and his cousin Sachin Singh in Kawal village on August 27 that year. The two youths of adjoining Milakpur village had beaten one Shahnawaz Qureshi on the charge of molesting the sister of one of them. Shahnawaz died of injuries in a hospital the same evening.
The communal violence that started during and after the Nangla Mandaur rally eventually claimed 60 lives and displaced 50,000 people in Muzaffarnagar, Shamli and Baghpat districts.
Karan Singh Yadav, a police sub-inspector, had filed cases against Rana, Dev and Som. 
The BJP stood by its leaders from the beginning and even honoured them at a programme in Agra on November 21, 2013, soon before an election rally of Narendra Modi.
Rana, Dev and Som had been arrested after the riots in 2013 and the National Security Act imposed against them. However, the NSA advisory board revoked the charges after a few months and a court granted them bail.
Som was also accused of posting a fake video on his Facebook page purporting to show violence in Muzaffarnagar. But the police found out that the footage was from another place a few years ago.
The then Samajwadi Party government had also allegedly tried to withdraw the cases against the three leaders but the move was aborted when the news was leaked to the media.