Motormouths out of BJP poll campaign
Also missing from the list forwarded to the Election Commission is S.M. Krishna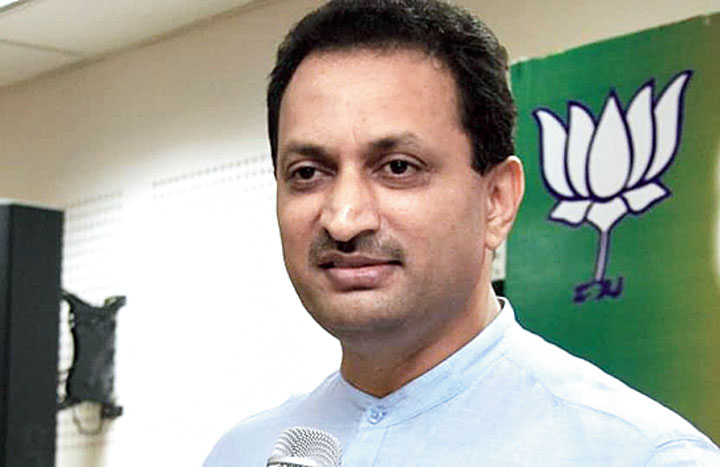 Anant Kumar Hegde
(Sourced by Correspondent)
---
Bangalore
|
Published 18.11.19, 09:10 PM
|
---
The BJP has left two of its most popular — and provocative — public speakers out of the list of its star campaigners for the December 5 by-elections to 15 Assembly seats.
Party sources suggested that fielding veteran MP Anant Kumar Hegde and rookie parliamentarian Tejasvi Surya would have been embarrassing since they had till recently been lambasting most of the BJP's current candidates — Congress and Janata Dal Secular defectors.
Also missing from the list forwarded to the Election Commission is former Congress chief minister S.M. Krishna, 87, who joined the BJP in 2017.
A senior BJP leader said the party wanted to keep the campaign free of the sort of controversies that had marred almost all recent elections.
"With so many newcomers (from the Congress and the JDS) we don't want to trigger any issues within the party. It's better to keep it that way since we must win seven seats to keep this government alive," the leader, who declined to be named, said.
The BJP has 105 MLAs and the support of an Independent in a House of 208. The 15 by-elections will raise the Assembly's strength to 223 and the majority mark to 112, and seven wins will give the BJP a majority of its own.
Two of the state's 225 Assembly constituencies will not witness a vote because of a court case involving alleged malpractices in the 2018 Assembly polls.
"Perhaps the party thought it would be better to use their (Hegde and Surya) services in the Lok Sabha," the leader said, alluding to the Parliament session that began on Monday.
He added: "Krishna did not campaign much for the Lok Sabha polls. I feel that's why he wasn't included."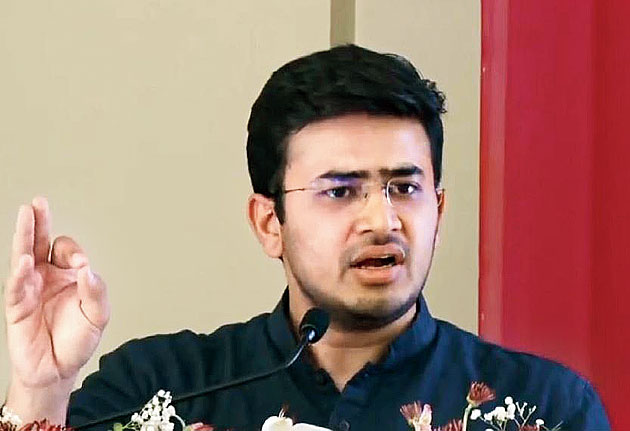 Six-time Lok Sabha member Hegde and first-time MP Surya could not be reached for comments as they were in Delhi for the Lok Sabha session. Krishna's secretary said he was down with fever and was not taking calls or meeting people.
Hegde had controversially lauded Nathuram Godse in the middle of the Lok Sabha polls, tweeting it was time to "move away from being apologetic" about Gandhi's murder. His comment had come soon after BJP candidate and terror accused Pragya Singh Thakur had called Godse a "patriot".
Hegde had also asked how Rahul Gandhi, "born of a Muslim father and a Christian mother", could claim to be a Brahmin. In 2016, Hegde had been booked for hate speech over a reported comment attacking Islam.
Surya, 29, whom BJP president Amit Shah had handpicked as a Lok Sabha candidate, had during the summer campaign appeared to equate support for Modi with patriotism.
"The Left-liberals on Twitter may not like me saying this. But this election is a test of a common Indian's patriotism, and if you are with Modi you are with India, if you are not with Modi you are anti-India," he had said.
In 13 of the 15 seats, the BJP has fielded defectors from the Congress-JDS who had helped it grab power in Karnataka in July. But it has left out two of the rebels to give tickets to disgruntled old loyalists.
The BJP last week denied admission to R. Roshan Baig — the lone Muslim among the rebels — apparently because of the corruption cases against him. Another Congress rebel, R. Shankar, is likely to be accommodated in the legislative council.
The list of the 40 campaigners includes chief minister B.S. Yediyurappa, state party president Nalin Kumar Kateel, Union ministers D.V. Sadananda Gowda, Pralhad Joshi and Suresh Angadi, national organising secretary B.L. Santosh and several state ministers and legislators.