More subjects, easier board exams mooted
The human resource development ministry is set to place the revised draft before the cabinet for approval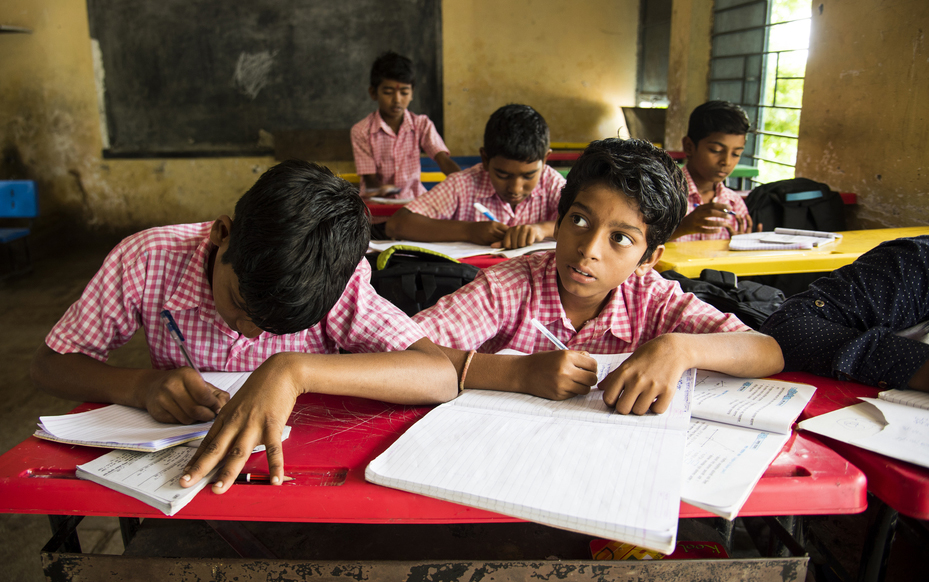 The Right to Education Act makes schooling up to Class VIII compulsory, which means a child can take a school to court if denied education on flimsy grounds.
(Shutterstock)
---
New Delhi
|
Published 27.10.19, 11:15 PM
|
---
More school subjects, less content and easier, twice-a-year board exams are some of the suggestions in a revised draft National Education Policy, which also seeks to make education a right up to Class XII and add a year to preschool.
While mandating an increased number of elective papers, it allows the pupils to choose from a widened pool of academic subjects that will now include many formerly "extra-curricular" disciplines such as dancing, art or sports.
The human resource development ministry is set to place the revised draft before the cabinet for approval, after which it will be presented in Parliament, possibly during the coming winter session, three ministry bureaucrats said.
They said the idea behind getting the children to learn more subjects was to help their all-round development and give them a better understanding of their individual aptitudes, helping their future career choices.
They added that this would not burden the children because the board exams would become "easier", testing only the pupils' "basic understanding of any concept".
According to the officials, the new policy would try to refine the evaluation system, which now rewards rote learning.
Also, the pupils might get the option of taking their board exams twice a year, with the better performance counting when they seek further education or a job. It's not clear, however, whether taking a second board exam would prevent the examinee from securing timely entry into the next level and force him to lose a year.
Board exams are now held after Class X and Class XII, with the pupils appearing in five to eight compulsory subjects — depending on which board they study under — in addition to usually one elective subject.
Some boards like the Central Board of Secondary Education allow their pupils to take up vocational courses as elective subjects. Also, schoolchildren now have to undertake extra-curricular activities such as sport or dance in which exams are not held.
But the revised draft largely removes the distinctions between curricular and extra-curricular subjects, and vocational and academic subjects.
It treats every subject as an academic subject, complete with a syllabus and textbooks— to be developed by the National Council of Educational Research and Training — with an exam to follow.
While the pupils can choose a host of elective subjects in keeping with their interests, they may be required — in a nod to a degree of compartmentalisation — to take up at least one skill (vocational) course.
"The schoolchildren will enjoy more flexibility in exercising their choice for subjects at the secondary level (Classes IX and X). The idea is to enable them to learn many subjects and later decide their own path in keeping with their aptitudes. It will help all-round development of the children," one of the officials said.
Also, the content may be reduced, with the individual subjects confined to "core essentials". The NCERT had two years ago already reduced the curricular content, with the new books becoming available in 2018.
Now the NCERT will start preparing for a new National Curriculum Framework (NCF), which will provide broad guidelines for the preparation of textbooks that are expected to come out in about two years.
"We are waiting for the education policy to be finalised, which is expected in a month's time. We will then start working towards a new NCF and new textbooks," an NCERT official said.
Languages
Under the draft policy, the medium of instruction will be the mother tongue till Class VIII. While this may not apply to private English-medium schools, it is expected to benefit children whose mother tongue is not their home state's principal language, such as tribal children in particular.
The existing three-language formula will continue but with more "flexibility", the officials said.
Currently, children studying in Classes VI to VIII in the southern, eastern and western states — except Tamil Nadu — are required to learn their mother tongue, English and Hindi. Those in the northern states have to learn Hindi, English and any one of the 21 other Indian languages listed in the Constitution.
The officials did not explain what "flexibility" would be introduced into this scheme.
However, from Class IX, when the children go back to learning just two languages, the revised draft encourages them to choose as elective subjects an Indian classical language such as Sanskrit, Tamil, Telugu, Kannada, Malayalam or Odia, or a foreign language.
Longer preschool
Children who would have taken their Class XII board exams at 17-plus under the current system, will under the revised draft do so at 18-plus. This is because they will spend an extra year at preschool.
Currently, children aged three spend two years in preschool and start Class I before turning six. Under the new policy, they will have three years' preschool, which will be integrated with Classes I and II, making up a five-year "foundational stage".
The focus these five years will be on play-based education, which will cover the learning of etiquette, teamwork, ethics and hygiene. The children will be exposed to multiple Indian languages apart from English.
Currently, the Right to Education Act makes schooling up to Class VIII compulsory, which means a child can take a school to court if denied education on flimsy grounds. The draft policy looks to extend the right up to Class XII.