Money-laundering charge minus money is weird: Cong
Randeep Surjewala described the summons as the outcome of a 'cowardly conspiracy' by a ruler nervous about his diminishing popularity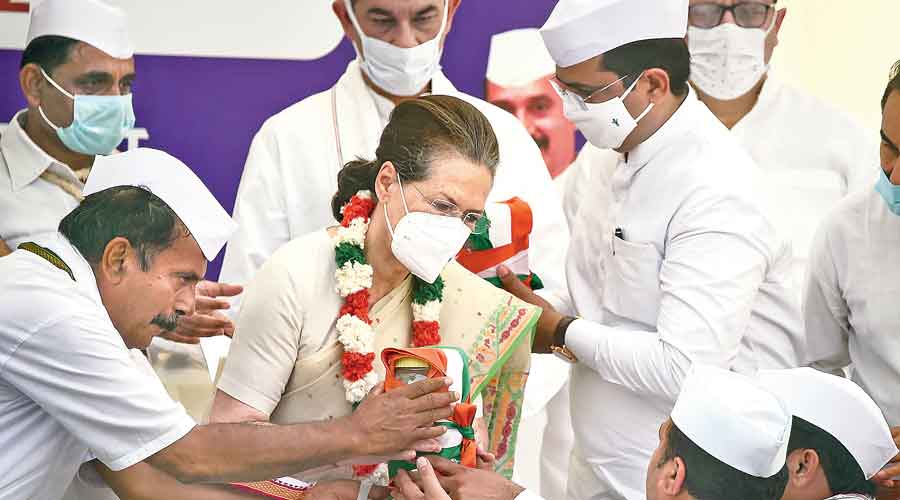 Sonia Gandhi receives sand and water of various states from "padyatris" at Rajghat in New Delhi on Wednesday as she participates in the party's Azadi Gaurav Yatra.
PTI
---
New Delhi
|
Published 02.06.22, 01:30 AM
|
---
The Congress on Wednesday said it would not be intimidated by the Enforcement Directorate summons to Sonia Gandhi and Rahul Gandhi for questioning in connection with a money-laundering case related to the National Herald newspaper.
The party denied the money-laundering accusation and questioned the timing of the summons, underlining that the ED had acted suddenly after years of lull despite there being no new factual developments.
Sonia and Rahul had obtained bail in the case in 2018.
Congress communications chief Randeep Surjewala described the summons as the outcome of a "cowardly conspiracy" by a ruler nervous about his diminishing popularity and desperate to divert the nation's attention from real issues.
BJP president J.P. Nadda hit back saying: "A criminal never says he or she is a criminal."
Congress spokesperson and senior lawyer Abhishek Singhvi said: "This is a fake issue. The fresh charge of money-laundering is weird. How can there be money-laundering when there is no money involved? This reeks of vendetta, pettiness and fear. This is the BJP's propaganda to divert attention from governance failures."
Singhvi added: "The Enforcement Directorate hadn't thought of issuing summons under the Prevention of Money Laundering Act since 2014-15.The facts haven't changed at all but the ED thinks in May 2022 that summons under PMLA is required.
"This vindictiveness is a disease that will ultimately engulf the ruling dispensation. They are attacking every political opponent – from Jammu Kashmir to Bengal. But we aren't intimidated. Even common sense, or a first-year law student, will tell you a case of money-laundering cannot be made out in this case."
Explaining the basics of the case, Singhvi said: "AJL (Associated Journals Limited), which owned National Herald, a newspaper founded by the freedom fighters to fight the British, couldn't ever be financially successful. Ultimately, the Congress party stepped in and gave Rs 90 crore. The AJL became an indebted company. It then converted the debt into equity, assigned to a new company, Young India. This is common corporate practice every company does."
Singhvi added: "Young India is not a profit-making company, incorporated under Section 25. It can't give any dividend. Not a penny can be taken out of it. AJL is as it was; there was no transfer of property, not one asset.
"(A sum of) Rs 67 crore was used in giving wages and dues to the employees. (Prime Minister Narendra) Modi should tell his lawyers to explain where the money-laundering angle is. We will fully comply with the legal process and fight this vendetta legally and politically."
The Congress ran a social media campaign alleging a plot to break the party's resolve to fight the Modi government, and asserted its leadership would not buckle.
"We fought the British and will now fight the forces that sided with the British during the freedom movement," Surjewala said, declaring the party would continue to expose the government's failures and misdeeds.