Modi speaks good English: Trump tells G-7
Indian PM breaks into a wide grin, follows it up with a chummy handshake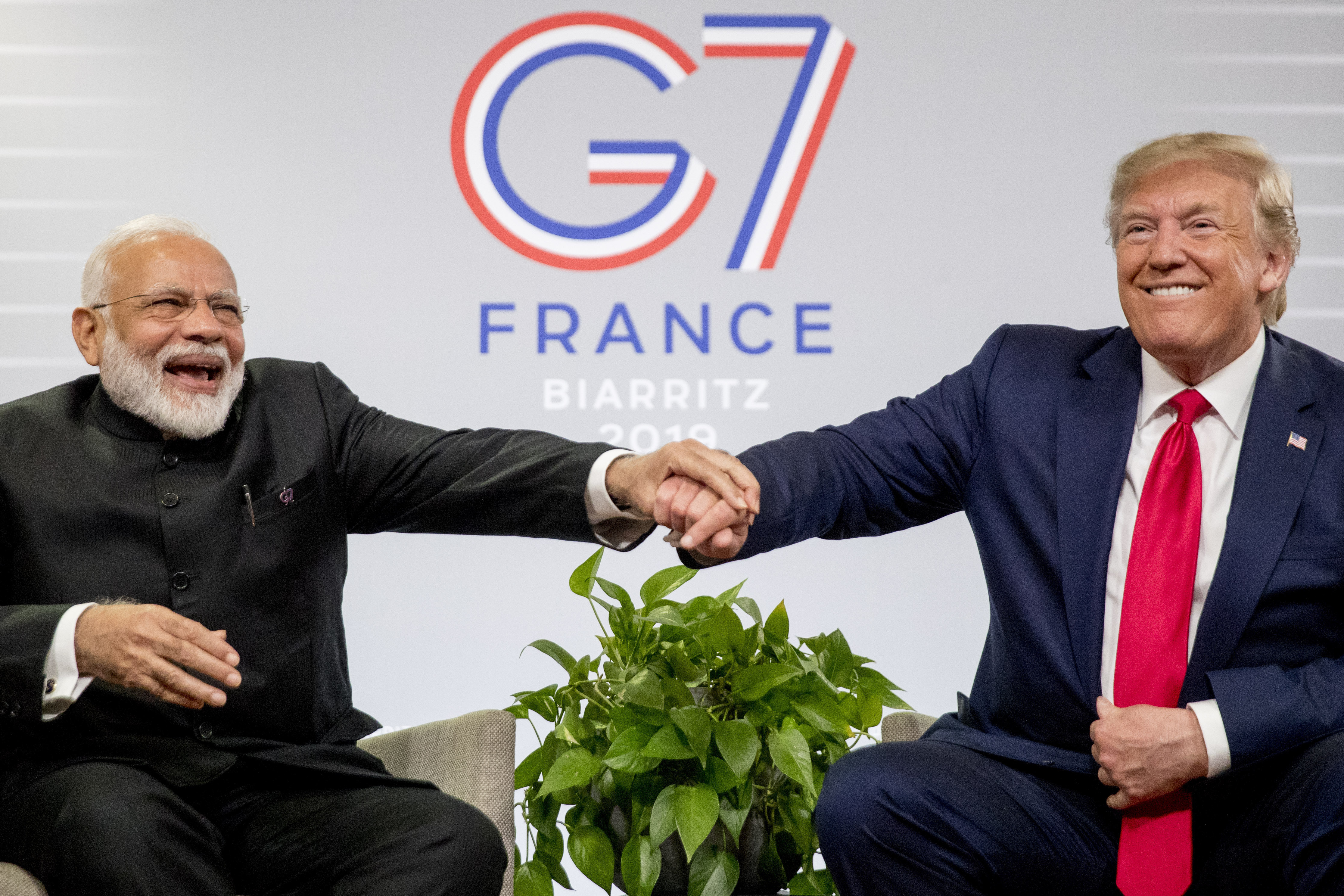 ---
---
Biarritz: Narendra Modi and Donald Trump indulged in some jovial hand-slapping when the US President told a news conference that Modi's English is 'good' while speaking with the press on the sidelines of G-7 meeting at Biarritz on Monday.

Modi, speaking in Hindi, requested the press to leave the two leaders alone for a one-to-one conversation, after which Trump quipped about Modi's English proficiency.
'He actually speaks very good English. He just doesn't want to talk,' Trump joked. Modi broke into a wide grin, which was followed by a chummy handshake. Modi, all smiles, also slapped the back of Trump's palm.
At the same event addressing the press, Modi categorically rejected any scope for third-party mediation between India and Pakistan on Kashmir, saying the two countries can discuss and resolve all issues bilaterally and 'we don't want to trouble any third country'.
In July, Trump said he had been told by Modi to help solve the Kashmir issue, a claim India has vehemently denied.
Modi said today: 'All the issues between India and Pakistan are bilateral in nature, and we don't want to trouble any third country. We can discuss and resolve these issues bilaterally.'
Trump said he and Modi spoke about Kashmir 'at great length' last night and he felt that Indian and Pakistan can resolve the Kashmir problem on their own. 'We spoke last night about Kashmir, the Prime Minister really feels he has it (situation) under control. They speak with Pakistan and I'm sure that they will be able to do something that will be very good,' the US President said.
The meeting came against the backdrop of Delhi revoking special status to Jammu and Kashmir and bifurcating the state into two Union Territories on August 5. Tension between India and Pakistan spiked after that. India has categorically told the international community that the Kashmir development was an internal matter and advised Pakistan to accept the reality.
'We are talking about trade, we're talking about military and many different things. We had some great discussions, we were together last night for dinner & I learned a lot about India,' the US President said.

Briefing reporters after the talks between Modi and Trump, foreign secretary Vijay Gokhale said the two leaders had a 'very warm, very positive meeting' which lasted 40 minutes.

When asked about the discussion on Kashmir, the foreign secretary said there was 'no discussion' on it during the bilateral meeting. To another question, Gokhale said India has not taken any steps to harm regional stability. 'Normalcy is returning to Jammu and Kashmir,' he said, adding that certain restrictions will remain in place in the state to maintain law and order. 'Their meeting principally focussed on trade and energy,' Gokhale said.