Modi govt's plea on Ayodhya land alarming, says Shankaracharya
If temple is built on the non-disputed land, what about the spot where Ram Lalla is installed?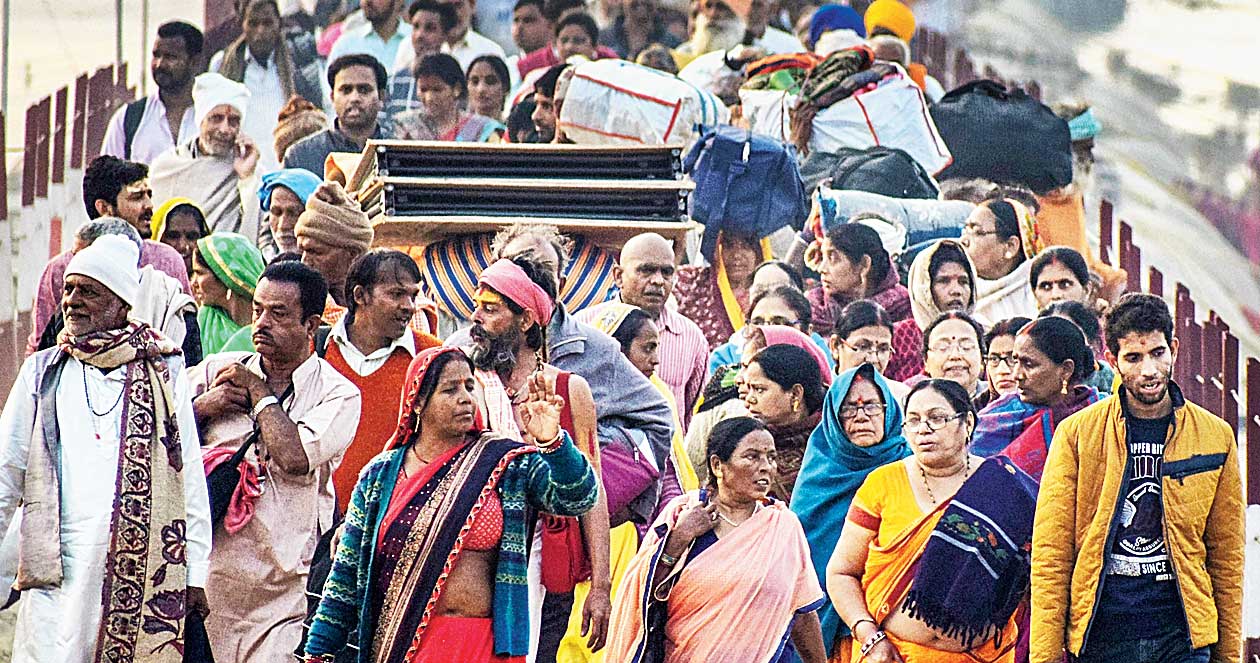 Devotees arrive at the Sangam for the Mauni Amavasya bath during the Ardh Kumbh Mela in Allahabad on Saturday.
(PTI)
---
Lucknow
|
Published 02.02.19, 08:06 PM
|
---
Swami Swaroopanand Saraswati, one of the three Shankaracharyas in the country, has alleged a "conspiracy" and claimed that the Narendra Modi government is trying to "ditch the Hindus by surrendering the community's claim on Ram Janmabhoomi in Ayodhya".
The Shankaracharya's opinion has been seconded by the chief of the highest organisation of sadhus.
"A huge conspiracy is being hatched against the Hindus. The way the Modi government has moved the Supreme Court seeking to release the non-disputed land and leaving out the area where Ram Lalla (infant Ram) is installed is alarming," Swaroopanand, 94, a trenchant critic of Modi and the Vishwa Hindu Parishad (VHP), said during a conversation with reporters at the Ardh Kumbh Mela in the Sangam area of Allahabad on Saturday.
"His minister (Prakash Javadekar) has said they want to return the non-disputed land to the Ram Janmabhoomi Nyas (a VHP trust) so that the temple can be constructed there. If so then what will happen to the years of movements organised by the Hindus to build a temple where the makeshift Ram Lalla is installed?" the Shankaracharya of Jyotir Math in Badrinath and Dwarka Math in Gujarat added.
Told that RSS chief Mohan Bhagwat had, while addressing a VHP event at the Sangam on Friday, sought more time for a Ram temple and requested sadhus to support Modi
in the Lok Sabha elections, Swaroopanand said: "The Hindus had voted for Modi in 2014 but he ditched them after becoming the Prime Minister. They will not vote for him again."
Swaroopanand had announced on January 30 that sadhus would start marching to Ayodhya on February 10 and that he would lay the foundation stone of a Ram temple on February 21 at the disputed site where Ram Lalla is installed.
Narendra Giri, the chairman of the Akhara Parishad, the highest body of sadhus, has said the outfit will join Swaroopanand's movement. "The Shankaracharya is our supreme leader and we are his army. We agree with whatever he is saying about the Modi government and will follow his directions," Giri said.
The Modi government moved a petition in the Supreme Court last week seeking permission to return the non-disputed 67.39 acres to its "original owners", among whom the Centre has listed the Nyas.
Swaroopanand, who also heads the Ram Janmabhoomi Punaruddhar Samiti, is among the petitioners in the Ayodhya land dispute that the Supreme Court is to hear. Ranjana Agnihotri, a counsel for the Samiti, has said the Centre's claim is false as the Nyas was a lessee, not an "original owner" of the land.