Modi govt loud on United Kingdom, silent on Adani: Congress
Mallikarjun Kharge says Prime Minister has defamed India on several occasions when he was on a foreign tour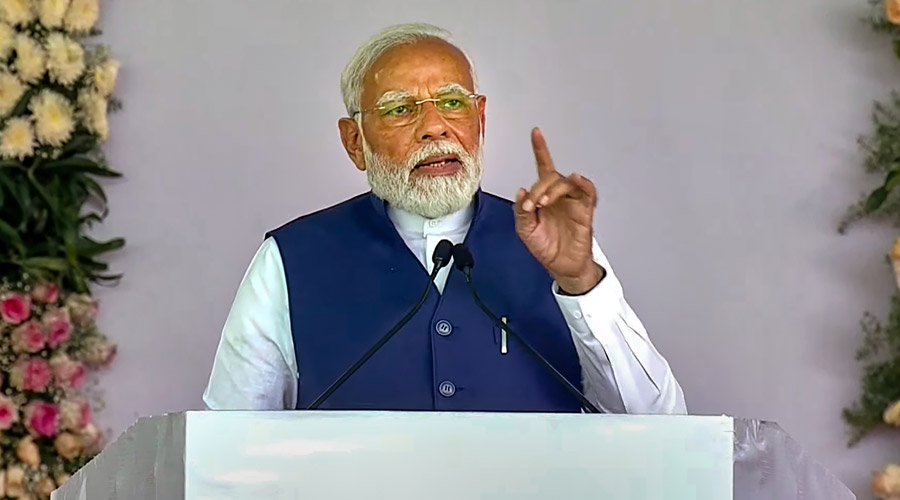 Narendra Modi.
File Photo
---
New Delhi
|
Published 14.03.23, 03:23 AM
|
---
Whatever Rahul Gandhi says riles the BJP and the Narendra Modi government, triggering a torrent of rebuttals and counter-attacks. But his questions on the Adani affair have been met with sullen silence.
When the second leg of the budget session began on Monday, the government launched an offensive against Rahul in Parliament by singling him out, prompting the Opposition to smell a tactic to divert attention from the Adani controversy. The Congress has so far asked the Prime Minister 81 questions on the Adanis — none of which has been answered by Modi.
The government accused Rahul of trying to "hurt India's honour and prestige" during his recent UK visit.
The effort by the BJP members to kick up a ruckus prompted almost the entire Opposition to shout both inside and outside Parliament: "Modi-Adani bhai-bhai, desh bech ke khaye malai."  Only the Trinamul Congress did not attend a meeting called by Congress president Mallikarjun Kharge later.
Congress communications chief Jairam Ramesh has asked three more questions, taking the total to 81. He alleged that the Prime Minister ensured that his drumbeaters forced the adjournment of Parliament so that the demand for a joint parliamentary committee probe into the Adani affair did not get raised.
"This was a planned strategy to get both the Lok Sabha and the Rajya Sabha adjourned because they are scared of the Adani issue. What should Rahul Gandhi apologise for? Speaking the truth? He has said those things several times in the past."
Kharge also condemned the bogus campaign by the BJP against Rahul as he had neither defamed India nor sought foreign intervention to solve domestic problems.
Kharge addressed the media to iterate the JPC demand in the presence of most Opposition parties, including the AAP and K. Chandrasekhar Rao's BRS. Only Trinamul was missing.
Kharge said Modi had defamed India on several occasions when he was on a foreign tour. "Modi said earlier 'you felt ashamed of being born in India'. He also said people wondered what sin they had committed to have been born in India. He talked about corruption and a lack of achievement in India before his arrival. What can be a greater insult to India? Now the BJP leaders are boasting of patriotism. Is this patriotism?" Kharge said.
Kharge expressed surprise at the irony of people hell-bent on crushing democracy accusing the Opposition of harming democracy.
"This is a tactic to run away from the JPC demand. What's wrong if we want an investigation into the Adani affair? The chairman gave 10 minutes to the BJP leader to talk about an issue that was not related to this House. But when we started talking about Adani, the House was adjourned immediately. Why this discrimination against the Opposition? But we are united and we won't spare them," he asserted.
Persisting with his HAHK (Hum Adani Ke Hain Kaun) series, Ramesh said: "The Adani Group has repeatedly brushed aside questions about Vinod Adani claiming that he is uninvolved with group management and decision-making. Yet, almost every week, there are fresh disclosures that show this to be a laughable deception.
"In the February 19, 2023, HAHK, we had pointed to the Adani Group announcement on September 16, 2022, that 'the Adani Family, through Endeavour Trade and Investment Ltd, a special purpose vehicle, has successfully completed the acquisition of Ambuja Cements Ltd and ACC Ltd' and a Sebi filing that stated 'the ultimate beneficial ownership of the Acquirer is held by Mr Vinod Shantilal Adani and Mrs Ranjanben Vinod Adani'. If Vinod Adani is at such arm's length from the Adani group, how have Adani Enterprises executives become senior managers at Ambuja Cements and ACC? Why does the Competition Commission of India assert that Endeavour belongs to the Adani group?"
Pointing out that media reports show that the shell company Acropolis Trade and Investment owns Xcent Trade and Investment, which in turn owns Endeavour, Ramesh said, "The Mauritius-based Acropolis and Xcent both have Subir Mittra, who heads the Adani Family Office, as a director. Vinod Adani is a director in Acropolis which reported $7 billion (Rs 51,400 crore) as revenue and profit (given near-zero expenses) in 2020-21 but zero income and a $25,980 loss in 2021-22. How does a shell company that owns these critical infrastructure firms have revenues of Rs 51,400 crore in one year and zero the next? Will agencies like the Enforcement Directorate ever investigate where these funds are coming from and where they are going?"
Ramesh said Endeavour had acquired stakes in Ambuja Cements and ACC by buying Holderind Investments from the previous owner. "Holderind lists Mittra as a director and Rogers Capital Corporate Services as the management company. One of Rogers' directors, Jayechund Jingree, is a former director in Adani Enterprises (then named Adani Exports) who is also connected to five investment funds that invested as anchor investors in Adani Enterprises' ill-fated Rs 20,000-crore follow-on public offer. Jingree is also reportedly connected with fugitive stockbrokers Ketan Parekh and Dharmesh Doshi. A sixth Mauritius-based fund that invested as an anchor investor, The Great International Tusker Fund, also has directors who are co-directors with Vinod Adani and Subir Mittra in other firms," he said.
Ramesh asked: "Is this not suggestive of a long-established network of Adani executives involved in money-laundering and round-tripping as alleged by governmental and private investigators? When will you stop protecting your cronies and financiers and allow the law to take its course?"