Modi goes on an adventure with Bear Grylls and the internet can't keep calm
Twitterati are having a field day since Monday, when a trailer for the upcoming Man Vs wild show was released featuring Narendra Modi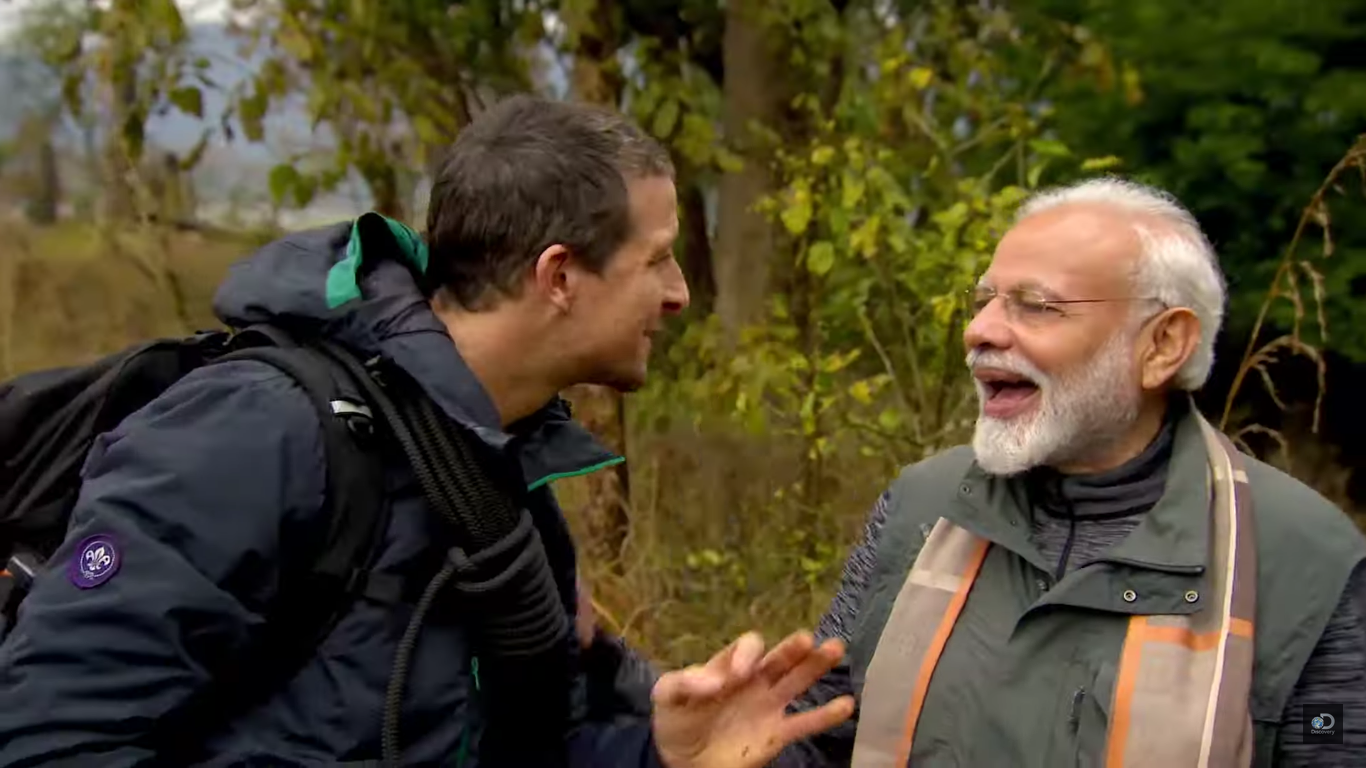 ---
New Delhi
|
Published 30.07.19, 10:21 AM
|
---
Twenty-four hours after Bear Grylls announced that Narendra Modi would be on a Man Vs Wild adventure with him, the memes have not stopped. 
Netizens rarely miss a chance to have a good laugh at their political leaders' expense and the promo released by Discovery Channel for the show, which will be aired on August 12, provided them just that opportunity. 

Talk has swirled that at the time Modi was doing the shoot, 40 CRPF jawans were killed in a terror attack in Plwama on February 14.

The attack had taken place at 3.10pm. Quoting an Uttarakhand official, The Telegraph had then reported that Modi was in the Corbett park, where he went on a safari and participated in filming from 2.30pm to 4.30pm.

Modi had briefly addressed a rally after that, during which he did not refer to the terror strike, which had fuelled questions whether he had been apprised of the attack. The Opposition Congress had also cited the filming as evidence of "insensitivity". 
The circumstances of the show are political, so are some of the memes. 
Wait for it 😂😂😂 pic.twitter.com/8KtAS1jYMH

— Deewan. (@Spoof_Junkey) July 29, 2019
Who called it Man vs Wild instead of Vann ki Baat?

— Abhishek Upadhya (@_logik) July 29, 2019
*Bear Grylls with different personalities* #manvswild pic.twitter.com/kB0tEQjx5y

— d J 🎧 (@djaywalebabu) July 29, 2019
Every Berojgaar Nibba to Mukesh Ji for Jio: pic.twitter.com/U2rAMyYztc

— Kabira Speaking 🇮🇳🌈 (@thewordsofshiva) July 29, 2019
Discovery network after episode of Man vs Wild with PM Modi #PMModionDiscovery #manvswild pic.twitter.com/4iatBKVRxY

— yash.uk (@UkeyYash) July 29, 2019
When you finally meet the person whose Netflix ID you use. #PMModionDiscovery #ManVsWild pic.twitter.com/2HItVfhE8E

— Sagar (@sagarcasm) July 29, 2019
Pic 1: Original
Pic 2: How Modi haters see it. #PMModionDiscovery #ManVsWild #BearGrylls #PMModi pic.twitter.com/UAlvaGGUEV

— Durgansh Dixit🎨🇮🇳 (@DurganshDixit) July 29, 2019
#manvswild
Bear Grylls : This thing is terrific source of protein under such environment
Modi Ji : Shravan (Sawan) chal raha hai, kuch ulta seedha mat khila diyo BEAR GUPTA pic.twitter.com/ED0WRwl2Ao

— Yash Chaudhary (@cheel_maaro) July 29, 2019
Modiji: we drink gau mutra.
Grylls: hold my cockroach. #manvswild pic.twitter.com/l1jT4Re1NQ

— Mr. Crap Bag (@Nayanism__) July 29, 2019
Bear Grylls after coming out of that jungle 🤪 #ManVsWild pic.twitter.com/ImL7naAfQT

— Mamta Sharma Das (@thebohobaalika) July 29, 2019
Meanwhile people in Tamilnadu

😂😂😂😂😂

#ManVsWild pic.twitter.com/2QFODqIbDx

— Christopher Daniel (@Dani3580) July 29, 2019