Medical exit test assurance
The regulation of fees and other charges would mean private colleges would not be able to impose arbitrarily high non-fee charges such as hostel, development or annual fees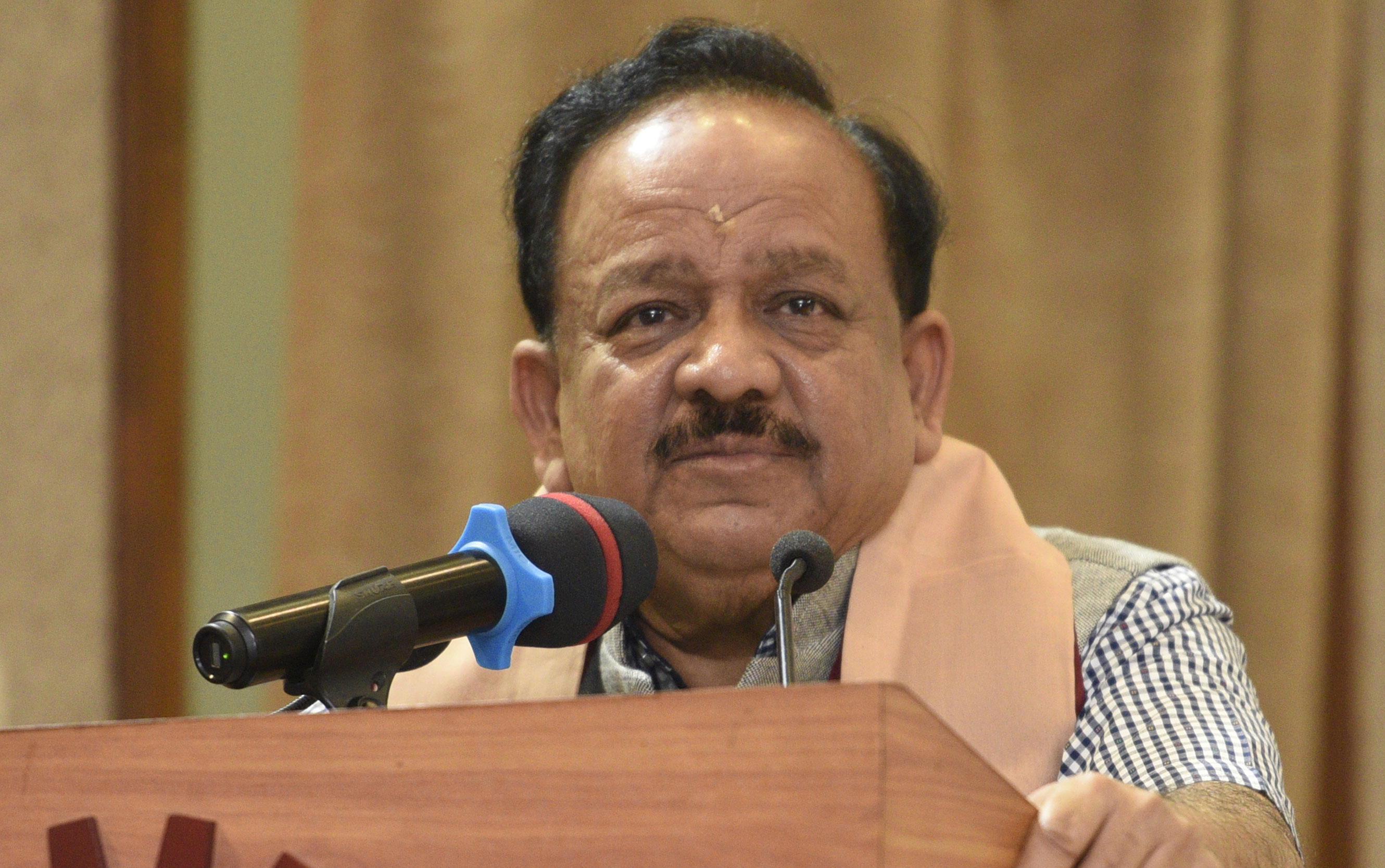 ---
New Delhi
|
Published 08.08.19, 09:01 PM
|
---
The legislative changes governing medical education will allow candidates to take the proposed National Exit Test (NEXT) any number of times and introduce regulatory control over not just medical college fees but all other charges, health minister Harsh Vardhan said on Thursday.
The Union minister, who was describing key features of the National Medical Commission (NMC) Act, 2019, said the changes would ensure probity in medical education, lower costs of medical education, enhance the number of seats and provide more people access to healthcare.
The NMC Act is a "studentfriendly initiative", the minister told reporters at a briefing to explain the act and allay concerns that sections of medical students and doctors had raised last week.
The NMC bill, approved by the Lok Sabha and the Rajya Sabha last week, has received presidential assent.
Under the new regulatory framework that would replace the existing Medical Council of India, finalyear students would need to take the NEXT, a test aimed at common nationwide standards.
This single exam will grant graduates their MBBS degree, the licence to practise medicine and entry into postgraduate courses, depending on their scores.
The proposed changes had triggered speculation among sections of students whether they would get a single opportunity to enter postgraduate courses.
Under the current system, students can pass their finalyear exam and subsequently study for a common postgraduate entrance test and even repeat the test if they score lower than expected marks.
The health ministry's clarification implies that finalyear students who clear the NEXT and get their MBBS degree may repeat it again if they are unable to score marks high enough to enter postgraduate courses. "The act does not impose any restriction on the number of attempts at the NEXT examination," Harsh Vardhan said.
Harsh Vardhan also underscored the act's provisions for the Centre or states to regulate fees in private medical colleges.
"A singular outstanding feature of the act is that it provides for regulation of fees and all other charges in 50 per cent of seats in private colleges," he said.
Under the Indian Medical Council Act, there was no provision for regulation of fees and states had established feeregulatory committees under the directions of the Supreme Court.
The regulation of fees and other charges would mean private medical colleges would not be able to impose arbitrarily high nonfee charges such as hostel, development or annual fees.
The NMC would control the fees and other charges of 50 per cent of seats in private medical colleges. But Harsh Vardhan said states "would have the authority to come up with state amendments regarding regulation of fees for the remaining 50 per cent seats" in private colleges.
Harsh Vardhan also challenged claims by doctors that the NMC Act would legalise quackery by allowing community health providers to practise elements of modern medicine.
The minister said the concept of community health providers, or midlevel providers, was widely prevalent in several countries, including developed countries such as Canada, the UK and the US where they are known as nursepractitioners.
He said community health providers would only be trained in modern medicine and not alternative or traditional systems of medicine and be given limited licence to provide primary and preventive healthcare. Their qualifications and training levels would be determined by the NMC after extensive consultations with doctors.
Harsh Vardhan said a "false impression" had been created that the provision for community health providers would be tantamount to legalising quackery. "Nothing can be farther from the truth," the minister said.
"On the contrary, punishment for quackery has been enhanced to up to oneyear imprisonment and up to Rs 5 lakh fine," Harsh Vardhan said. "Quacks do not possess qualifications and would not be able to meet the conditions set by the NMC to become community health providers."
However, members of the Indian Medical Association, the country's largest body of doctors, have expressed concern that India lacks the mechanisms to monitor what exactly the community health providers will practise. "We don't have checks and balances — they may prescribe something they're not authorised to," an IMA officebearer said.