Maoists torch vehicles in Jharkhand
The incident took place on Tuesday late evening at Gunjrai village under Chandwa block of Latehar district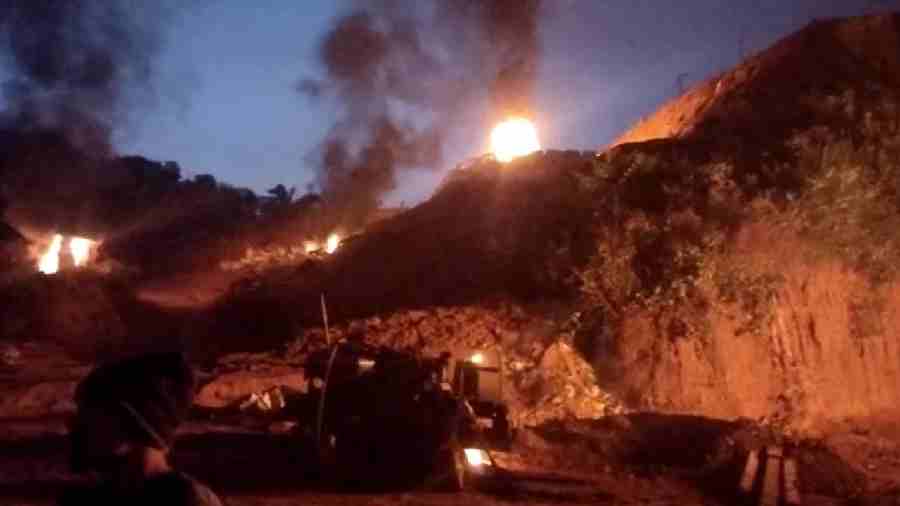 The vehicles torched by Maoists in Latehar on Tuesday night.
Manob Chowdhury
---
Jamshedpur
|
Published 24.11.22, 03:33 AM
|
---
Maoist zonal commander Ravindra Ganjhu and his group allegedly torched around 11 vehicles engaged in laying a new railway track in Jharkhand and threatened workers to stop work or pay a levy.
The incident took place on Tuesday late evening at Gunjrai village under Chandwa block of Latehar district, over 90km away from the state capital Ranchi.
The state police described it as an "act of desperation" by the Maoist groups with most of their senior leaders being either eliminated, surrendered or arrested and with the police gaining upper hand in most of the Maoist bastion including Burha Pahar in Giridih and Saranda in West Singhbhum district.
"Ravindra Ganjhu is the only active senior Maoist member in the region and carries a prize of Rs 15 lakh on his head. It is an act of desperation by the rebels to show their presence and collect levy as the police have been gaining upper hand in the recent months in most of the rebel-hit areas," said IG operation and Jharkhand police spokesperson Amol V. Homkar.
Local police informed that Ganjhu himself was leading a fully armed squad of over 10 members and attacked the campsite of RVNL Projects, a Hyderabad-based company which had bagged the tender of laying a 195km-long third railway line between Barkakana in Ramgarh district and Barwadih in Latehar district.
"According to the information received so far, two excavators, one generator set and some trucks have been torched by Maoists on Tuesday evening. We had ensured security at the site, despite which the incident happened. The matter will be probed," said Rajkumar Lakra, deputy inspector general (DIG) of Palamu range.
Police sources said that this was the second Maoist attack on a construction site of the third railway line in the area in recent times.
Earlier on October 22, Maoists had shot at and injured three people in Kenduaatar village, around 25km from Gunjrai in Latehar, and asked railway line construction workers to refrain from work until the levy was paid.
"The rebels arrived at around 7pm at the camp and took all the staff hostage for nearly one-and-a-half hours as they set fire to all the vehicles one by one. They threatened the staff that they would have to pay a levy before starting construction work or face dire consequences. They have also left a pamphlet demanding levy," said a local police official preferring anonymity.
People became aware of the incident as the flames could be seen from several kilometres away. "Vehicles worth more than Rs 10 crore were torched by the Maoists.
"Due to this incident, the Tori railway upline was stopped for railway traffic for three hours in the evening as due to the fire incident, a machinery item (which is so high that it can fall on the railway track) was inclined towards the railway track itself. Railway traffic was restored at around 11pm that night," said a Dhanbad division railway spokesperson.