Maoist 'DeMo revenge' on MLC
Over 30 Maoists swooped on Suddibigaha and sprayed bullets from outside on Rajan's house, killing Nagendra Singh, 65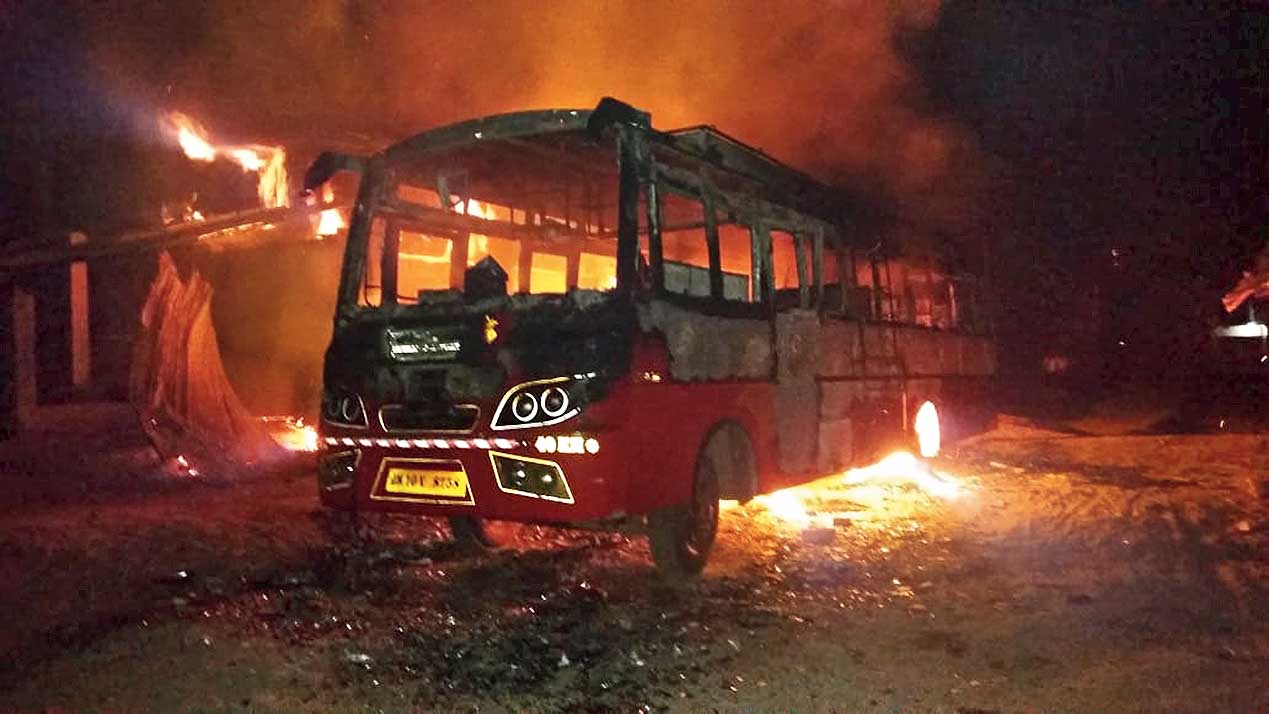 One of the buses set ablaze by the Maoists.
Picture courtesy: Sanjay Choudhary
---
Patna
|
Published 30.12.18, 07:45 PM
|
---
Armed Maoists attacked the village home of BJP lawmaker Rajan Kumar Singh in Bihar's Aurangabad district, killing his uncle in "revenge" for the MLC allegedly swindling them out of Rs 5 crore after the demonetisation and refusing to pay extortion money.
Over 30 Maoists swooped on Suddibigaha, around 155km south of Patna, on Saturday night and sprayed bullets from outside on Rajan's house, killing Nagendra Singh, 65.
They blew up two other houses and torched several vehicles, including three buses belonging to Rajan's cousin Sunil Singh, three tractors and a van.
After an overnight gun battle with police and the CRPF, the rebels fled towards the Chakarbandha forest close to the Jharkhand border, leaving behind pamphlets explaining the attack.
"Rajan Singh should return the Rs 5 crore in old currency notes the CPI (Maoist) had given him after the demonetisation to exchange them (against new notes), and pay his levy dues of Rs 2 crore," the pamphlet said.
Police sources said Rajan's construction company was engaged in infrastructure projects in the area and may have paid a "levy" to the Maoists when the rebels enjoyed clout in the region.
"The company may have stopped paying them after the Maoists were pushed to the back foot," an officer said.
He said the police "lack the wherewithal right now" to verify the Maoist claims about Rajan having agreed to exchange the rebels' old currency notes, accepting Rs 5 crore and swindling them — a sequence that, if true, would involve multiple violations of the law.
One avowed purpose behind Prime Minister Narendra Modi's November 2016 move to demonetise high-denomination notes was to hit insurgents and terrorists financially.
The Maoist pamphlet asked the people to seize or destroy the MLC's assets and said the attack was "revenge" also for the state government's "illegal" confiscation of the properties of the rebels and their relatives.
Many senior Maoists have recently been arrested in Bihar, ruled by a JDU-BJP coalition, and the Enforcement Directorate has confiscated the properties of senior rebel commander Sandeep Yadav.
The Maoists claimed they were not fighting the common BJP or RSS workers but only reactionary people and contractors like Rajan. The Maoists had killed another cousin of Rajan, Ajit Kumar Singh, in 2013.
Aurangabad superintendent of police Satya Prakash said the attack was "an attempt by the Maoists, who are reuniting in the region, to spread fear and resume extortion".
"The buses they torched used to ply in the region. The Maoists clearly planned to blow up many more houses, for we recovered a large cache of high-end cordex explosives after they fled," he told The Telegraph.
The security forces are continuing their search for the rebels.