Lucknow University ex-VC steps up for Siddique Kappan
Roop Rekha Verma submits car papers in local court as bail bond to secure scribe's release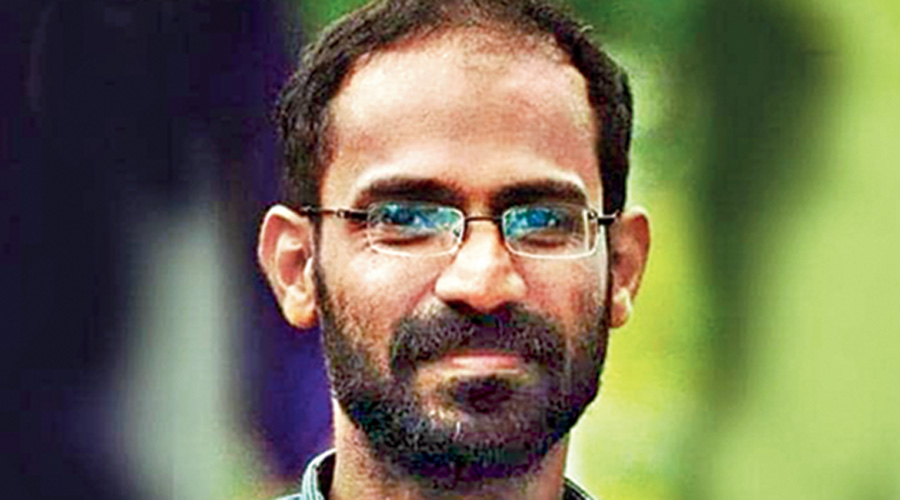 Siddique Kappan
File Photo
---
Lucknow
|
Published 22.09.22, 02:04 AM
|
---
Roop Rekha Verma, 79, a former vice-chancellor of Lucknow University, does not know Siddique Kappan but on Tuesday evening submitted her car's papers in a local court as bail bond to secure the journalist's release.
"My conscience said he should be out of prison and prove himself innocent," Verma told The Telegraph on Wednesday.
Kappan, a journalist from Kerala working in Delhi, was arrested in October 2020 when he was travelling to Hathras in Uttar Pradesh to report on the gang rape and murder of a Dalit teen. On September 10 this year, the Supreme Court granted him bail, asserting citizens' right to "free expression". The top court ordered that Kappan be produced in the trial court within three days for his release, subject to conditions that the trial court deemed fit. The trial court in Lucknow on September 12 said two residents of Uttar Pradesh would have to furnish individual sureties of Rs 1 lakh each besides a personal bond of the same amount.
The wait for individuals in the Yogi Adityanath-ruled state who would come forward to help the journalist ended on Tuesday.
Verma said a friend of hers from Kerala called her up and requested her to convince two persons to stand surety. "But I had none. I knew myself only and so submitted the papers of my Celerio car, which costs more than Rs 4 lakh. Later, I heard that another person from Lucknow had agreed to pay the other security bond but I don't know who that person is," she said.
"One thing was very clear to me — he was going to a village in Hathras to cover an unimaginable brutality during the darkest hours of the incidents of suppression in the country by an unconstitutionally inclined government," Verma added.
The social activist, who taught philosophy at Lucknow University for more than three decades and was the vice-chancellor between 1998 and 1999, made it clear several times during the conversation with this correspondent that she had merely performed her duty as a citizen and not done anything special.
"In the past eight years we have noticed divisive tendencies in the country while genuine problems have been neglected. India is no longer a decent and flourishing country. It is going down sharply in the areas of human rights, employment and economic welfare. Religious discrimination and brutal crimes against women are on the rise and the graph of poverty is going up. Sitting silent would be a crime in this atmosphere," Verma said.
The elderly activist who lives alone can almost every day be seen in Lucknow's main market area at Hazratganj and its neighbourhood, distributing pamphlets for gender equality or protesting suppression.
"I have never met Kappan and I don't know what kind of a person he is. According to my understanding, he was arrested at a time of unnecessary suppression in the country. The girl was brutalised and killed, and the police forcibly cremated her. Whatever I did by furnishing the bail bond for Kappan would not be of great help to him as he still has to fight a long legal battle," Verma said.
Even after fulfilling the conditions for his release, Kappan will remain behind bars until he can get bail in a money-laundering case filed by the Enforcement Directorate.
When the journalist, who has now spent close to 750 days in jail, was arrested on October 5, 2020, he had allegedly been travelling in a cab with two leaders of the Popular Front of India, which some consider an extremist organisation but which is not banned.
The Adityanath government booked Kappan and the others for sedition (IPC Section 124A), promoting enmity between groups (153A) and outraging religious feelings (295A), and under the anti-terror law UAPA and the Information Technology Act.
While granting bail to Kappan, the Supreme Court had told the Uttar Pradesh government: "Every person has the right to free expression. He is trying to show that the victim needs justice and raise a common voice. Is that a crime in the eyes of the law?"
Verma has been receiving applause on social media for volunteering to stand surety. Twitter user Natasha Ramarathnam wrote: "She is a HERO."
Bureaucrat turned social activist Harsh Mander tweeted: "The country owes a debt of gratitude to Roop Rekha Verma ji. Her growing years have only further strengthened her courage and resolve to stand for justice and truth."
Twitter user @kuccotwites hailed Verma as an "iron lady" while filmmaker Onir wrote, sharing a tweet bearing Verma's picture: "Good morning beautiful people. Nice to start a day with the image of something so beautiful and inspiring."
Many in Lucknow University recall Verma as a "mother figure" because she had founded the Institute of Women's Studies there. She runs Saajhi Duniya, an NGO that organises lectures, seminars and protests in Uttar Pradesh against gender and religious discrimination.