Lewd support for CAA
Social media platforms suddenly go risqué a day before Amit Shah starts his door-to-door CAA hardsell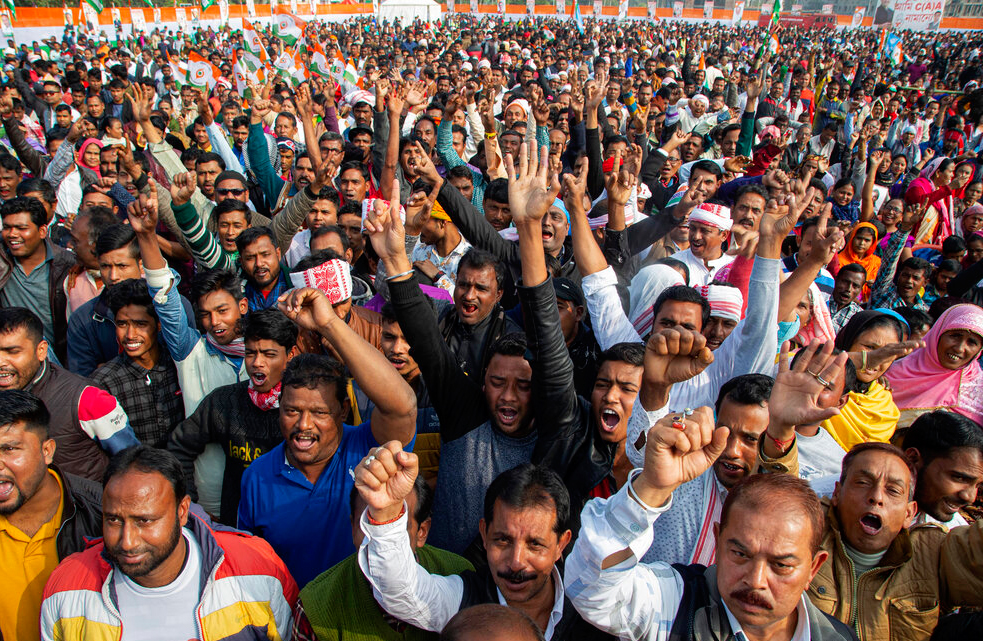 ---
---
A wildfire lewd lure is what the Narendra Modi government's call-in campaign to drum up support for the Citizenship (Amendment) Act has also become.
A day before Union home minister Amit Shah leads platoons of ministers, BJP office-bearers and other party grandees into a door-to-door CAA hardsell, social media platforms went suddenly awash with risqué, and often ribald, solicitation tagged to the toll-free number picked officially as vehicle for the phone-in campaign: 8866288662.
Twitter became a scramble of handles, several of them patently morphed if not anonymous and nearly all pretending to be young women, seeking to be suggestively contacted.
"I'm free right now, waiting for your call… Call me at 8866288662…" Vinita Hindustani @Being_Vinita began to solicit a minute past noon. She flew the national flag by her display picture (DP) and flashed and whistled love with emojis that left little to the imagination.
But Vinita Hindustani wasn't alone; dozens of young ladies across Twitterscape appeared to have been suddenly struck by loneliness and in dire need of being called.
There was her apparently kindred spirit called Kavita Hindustani. Also flying the Tricolour. There was ZebaFatimaa, flying six national flags. There was Priyamvada. There was Marya Anjani.
Shreena @RubyOnASplurge was "too bored today" so she wished to share her number with "all my followers". CharLog2.0 promised "69 hot singles in your city want to have sex with you". Then there was @Amit_smiling offering a "free sex chat" with Sunny Leone.
And there was @Muralikrishna offering a free six-month Netflix subscription. (Netflix, of course, moved swiftly online to scotch the fraud, saying, "This is absolutely fake…")
There was also the odd SMS text. One went: "Hot summer chill body massage by south attractive girls @ extras services call…"
To reach each of those, and whatever was promised to follow, you had to do the one and same thing. Pick up your phone and dial: 8866288662.
That also happens to be the number Amit Shah had unveiled from his official handle on Friday as the one to call to express support for the CAA — "…kindly give a missed call on 8866288662… to ensure justice to the religiously persecuted minorities from Pakistan, Bangladesh and Afghanistan… and extend support to the historic Citizenship Amendment Act 2019 brought in by PM @NarendraModi's government…"
Whodunnit? Nobody quite knows. Tracing online footprints of what's apparently a command chain-gang performance can often be difficult, especially if it has been guided by knowing hands.
But what such online propositioning is aiding is not a matter of guessing or speculation — it is adding to the numbers that called 8866288662, for whatever reason, and therefore adding to the ranks that purportedly support the CAA.
The Telegraph called the toll-free number repeated times and all there was to be heard was a dead phonic tone. No Nivedita, no Leone, no Netflix subscription either.
So what was it all for? And, again, whodunnit?
In the absence of evidence, the needle of inquiry must swivel in the direction of who benefits. The BJP establishment — party and government — has not owned up to what can justifiably be called sleazy seduction. But it has not disowned it either; nor distanced itself from it.
The party's social media operatives have in the past moved with alacrity to lobby social media sites and have what they consider inimical to their interests taken down. But not all day on Saturday, although the purposes 8866288662 were put to, would seem to shame and embarrass the ruling party.
Attempts by this paper to reach Amit Malviya, boss of the BJP's IT cell, through text and through direct messaging on Twitter, elicited no response.
Jency Jacob, fact-checker and managing editor of BOOM, an online site that tracks fake news, did manage to reach Malaviya, and here is how it went: "BOOM reached out to BJP"s IT cell head Amit Malaviya for a response, who cut the call mid-way on hearing our query."
And yet, there might be a few clues to read into what the tawdry social media trail let drop.
Aanchal @followaanchal purred: "Akele ho? Mujhse dosti karoge?"
Aanchal is proud to be followed on Twitter by Prime Minister Narendra Modi.