Let Pakistan pass a CAA, Muslims can go there then: BJP MLA
Saini is known for controversial remarks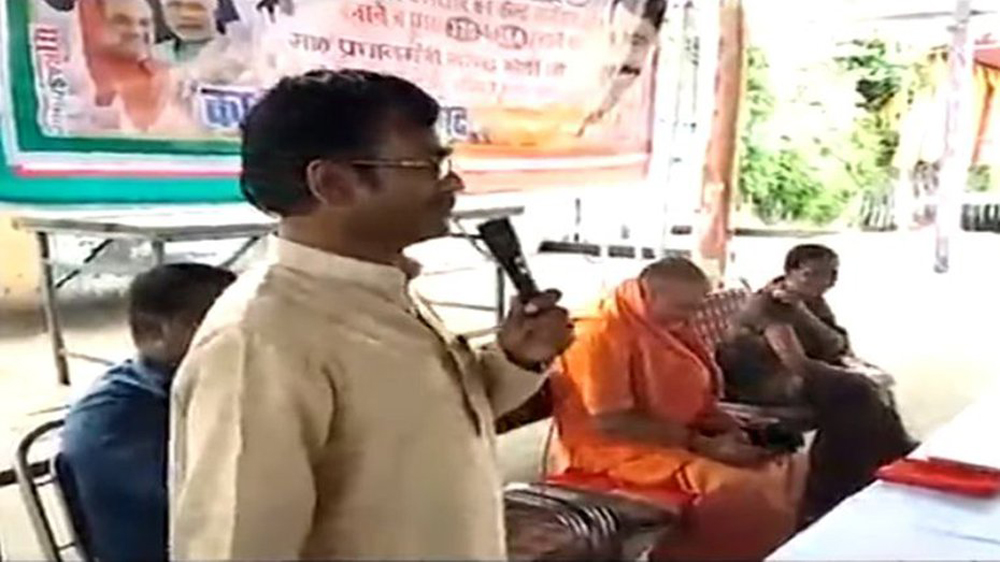 ---
|
Lucknow
|
Published 11.01.20, 09:39 PM
---
A BJP lawmaker has suggested that Pakistan enact a Citizenship (Amendment) Act clone to allow an exchange of minorities with India, appearing to belie government leaders' claim that the new citizenship regime is not aimed at driving out Muslims.
Vikram Singh Saini, MLA from Khatauli in Muzaffarnagar and a riot accused, has proposed the exchange as a "solution" to the controversy over the new citizenship regime that has gripped the country.
"The CAA is a necessary law for Hindus. I think Pakistan should pass a similar law in favour of Muslims. While India will accept all the Hindus who arrive from there, a (Pakistani) law on a par with India's (citizenship law) will encourage the Muslims of India to go there," Saini told local reporters on Friday.
"The two countries should exchange the victimised Hindus and Muslims from each other's territory. Those opposing the CAA should be asked who is stopping Pakistan from enacting a similar law and exchanging the Hindus of Pakistan with the Muslims of India. It should happen, 100 per cent."
On Saturday, when reporters asked him about his statement, he said: "I have provided a solution to the problem."
Saini had made his original comment after stepping out of the additional district and sessions court, Muzaffarnagar, where he had been summoned as an accused in the 2013 Muzaffarnagar riots that killed 50-odd people and left tens of thousands homeless.
Sanjeev Balyan, the local BJP parliamentarian and Union minister of state for animal husbandry, is a fellow accused.
Saini claims he was framed by the then Samajwadi Party government. Many local people have told journalists that during the riots, Saini had been seen travelling across the district with his supporters and inciting violence against Muslims.
Saini, 50, is known for controversial remarks. He had last August urged young men from Uttar Pradesh to marry "the fair girls of Kashmir" since the Centre had scrapped Jammu and Kashmir's special status.
Apart from rioting charges, the MLA, who had dropped out of school after Class VIII, faces cases of criminal intimidation, outraging religious feelings, attempt to murder and promoting enmity on the ground of religion.
On Sunday, the state BJP will hold a rally at the Government Inter College in Muzaffarnagar "to make people aware of the truth about the CAA and the negative campaign by the Opposition parties".
Balyan, assigned to make the rally a success, on Saturday insisted that the new citizenship act was "not against the Muslims of India".
"They (Muslims) will remain citizens of India. But those Muslims who enter India from Bangladesh, Pakistan and Afghanistan to create terror in our country will be prevented (from gaining citizenship) under this law," he said.
Asked why Muslim refugees fleeing persecution had been excluded from the ambit of the amended law, Balyan said: "This is an unnecessary question."